Commentary
The 'old' Jon Jones reappears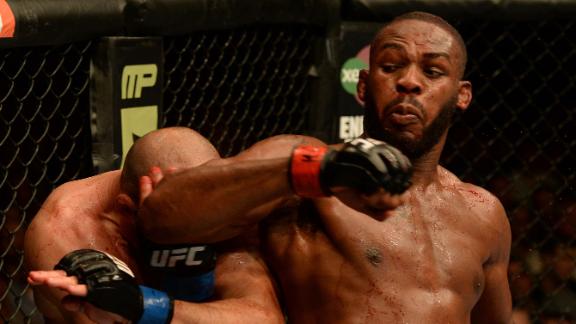 UFC 172: Jones On Victory
UFC light heavyweight champion Jon Jones speaks with Todd Grisham after his unanimous decision win against Glover Teixeira at UFC 172.
UFC 172: Jones On Victory
NEXT VIDEO
UFC 172: Jones On Victory

UFC 172: Jones On Victory

UFC light heavyweight champion Jon Jones speaks with Todd Grisham after his unanimous decision win against Glover Teixeira at UFC 172.

UFC 172: Jones Defends Title

UFC 172: Jones Defends Title

Todd Grisham and Brett Okamoto break Jon Jones' impressive decision victory of Glover Teixeira at UFC 172 in Baltimore.

UFC 172: Jones Brothers Reaction

UFC 172: Jones Brothers Reaction

Arthur and Chandler Jones, brothers of UFC light heavyweight champion Jon Jones, gives their thoughts on his win at UFC 172 and if Jon could make it in the NFL.
Jon Jones had a Jon Jones night. Can't put it any more simply than that.
With retired NFL star Ray Lewis cageside, Jones performed Lewis' pregame dance prior to the walkout. Later, Jones would say he "nailed it," which he did. He then proceeded to beat down challenger Glover Teixeira in every imaginable (and at times, unimaginable) way.
Afterward, the UFC light heavyweight champion refused to talk about his next challenge: Alexander Gustafsson, the very large Swede with the short shorts who gave Jones his toughest test to date at UFC 165 in September.
"I don't really want to talk about that kid at all," Jones said at the UFC 172 press conference.
Jones' decision to ignore Gustafsson in the wake of his latest win felt like potential ammo for the delirious fans out there (and there are many) who have spent the last seven months accusing Jones of being "scared" of a rematch.
But even the most illogical Jones hater will have trouble spinning that web on the heels of this performance. Even the most die-hard Gustafsson fan will struggle to keep a straight face and say the Swede would look that good against Teixeira.
Jones made a beeline to the center of the Octagon to meet Teixeira in the pocket. Jones played peekaboo with the man later in the fight, holding him out of range with an extended left arm in the way an elementary school bully might.
At no point on Saturday did Jones appear hesitant or unsure whether professional fighting was for him due to that physical war against Gustafsson. The champ looked better than ever.
Gustafsson deserves his rematch, and that fight has the potential to be the biggest pay-per-view of the year for the UFC. But the whole "Jones is afraid of him" plot, it just doesn't fit into reality. It never really did.
UFC 172 Grades
Luke Rockhold

Things could not have gone better for former Strikeforce champ Luke Rockhold. As UFC President Dana White put it afterwards, Rockhold didn't even mess up his hair in a win over Tim Boetsch. As good as Rockhold's kickboxing game is, his grappling skills might be his best strength.

Anthony Johnson

Welterweight Anthony Johnson is gone. No more. We will remember him fondly. Light heavyweight AJ is here to stay. Johnson never sat on his stool in between rounds, almost as a sign to say, "Hey guys, I'm not gassing tonight." His defensive wrestling was outstanding.

Jon Jones

As always, you'd like to see a finish where utter domination is involved, but that's really splitting hairs when it comes to Jones' performance. Creative, versatile, scary -- all the things that typically make up a Jones win.

Jim Miller

It can still be hard to envision Jim Miller consistently beating the big, strong grapplers at 155 like Khabib Nurmagomedov, Ben Henderson, Josh Thomson and Gilbert Melendez. But this fight showed yet again that when things go south for you against Jim Miller, you usually end up asleep pretty quickly.

Joseph Benavidez

Tim Elliott got off to a great start -- and it still never looked like Joseph Benavidez was in any trouble. Benavidez felt what Elliott had to offer and then went about submitting him moments later. It might sound like a long ways off right now, but no one should be surprised if Joe B is back in a title fight within 12-18 months.

Max Holloway

A spinning back kick in the second round to Andre Fili's body completely changed the course of this one for Max Holloway. He's benefiting from early experience in the UFC (already eight appearances). An opportune submission technically won him the fight, but it was actually stamina and defensive wrestling that got it done.

Andre Fili

Very impressive in defeat. Andre Fili is known for fighting with a lot of passion, but when it came time to hunt a win and get a takedown, he fought a smart fight. It didn't work out for him in the end, but Fili showed plenty of composure in his second UFC fight.

Phil Davis

Maybe he overlooked Johnson, but it actually seemed that Phil Davis was overmatched. He never gave up and continued to look for opportunities the entire 15-minute fight, but he didn't have the technical know-how to create openings. As much as Davis' striking has improved, if he can't get a fight to the ground, he's certainly beatable.

Glover Teixeira

Glover Teixeira said afterward he utilized his strategy but it just didn't work. Hey, you've got to try to win with the skills you have, but at some point, don't you try to add just a little bit to the game plan? Teixeira fought Jones in the exact same way he fought everybody else. Jones is the best in the world. Have a trick up your sleeve. Add a wrinkle to the game plan. Something.
MMA columnist for ESPN.com
Analyst for "MMA Live"
Covered MMA for Las Vegas Sun
jordanbreen Jordan Breen
Not a moment too soon, Maldonado reverses, gets to top, pattycakes Stringer to death + gives UFC 179 the adrenaline shot it so badly needed.
less than a minute ago

ufc UFC
What a great moment w/ @SpiderAnderson and @MaldonadoMMA after that finish! #UFC179
less than a minute ago

dc_mma Daniel Cormier
Apparently Anderson Silva likes Fabio Maldonado
2 minutes ago

assassinscreed Assassin\'s Creed
It's @Cowboycerrone here! Taking over the @assassinscreed stop what you're doing and turn on #UFC179 live on Pay-Per-View! #AldovsMendes2
2 minutes ago

JoeJitsu Joseph Benavidez
Fabio! #UFC179
2 minutes ago

ufc UFC
Here comes @MaldonadoMMA! #UFC179
2 minutes ago

SharpFilms Charles Steven Duran
The #PrimalCanine crew. @cungle185 @primalcanine @jessereyes http://t.co/r6pnygrucx
6 minutes ago

kennyflorian Kenny Florian
How many round 1's has Maldonado lost I wonder? Let's see if he can pull off another comeback. #ufc179
7 minutes ago

MikeBohnMMA Mike Bohn
I see Hans Stringer was 100% serious when he said he wants to prove Dutch fighters have more than kickboxing. Unfortunate decision for us.
8 minutes ago

GFKonMMA GFKonMMA
somebody get a hold of omar and brother mouzone... can't let stringer control the fight in this manner god. ***** is disgustin.
8 minutes ago

bokamotoESPN Brett Okamoto
Just me or is Maldonado ... less ... bald than usual?
9 minutes ago

TJDeSantis TJ De Santis
"The American Gangster" @sonnench will be on Tuesday's "IT'S TIME!!!" with @brucebuffer on @PodcastOne. Ask questions using #itstimeforchael
13 minutes ago

GFKonMMA GFKonMMA
fabio still look like most his daily conversations go, "no i think your hair will not hold this color well. we should try another."
14 minutes ago

ufc UFC
Up Next: @MaldonadoMMA vs Hans Stringer #UFC179 http://t.co/pLdTyR4VKy
15 minutes ago

UFCNews UFC News
#UFC178 Official Results: @Darren_Elkins def. Lucas Martins via SD (30-27,27-30,30-27)
17 minutes ago

danhardymma Wolfheart
One last California sunset before heading to the airport. Until another day... #Peace http://t.co/miZCZQj3Z4
21 minutes ago

ufc UFC
"I wanted to come back here, dominate and prove myself as a fighter." @NeilMagny #UFC179 http://t.co/3GGvy4qgM4
22 minutes ago

CubSwanson Cub Swanson
Elkins may be the most explosive guy in the division #UFC179 😳
27 minutes ago

jordanbreen Jordan Breen
Yes, this fight stinks, but why is Elkins only to blame? He's running headlong at Martins, who can't cut a corner, counter and/or hit him.
31 minutes ago

wandfc Wanderlei Silva
Heyyyyyy parabens @beneildariush e a todos que perderam a aposta vamos mandar os parabens ao bene q esta... http://t.co/rC96U1sT4w
32 minutes ago