Barnett, Cormier move to GP final
Updated:
September 12, 2011, 7:18 AM ET
By
Franklin McNeil
| ESPN.com
Josh Barnett was favored to reach the final of the Strikeforce Heavyweight Grand Prix, and he didn't disappoint against Sergei Kharitonov in Cincinnati.
Barnett-Kharitonov By The Numbers
Stats
Barnett
Kharitonov
Total Strikes Landed/Att
83/95
14/29
Submission Attempts
1
0
The former UFC heavyweight champion forced Kharitonov to the ground and submitted him at 4:28 of the first round.
Barnett will face Daniel Cormier for the championship. No date has been set, but the final is expected to happen in early 2012.
"Cormier is a great opponent," Barnett said. "He's a guy who has competed at the highest level of athletics.
Follow us on Twitter
Don't miss a moment of the latest MMA coverage from around the world. Follow us on Twitter and stay informed. Join »
"He's going to be much tougher than these [previous] guys."
Barnett defeated Brett Rogers in the opening round of the Grand Prix. His win over Kharitonov improves his professional MMA record to 31-5.
Kharitonov, who brought a two-fight win streak into the bout, slips to 18-5.
Cormier cuts down 'Bigfoot' with right hand
Experience and size were supposed to be Daniel Cormier's Achilles' heel against Antonio Silva.
Cormier-Silva By The Numbers
Stats
Cormier
Silva
Total Strikes Landed/Att
22/37
9/30
Knockdowns
2
0
But Cormier quickly nullified those disadvantages with speed and punching power to register a first-round knockout in a Strikeforce Heavyweight Grand Prix semifinal bout. Cormier is a supremely skilled wrestler, but it is his stand-up skills that have many speaking of him as a future heavyweight champion. And he displayed his improved stand-up striking skills against Bigfoot.
He dropped Silva early in the first round with a hard overhand right. Cormier would floor Silva with the same punch later in the round.
The finishing touches would come with a little more than a minute remaining in the opening stanza.
Cormier connected with a stiff left jab that stunned Silva then followed it up with a right uppercut. Silva fell and the fight was stopped at the 3:56 mark.
"It was great," said Cormier, who was added to the Strikeforce GP when Alistair Overeem pulled out due to injury. "I fought one of the top-five heavyweights and knocked him out.
"Guys, I'm going to the final and I'm winning that title."
Silva, who entered the fight ranked fifth in the ESPN.com heavyweight power rankings, fell to 16-3. Cormier improves to 9-0.
Rockhold captures middleweight title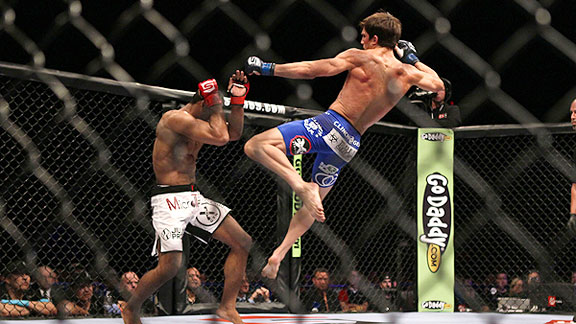 Ross Dettman for ESPN.comLuke out! Luke Rockhold's free-swinging style threw Ronaldo Souza off his game.
Strikeforce middleweight champion Ronaldo Souza put his title on the line against Luke Rockhold, but was also looking to impress. He left the cage with neither against Rockhold.
Rockhold-Souza By The Numbers
Stats
Rockhold
Souza
Total Strikes Landed/Att
104/314
63/156
Takedowns
0/1
5/13
The 26-year-old who had been out of action for 19 months upset Souza by earning a unanimous decision.
The judges scored the fight 50-45, 48-47 and 48-47. ESPN.com had it 48-47 for Rockhold.
"It's amazing," said Rockhold, who entered this 185-pound title bout having never lost in Strikeforce. "I couldn't do this without so many people in my corner."
"I got rocked a couple of times, but I won the fight. People doubted me, but I have one of the best camps [American Kickboxing Academy] around me."
Rockhold (8-1) took the title by handling Souza on the feet. The southpaw continuously landed right-left combinations and tossed in several kicks that found their marks.
Souza (14-3, with one no contest) not only lost his title, but all the momentum he'd garnered from a four-fight win streak in Strikeforce.
Lawal KOs Gracie in first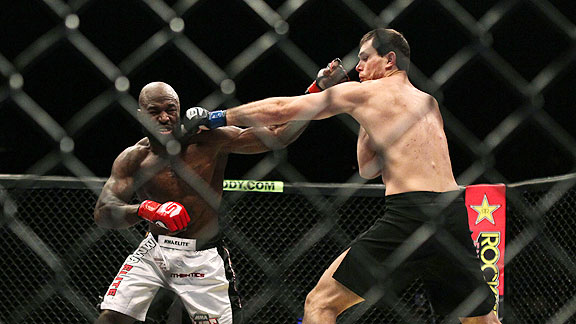 Ross Dettman for ESPN.comJiu-jitsu wizard Roger Gracie, right, never had a chance to take the fight to the ground.
Former Strikeforce light heavyweight champion Muhammed Lawal returned to action for the first time in more than a year and went home an impressive winner.
Lawal did not show much respect for Gracie's stand-up skills, keeping his hands low. It didn't take long before he got Gracie's attention with straight jabs and a few kicks.
An overhand right from Lawal found Gracie's chin and the jiu-jitsu specialist went down immediately. Gracie never recovered and was spared further punishment at the 4:33 mark.
Lawal improved to 8-1, while rebounding from his title loss to Rafael Cavalcante in August 2010. Gracie, who started his MMA career on a four-fight win streak, suffered his first loss.
Healy submits Blanco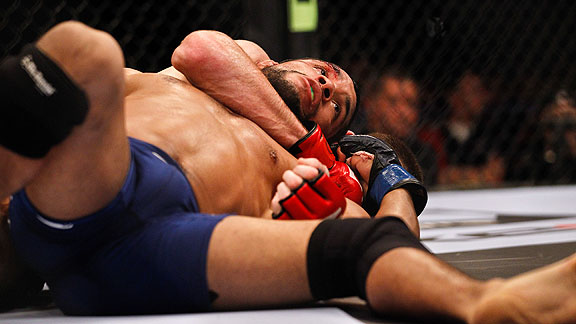 Ross Dettman for ESPN.comSweet dreams: Maximo Blanco's night ended early courtesy of Pat Healy's rear-naked choke.
Lightweight Pat Healy handed Maximo Blanco the first submission loss of his professional career.
Blanco, who was making his Strikeforce debut, got caught in a rear-naked choke in the second round and tapped at the 4:24 mark.
The win was Healy's third in a row and boosted his record to 26-16.
Blanco (8-3-1, one no contest) entered the bout on a six-fight win streak.
Franklin McNeil covers mixed martial arts and boxing for ESPN.com. Follow him on Twitter at www.twitter.com/Franklin_McNeil.
EDITORS' PICKS
Donald Cerrone isn't concerned about title shots.
Brett Okamoto »

Benavidez takes special interest in the flyweight title bout.
Blog »

Johny Hendricks has pushed back his Octagon return.
Brett Okamoto »
askultra Ultra Mobile
Right on @mark_munoz ! One lucky caller is going to win a Mark Munoz T-shirt today!
about a minute ago

askultra Ultra Mobile
Hey @mark_munoz fans, who wants to win this today? Let's hear it. http://t.co/ZoMEH7ropL
about a minute ago

brazilmmafan Pedro Mori
@travisbrowneMMA Just watched my first Browne interview . man , my very best regards from Brazil 2 u !!
3 minutes ago

JoeReyes17 Joe Reyes
@travisbrowneMMA Good to see you back HAPA!!! The grind awaits! Make it yours, brotha!
4 minutes ago

Fightnomics Fightnomics Reed
Fact: @FuryJury is hard to hit. Only 6 fighters in @ufc history have >90% distance head strike defense #ufcfightnight http://t.co/qZV9HquVGa
6 minutes ago

Hardcory10_NBK Cory Lusk
Ollld school @CarlosCondit fight shirt back in the WEC days!!! http://t.co/7XIDDwhwAH
7 minutes ago

1LAW Your Lawyers
1LAW cares about the communities we live in, work with and serve. http://t.co/WiK8D8axWO
15 minutes ago

ufc UFC
Check out the power of the "The Fireball Kid" @GOMI_RSCL in our KO of the Week: http://t.co/jTelvXVyz3#UFCJapan http://t.co/Apyn69k6tw
17 minutes ago

RichFranklin Rich Franklin
My opinion on why working out is bad for your body. What topics would you like me to talk about in my next article? https://t.co/7UvZIVzQV8
18 minutes ago

BRogthePredator Brian Rogers
Good problems to have... #comaineventproblems very busy day in prep for Friday 9/19 @bellatormma live… http://t.co/S4Vcd6mE5B
21 minutes ago

RichFranklin Rich Franklin
RT @thelovemaster: Can't wait to talk to @RichFranklin! Listen to us explore laughter, health, n wellness 12-2p.pst http://t.co/mgjJR4XGKQ
29 minutes ago

wandfc Wanderlei Silva
Não perca hj!! http://t.co/qLpCpiatGS
30 minutes ago

MMAHistoryToday MMA History Today
.@DanHardyMMA evolved his appearance over the yearsRed Mohawk, black bandanna,He looked like a fighting Superstar http://t.co/JyBoyjsq4w
31 minutes ago

DuaneFinleyMMA Duane Finley
I've done many but @TheDomin8r just gave one of the best interviews I've ever had the pleasure of doing. Such a journey of mental strength.
40 minutes ago

lastcall155 Danny Castillo
@JoeJitsu sweet dreams! http://t.co/oxaCLy0que
52 minutes ago

JoeJitsu Joseph Benavidez
For movie night last night @lastcall155 brought over "BUFFALO 66" ,god darn do I thank him for it! What an outstanding piece of work it was.
52 minutes ago

wandfc Wanderlei Silva
Acho 12 anos já deu né,se não conseguiram fazer até agora quando então,quanta vergonha esse partido está nos... http://t.co/wKYzFXj1GA
53 minutes ago

wandfc Wanderlei Silva
Acho 12 anos já deu né,se não conseguiram fazer até agora quando então,quanta vergonha esse partido… http://t.co/jF6dLRVpk6
54 minutes ago

RichGaspari Rich Gaspari
@ShawnKnight1975 @FrankieEdgar @TeamGaspari try the new #SuperPump3.0
about an hour ago

sherdogdotcom Sherdog.com
Oh, some consensual violence to get your Wednesday started right: @Dougtherhino smashes @BrettCoopermma http://t.co/ujuQ767dPZ @BellatorMMA
about an hour ago