Commentary
Bisping-Miller worst ever? Not quite
Originally Published:
December 5, 2011
By
Josh Gross
| ESPN.com
I'm not here to defend Jason Miller's performance against Michael Bisping. It speaks for itself in all sorts of ways. But what I will do is vigorously defend Miller against the comments of his promoter, UFC president Dana White, who curiously labeled Saturday's middleweight main event one of the most lopsided fights he's seen in the Octagon.
Follow us on Twitter

Don't miss a moment of the latest MMA coverage from around the world. Follow us on Twitter and stay informed. Join »
White must have selective memory, or he's just not paying attention to his product.
This isn't about a quick or devastating finish. White was clearly talking about a sustained beating. Whatever the standard, he's wrong, and you don't have to look very hard to find proof of that. In fact, less than two hours before Bisping and Miller stepped in the Octagon, Louis Gaudinot met fellow TUF 14 alum Johnny Bedford. The next 12 minutes featured a one-sided affair that was hard to watch because of the distinct bully nature of the fight. It was embarrassing for the UFC to televise, and so much worse than Bisping-Miller that I can't comprehend how White would make such a statement. He must not have seen it, because Gaudinot's green-dyed cornrows were, in their own right, a hard-to-forget travesty.
Anyhow, off the top of my head here are fights White promoted -- mostly main events, some with a title at stake -- that were less competitive than Bisping-Miller.
[+] Enlarge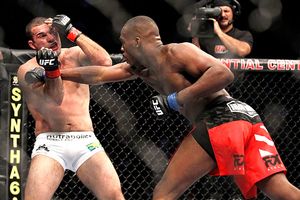 Ed Mulholland for ESPN.comHow quickly we forget: Jon Jones' one-sided annihilation of Mauricio Rua was about as one-sided as they come.
Jon Jones vs. Mauricio Rua
B.J. Penn vs. Joe Stevenson
Rich Franklin vs. David Loiseau
Georges St. Pierre vs. B.J. Penn 2
Chael Sonnen vs. Brian Stann
Junior dos Santos vs. Roy Nelson
Cain Velasquez vs. Ben Rothwell
Joe Lauzon vs. Gabe Ruediger
Randy Couture vs. James Toney
Forrest Petz vs. Sam Morgan
Matt Hughes vs. Royce Gracie
Nate Diaz vs. Marcus Davis
Ramsey Nijem vs. Danny Downes
Branden Lee Hinkle vs. Sean Gannon
Mark Hominick vs. George Roop
Brock Lesnar vs. Frank Mir 2
Georges St. Pierre vs. Jon Fitch
Chuck Liddell vs. Jeremy Horn
Chuck Liddell vs. Vernon White

And, of course, a bouquet of Anderson Silva's fights, as well as many others. So why did White tweet that out?
As for the rest of the evening: Competitive, high-spirited MMA marked the TUF 14 finale. So let's turn our attention to that instead of White's myopia.
One quick note before we jump to grades: While "The Ultimate Fighter" is a platform for prospects, the most intriguing youngster to compete over the weekend was lightweight Jesse "Bubba" Jenkins. The 2011 NCAA Division I champion wrestler at 157 pounds for Arizona State won his MMA debut by submission via punches in the opening round in Lemoore, Calif., at the Tachi Palace Fights 11. Remember the name. The kid is aggressive and cocky.
"The Ultimate Fighter" 14 grades





John Dodson

Credit John Dodson with fighting above his natural weight class, 125 pounds, en route to capturing the TUF title against as deep a field as the show has compiled in several seasons. Yet my takeaway is this: As good as he looked stopping T.J. Dillashaw in the finals, Dodson will have problems against the top tier of the bantamweight division -- not because he isn't skilled or athletic enough to compete there, but because he's simply too small. But he beat larger fighters, like Dillashaw and Dennis Bermudez, you say? Well, that's true. However, there's a significant gap between the level of fighter he was tasked with competing against on TUF and the type of bantamweight the 27-year-old New Mexican will face once fully immersed in the UFC. Also, it's not as if Dodson is just getting his MMA legs under him. He made his pro debut in 2004 and has sprinkled losses between wins ever since. One more thing before finishing with Dodson (12-5): If you can find and watch his fight from 2009 against Pat Runez, do so -- one of the best fights you never heard of, I promise.






Diego Brandao

No one stood out on Season 14 of TUF like DiegoBrandao, who capped a perfect run to the show's first featherweight crown with a late-first-round armbar that earned him "submission of the night" honors. Brandao, 24, is a gunslinger -- a blessing and a curse. His wild style has already endeared him to fans, as it surely will his promoter, but with that wide-open style comes risk that very nearly caught up with him against Dennis Bermudez. Despite getting cracked late in the first round, Brandao fought with tremendous composure as he regrouped and locked in an armbar from the guard for an immediate tapout win. The finish and the fight were excellent. That said, some fans reacted to Brandao as if he's the answer for Jose Aldo. Don't get crazy, folks. From what I see, Brandao (14-7) is far more likely to turn into Wilson Reis than he is Aldo's nemesis. Regardless, it's hard not to feel good for a kid who promised so much to his dying father, and can make good on it because of the success he worked for and earned.






Dennis Bermudez

It could have just as easily been Dennis Bermudez who walked away with the glass plaque and TUF featherweight crown, but he did not capitalize on a solid right hook that crumpled Brandao to the floor. And then he made the mistake of failing to posture correctly while leaving his arm free to snag via submission. That was the bad part, clearly, of an otherwise terrific round that was exciting enough to earn "fight of the night" money. Bermudez, 24, has a long road ahead of him to make a dent at 145 pounds. After starting 7-0, he's technically lost his last three pro fights (TUF bouts are considered exhibitions) at lightweight. He makes a better featherweight, and has the ability to grow as a fighter. Most important, perhaps, is his determination in the cage, which was grandly displayed against Brandao.






Michael Bisping

The man fans love to hate won again in fairly easy fashion. That's four straight wins since succumbing on points to Wanderlei Silva, which sets Michael Bisping up for a boost in competition and a potential title shot. Thus far, against his toughest opponents, Bisping has failed to answer the call. At this stage of his career he has to step up, or the reputation so many believe to be true about the 32-year-old Brit -- he can only defeat hand-picked opponents -- will be cemented. By the way, I don't believe that's an accurate assessment. Bisping is a very good middleweight. He rarely makes mistakes. His punching, though not all that powerful, is offensive enough to wear down veteran strikers. His ground-and-pound game is underrated, as is his all-around grappling game. Bisping had his way with Jason Miller, in part because Miller shot out of the gate and had nothing left after five minutes. But don't forget to give Bisping (22-3) his due in Miller's collapse.






Tony Ferguson

Tony Ferguson, who won TUF 13 as a welterweight, had his hands full against veteran lightweight Yves Edwards. While two of the three judges for the bout saw it 30-27 in Ferguson's favor, I didn't see it as such an easy decision. In fact, I scored it 29-28 for Edwards, but I'm not going after the judges for what was obviously a tight contest. Ferguson appeared to be the busier fighter, even if he didn't land much. So, where does this leave the 27-year-old Ferguson? I like how "El Cucuy" fights and expect him to improve as the tests increase. Ferguson (13-2) is a power puncher who will learn how to connect against savvier opposition, or he'll eventually disappear like most TUF winners.






Yves Edwards

In his 60th professional MMA fight, Yves Edwards (41-18-1) left it in the hands of the judges and was burned. I'm not saying he was robbed, only that he didn't get a fair shake. There's not much of an argument for 30-27 scorecards going against him, and he expressed as much after the verdict was rendered. Edwards, 35, is a serviceable fighter who will come to compete as long as someone lets him. That's exactly what he did against Ferguson, and he could certainly serve as a gatekeeper in the UFC. The defeat is a setback after the stoppage of Rafaello Oliveira in October, and drops his record since 2008 to 8-5.






Johnny Bedford

Yes, this was actually the most one-sided fight on the card, yet Johnny Bedford, a bantamweight, doesn't register more than a C-plus. Why? Because he beat up a flyweight in Louis Gaudinot. You have to do more than that to score above average here. Bedford (18-9-1) has improved off a rough start to his career, when he was just 2-4-1 though seven fights. But is he, when matched against fighters of equal size and skill, capable of doing more in the division than populating off-TV undercards for Zuffa? I doubt it.






Jason Miller

Jason Miller, aka "Mayhem," attempted to live up to his nickname the way he came out against Bisping in the opening round. Wild, winging punches, most of which missed, preceded attempts to take down the Brit. The energy exertion didn't come off as anything above and beyond what fighters are capable of, yet Miller (23-8) clearly faded in the second and third rounds. He held it together in the first after putting Bisping down on the floor; however, that was all he could do. Soon enough, Bisping was popping off jabs and lead rights, digging to the body and scoring however he pleased. Miller, always a tough nut to crack, hung on until the referee took mercy on him. Is he in jeopardy of being cut from the UFC? As ridiculous as it sounds, rumblings suggest that's entirely possible. It would be an unfair way for Miller's second stint in the UFC to end, especially considering he hadn't fought since September 2010 and was just featured on the UFC's most visual and consistent promotional tool.






T.J. Dillashaw

Don't sleep on 25-year-old bantamweight T.J. Dillashaw. He's talented yet raw, and in time could emerge as the pre-eminent talent from Season 14. As can happen with wrestlers learning MMA, Dillashaw (4-1) abandoned his roots to stand and trade with John Dodson -- a poor idea in the end.
Josh Gross covers MMA for ESPN.com. Follow him on Twitter at JoshGrossESPN.
SPONSORED HEADLINES
MORE MMA HEADLINES
MOST SENT STORIES ON ESPN.COM