Commentary
Revisiting the MMA scoring systems
Originally Published:
February 27, 2012
By
Josh Gross
| ESPN.com
I must say, thanks, Twitter, for the inspiration. After a spirited discussion Sunday afternoon about scoring systems in MMA, I decided to view Benson Henderson's UFC title-winning effort over Frankie Edgar two ways.
First, the good ol' 10-point must system, mandated by athletic commissions across the United States. Then, the half-point system that is being experimented with in some locales, including California.
[+] Enlarge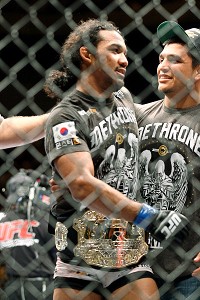 Susumu Nagao for ESPN.comUnder a half-point scoring system, Josh Gross would have awarded Benson Henderson the title.
Guess what happened?
On fight night and upon a second viewing, I had it 48-47 for Edgar scoring the traditional way, giving him the first, third and fifth rounds. But when I applied the half-point system, which allows for a finer scoring gradient (not all 10-9s are equal, same with 10-8s and so on), Henderson came out on top in a squeaker.
I was always in the group that said 10-point must was fine, you just needed judges who knew what they were looking at. But that's not the case anymore. The current system isn't nimble enough for MMA, and I think you'll see why below.
Here's how it broke down (remember, these are all my unofficial scores):
Round 1. The opening round went to Edgar. He dictated range, scored on a couple of solid combinations, and blocked virtually all of Henderson's offensive attacks. Save a solid knee to the midsection by the challenger and a shot that prompted swelling under Edgar's left eye, the champion was never endangered. His defensive tactics were on point, especially when it came to high kicks; he kept his hands positioned well in anticipation of power kicks to the head. Henderson, too, was comfortable throughout the first five minutes. It was a competitive period, not decisive, which accounts for the difference in scores.
Scores: 10-point must, Edgar 10-9. Half-point system, Edgar 10-9.5.
Round 2. Henderson was sharp in the second round. He scored with all manners of strikes, even while standing on just one leg. Henderson cracked Edgar several times, snapping the champion's durable chin. Edgar rallied in the last 90 seconds. A late takedown nearly stole the round from Henderson, but a flush upkick by the challenger made scoring the round clear-cut. Edgar was hurt in the second, the bridge of his nose leaked blood down his face, and while he wasn't dominated to warrant a punitive 10-8 period, this was more decisive than a basic 10-9.
Scores: 10-point must, Henderson 10-9. Half-point system, Henderson 10-8.5.
Round 3. Edgar righted the ship in the middle period. He scored on combinations, won scrambles and took Henderson down as the round came to a close. The challenger's offensive output dissipated in the third while the champion ramped things up. Neither man was hurt this round, but to me it was obvious that Henderson did not take advantage of any momentum gained during the previous five-minute stretch.
Scores: 10-point must, Edgar 10-9. Half-point system, Edgar 10-9.
Through three rounds on my card, Edgar is up 29-28; under half-point scoring, it's an even fight at 28.5-28.5. Edgar's face is swollen and bleeding. Henderson looks like he hasn't been hit.
Round 4. The start of the championship rounds was the closest period thus far. Both connected to the head. Henderson pumped out jabs with regularity. After an inadvertent low blow by the challenger, Edgar scored with a couple of stiff rights. Henderson unloaded a knee to Edgar's midsection as the champ moved forward, then defended a takedown by working on a guillotine. Edgar survived, but this was a scoring sequence for the soon-to-be champion. Henderson slammed a couple of low kicks into Edgar's legs and also landed a knee to the champ's face.
Edgar kept coming forward, but that wasn't enough to win him the round.
Scores: 10-point must, Henderson 10-9. Half-point system, Henderson 10-9.
Round 5. Edgar came out striking and moving, but Henderson stood up for himself just fine. Edgar landed a clean straight left a minute into the round, but Henderson showed no ill effects. When Henderson pressed, Edgar again scored. He did very well beating Henderson to the punch throughout the fight. Edgar got the better of Henderson during a grappling exchange, and with three minutes remaining in the fight the champion was ahead. At the round's midway mark, Henderson cracked Edgar in the jaw with a right hook. Edgar, again, shook it off as if it were nothing. Henderson went to the canvas after an Edgar punch, but he wasn't hurt and it was more of a slip than anything else. After a short scramble, Henderson slammed a kick into Edgar's ribs. Not a lot happened until the last 10 seconds, when Henderson connected on a jumping knee, defended a takedown and forced Edgar to the mat to defend a guillotine. As the bell sounded, Henderson was unloading on hammer fists.
Scores: 10-point must, Edgar 10-9. Half-point system, Edgar 10-9.5.
Final scores: 10-point must: Edgar 48-47. Half-point system, Henderson 48-47.5.
So there you have it. Two scoring systems, two final tallies, two potential outcomes, and countless arguments for how judges go about awarding rounds.
UFC 144 grades





Anthony Pettis

Anthony Pettis, 25, was in his groove from the opening bell and looked totally comfortable against Joe Lauzon. Not having to worry about a strong wrestler's shot will do that for a guy. Pettis moved well before setting up a high kick to the chin that finished things at 1:21 of the opening round. The decisive win apparently put Pettis (15-2) in position to be next in line for the UFC lightweight title, a fight that would place him in a rematch against Benson Henderson. Add a $65,000 bonus for KO of the night and, yeah, the dynamic striker had a hell of a night.






Mark Hunt

This is what happens when you stand in front of a real champion kickboxer with a granite chin and hands to match. Thus endeth the lesson for Cheick Kongo. Mark Hunt, 37, reeled off a knockout at 2:11 of Round 1 to score his third straight win in the UFC, which should set him up for a tougher test. Realize this is the same fighter who lost six in a row from 2006 to 2010. But then 2011 rolled around, and Hunt has been on fire in the cage. At some point, Hunt will face a legitimate wrestler and will have his MMA mettle tested again.






Benson Henderson

The new UFC lightweight champion came through when it mattered most. Even if you thought he lost on points to Edgar, there's no denying how good Benson Henderson (16-2) is right now, and how much better he'll be in his prime. Henderson, 28, has a strong mind, is supremely athletic, ranks among the most flexible fighters in the sport, and (sappy as it sounds) is just a nice guy. For all the drama that unfolded against Edgar, the evening's indelible image resides backstage, when Henderson, basking in the afterglow, walked alongside his proud Korean-born mother. Good stuff. He said he'll take on all comers, and he'll get his chance to prove it.






Hatsu Hioki

If you hadn't seen him before, the Hatsu Hioki who showed up at UFC 144 is the same one who ranks near the top of the featherweight division. The 28-year-old Japanese fighter dominated Bart Palaszewski to the tune of a unanimous decision, one that could set him up for a title shot against Jose Aldo. Hioki (26-2) is a guard-passing, submission-hunting monster on the ground, and he's savvy enough to have continued success in the Octagon.






Frankie Edgar

Frankie Edgar doesn't want to drop to 145 pounds. He expects another lightweight title shot as soon as possible. And he'll probably get one. The 30-year-old from Toms River, N.J., all 5-foot-6 of him, is a pit bull. Once he's locked on to a target, he's going to grab ahold and not let go. That's just in his DNA. Edgar rose to the top of the lightweight division on the strength of close debatable decisions. It's only fitting he would lose the belt the same way.






Ryan Bader

Ryan Bader did what he said he would: mix up striking and grappling, keep Rampage off balance, and find a path to victory. Mission accomplished. Bader (14-2) handled the former UFC champion for his second win in a row, leaving the bitter pill of a loss to Tito Ortiz in the distance. This win elevates Bader into the top 10, though pinpointing where exactly is difficult to say at this weight. Bader, 28, bested a wounded Jackson -- let's not forget that.






Tim Boetsch

Middleweight looks good on The Barbarian. Tim Boetsch, 31, had a lot to answer for after two rounds against Yushin Okami. Boetsch's corner asked him to go in for the kill, and he did, upping his record to 15-4. The win is enormous. Okami is much better than Boetsch's previous victims at 185 pounds, and this win validates him as a middleweight to be reckoned with. Nice comeback here.






Takanori Gomi

Despite appearing sluggish in the first five minutes, Takanori Gomi (33-8) still hit Eiji Mitsuoka hard in the only all-Japanese battle on the card. Gomi, 33, is far removed from his best stretch in 2005, when he became a Pride champion and rose to No. 1 in the lightweight rankings, so I don't see him rising to the top of the division. Mitsuoka, 36, is now 18-8.






Yushin Okami

Yushin Okami blew it. He was 10 minutes into a dominating effort against Tim Boetsch; then Okami's corner said he could finish the fight if he wanted to, but he ended up getting hammered. Prior to the end, Okami, 30, looked vastly improved. His striking, now including a stiff piston jab, was crisp and accurate. His takedowns and ground-and-pound flourished. But one mistake was all it took, and Okami (26-7) fell hard.






Jake Shields

Jake Shields won, ending a two-fight skid -- the longest of his career. That's about the best thing you can say about the former Strikeforce champion's weekend in Japan. He showed some improvisation against Yoshihiro Akiyama, but not much. Shields, 33, still looks stiff as a board when he's striking on his feet. He's also clearly more comfortable at middleweight. This welterweight experiment is fine -- but it's played out. Shields (27-6-1) should move up to middleweight while he remains in the UFC.






Quinton Jackson

"Rampage" gets the benefit of the doubt even if his performance suggests otherwise. Apparently, he fought like someone with a bum knee because that's what he has. Surgery could be on the way shortly. Quinton Jackson's inability to make weight, his one-dimensional style of fighting, and his weak fight team (why did Anthony McGann, Jackson's manager, work the corner?) conspired against him. As I compiled the latest ESPN Power Rankings, I considered leaving Jackson out of the light heavyweight picture. That would have been something, because I can't remember a time when he wasn't ranked. Rampage said he'll continue fighting, so you can forget about retirement talk for the time being.






Yoshihiro Akiyama

I'd like to see more of 36-year-old Yoshihiro Akiyama at 170 pounds. The cut down from middleweight seemed to agree with him. He moved fluidly against Shields, maintained a solid base, and did not lose stamina as the fight moved to its latter stages. That's all good. As for the bad, well, Akiyama (13-5) couldn't take advantage of a weak striker like Shields and has lost four in a row -- not that this matters too much so long as Zuffa likes a fighter, and they like Akiyama -- and the Japanese press is ripping into him for losing.






Bart Palaszewski

Not a lot to say here other than "Bartimus" was outclassed on the ground. He surrendered takedowns that immediately allowed Hioki to establish dominant positions. Palaszewski, 28 (yes, he's still only 28), did a poor job of maintaining guard, which is easier said than done against Hioki, and never got out of an early rut. Palaszewski's ceiling is set, and it couldn't contain an opponent as skilled as Hioki. Palaszewski (36-15) will make a fine trainer someday, but he isn't going to get a sniff of a title under Zuffa.






Cheick Kongo

This was a setback for the big Frenchman. The question coming in was one of tactics. Would Cheick Kongo (17-7) stand and trade with Hunt, or would he try to make good on an underrated wrestling game? It didn't take long to find the answer. For all the UFC's bluster about Kong's kickboxing résumé, he's nowhere near the level of Mark Hunt, and that was clear soon enough. The loss knocks Kongo, 37, off top 10 lists everywhere, and prevents him from escalating up the contender ladder. Tough loss here.






Joe Lauzon

Just when you think you have Lauzon figured out, he steps in the cage and disappears. The 27-year-old New Englander was no match for Anthony "Showtime" Pettis, which is disappointing and a tad surprising -- hey, I picked the guy to win -- on the heels of Lauzon's submission win over a hot Melvin Guillard. Now Lauzon (21-7) reverts to being a fighter who looks great against mediocre opposition but can't pull the trigger against the rest. Fair or not, that's how he's viewed. Expectations were high and he did not deliver.
Josh Gross covers MMA for ESPN.com. Follow him on Twitter at JoshGrossESPN.
SPONSORED HEADLINES
MORE MMA HEADLINES
MOST SENT STORIES ON ESPN.COM