Commentary
Bellator must take stable to next level
Originally Published:
March 12, 2012
By
Josh Gross
| ESPN.com
Entering its third year as a promoter of mixed martial arts, time has come for Bellator Fighting Championships to answer questions that were raised upon its arrival in 2009.
As telling as its solid financials and firm footing among promoters outside Zuffa's realm seem to be (Bellator should feel positive about both), an elusive and important piece of its promotional heft is missing: the ability to lift fighters from obscurity to a place where hardcore and casual fans will care.
Zuffa has this down. Suddenly everyone is interested in journeyman Lavar Johnson because he scored a knockout in his UFC debut, right? Other than having a great story in life, Johnson is not a fighter worth dwelling upon. But he steps into the Octagon, knocks out Joey Beltran, and the next thing you know he's fighting on FOX.
[+] Enlarge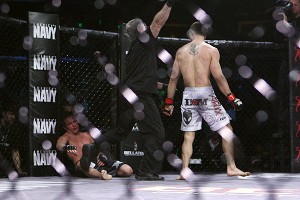 Dave Mandel Just because this scene didn't take place in the Octagon doesn't mean fans shouldn't appreciate Pat Curran's performance.
Bellator featherweight champion Pat Curran, by contrast, won in violent fashion Friday, just as he did last year with a beautiful knockout of world-ranked Marlon Sandro. Yet Curran cannot have the Lavar Johnson experience fighting for Bellator. (Forget for a moment the difference between fighting at 145 as opposed to heavyweight -- this comparison is about exposure for top-class fighters in Bellator.)
Had Bellator signed Johnson -- had Johnson finished Beltran on MTV2 -- no one would have batted an eye. Had Curran unloaded on Joe Warren in the UFC the way he did Friday night in Hammond, Ind., the 24- year-old featherweight would be regarded as a potential star and, at a minimum, a top contender for Jose Aldo.
For the Chicago-based Bellator to move to the next level in 2012, an attitude shift has to take place. Not inside the company, but among fans and media. The prevailing wisdom regarding Bellator champions cannot stand as does today. An "I can't wait for him to fight in the UFC" attitude makes it OK for people to skip Bellator events in favor of the middle-of-the-road talent via "The Ultimate Fighter" at the same time on FX.
Such is Bellator's reality, that even when it produces high-quality fighters they won't get the same shake as guys in the UFC. That, however, doesn't do anything to change the fact that there are world-class mixed martial artists under contract to Bellator. Not many, but they're there.
Regularly honoring the strength of a champion with a prepared and deserving challenger is difficult to pull off. Inherently vital ventures related to the health of a business often are, which is why Zuffa invested millions of dollars to purchase promoters and bolster its talent roster.
UFC needed fights. They got them.
Bellator needs fights. What will they do?
Bellator CEO Bjorn Rebney and his partners aren't positioned to pillage a rival (not that there's a show to be bought), so Bellator runs the risk of remaining second-tier for the long haul.
Heavyweight is a wasteland.
Rather than making a snide comment about 205 I'll just mention that the current belt holder is Christian M'Pumbu, who lost his last fight in a non-title affair to Travis Wiuff.
The middleweight king, Hector Lombard, lives alone on a challenger-less island and could be on his way to UFC if rumors are true.
Unbeaten Ben Askren is intriguing atop the welterweight division, but not for long unless legitimate opponents materialize. Douglas Lima earned a shot this April by winning last year's 170-pound tournament.
You into that?
Hope may exist at 155 pounds and below, though.
Follow us on Twitter

Don't miss a moment of the latest MMA coverage from around the world. Follow us on Twitter and stay informed. Join »
Lightweight Michael Chandler was a revelation last year and has several bouts worth looking forward to in the year ahead. A rematch against Eddie Alvarez (presuming he's still around) has potential to generate significant interest, at least among diehard MMA watchers.
Meanwhile, the unbeaten Chandler's non-title fight scheduled for May 4 against Akihiro Gono does not.
Featherweight offers potentially fertile ground for Bellator. Ranked No. 6 by ESPN.com, Curran (I have him fourth) is the highest-ranked Bellator fighter in our poll. He has a terrific bout lined up against Brazilian Patricio Freire (17-1) later this year. Difficult to sell, perhaps, but it's a fight that could show what Bellator's promotional chops are made of at this stage.
Lastly, underrated and developing bantamweight champion Zach Makovsky faces the toughest fight of his career against the kind of contender Bellator must continue to develop, 23-year-old Brazilian Eduardo Dantas. Good watching on deck in April if people dare.
Bellator executives don't need to resolve these matters by the end of the month. But soon they will.
Bellator 60 grades





Marlon Sandro

Marlon Sandro maintained his status as a pre-eminent featherweight by doing what he was supposed to versus Roberto Vargas (12-2). From the opening bell, Sandro, 35, went after Vargas with powerful punches and knees. Sandro (21-3) doesn't mess around in the cage. The bout only lasted 3 minutes, 35 seconds because Vargas's chin held up well. Sandro was tabbed as the heavy favorite to win Bellator's latest 145-pound tournament, and nothing in his effort Friday suggested otherwise.






Pat Curran

When it comes to the top sub-25-year-old fighters in MMA, Pat Curran deserves a mention near the top. The unheralded featherweight handled his business the right way against a dangerous but flawed Joe Warren. Curran has transposed a reticence to engage -- as exhibited in his last fight at 155 pounds against Eddie Alvarez -- with the poise to know when to strike, and he's such a better fighter because of it. Curran's finish was pure class: a counter knee into a series of damaging strikes that left Warren in a heap. If Curran handles himself against Patricio Freire, there will be calls for him to challenge the best 145ers under contract to the UFC. You can bet on that.






Mike Corey

Despite being dropped by consecutive right hands midway through the first, Mike Corey (12-2) remained in control and cruised to a decision win over Ronnie Mann. Corey's wrestling and top control were more than an enough to pacify Mann, and the 28-year-old from Chicago gained strength as action moved into the latter half of the fight. He'll be hard-pressed to do that in the semifinals against Daniel Straus, though.






Daniel Straus

Daniel Straus (18-4) did what he does to the tune of a unanimous decision win over Jeremy Spoon. The 27-year-old featherweight from Columbus, Ohio, is a solid fighter who would engage everyone but the best at 145 in a competitive fight. While most think of Straus is a wrestler and grinder, don't sleep on his striking game. He didn't hit pay dirt against Spoon, but it's clear, having watched Straus fight a few times now, that his striking game should not be dismissed. As best as I can tell, he's a mid-tier fighter, a tough out, but not someone who can find success at the elite level.






Alexandre Bezerra

There's not much to criticize when it comes to "Popo" and his second-round finish over Kenny Foster (9-6). Alexandre Bezerra, 24, finished the late replacement at 4:57 of Round 2, and was his usual aggressive self before the tapout. Bezerra's grade drops because Foster lost three in a row coming in. He'll have ample opportunity to make his mark next month against fellow Brazilian Marlon Sandro in the semis. Bezerra (12-1) is quick, agile and athletic. He's ready for a step up in competition.






Joe Warren

In the interest of self-preservation, Joe Warren (7-3) may want to rethink his approach to MMA -- this "running through a brick wall" stuff won't cut it. Returning to the cage for the first time since Alexis Villa knocked him cold at 135 pounds in September, Warren was dealt an ugly third-round beating by Pat Curran. Hoping to avoid the issues that arose when he came into MMA -- overaggressive mistakes, leaving himself open to being hit or attacked with submissions -- Warren smartly wrestled in the first 10 minutes. He attempted the same in the third and ate a counter knee to the mouth, which set up a brutal sequence of shots from Curran as Warren was pinned between the fence and the whims of a sadistic referee. Warren, 35, is all guts. We know this. Would it surprise you if someday they spill out on live television?






Ronnie Mann

Basic problems that plagued the game of England's Ronnie Mann three years ago still hurt him today, which is why he ceded ground over the last 10 minutes against Corey and dropped a decision. Mann, 25, is a serviceable striker, but he doesn't have much pop at 145 pounds. Being a solid submission fighter isn't enough considering he can't stop takedowns or stand from the bottom. Mann (21-5) hurt Corey in the opening round, but failed to put the bigger American away and lost his chance at the Bellator tournament crown. Perhaps it's time for Mann to consider what dropping to bantamweight might do for him. He's not overly quick at featherweight and would not be at 135 either, but possessing a size advantage for the first time in his career might justify the move.






Jeremy Spoon

The previously unbeaten Jeremy Spoon (12-1) was a step behind Daniel Straus for 15 minutes, which was accurately reflected in the judges' scores. For three rounds Spoon failed to spark much offense versus Straus, but that didn't lead to desperation time by the native Oklahoman. Take that for what you will. Spoon's potential appears limited. Straus is bigger, stronger and more experienced, so it's probably smart not to write off "Spooner" just yet.
Josh Gross covers MMA for ESPN.com. Follow him on Twitter at JoshGrossESPN.
SPONSORED HEADLINES
MORE MMA HEADLINES
MOST SENT STORIES ON ESPN.COM
EDITORS' PICKS
Donald Cerrone will face Myles Jury at UFC 182.
Brett Okamoto »

Phil Davis moves up at light heavyweight.
Power Rankings »

Duane Ludwig discusses Jose Aldo's late salvo of punches.
Blog »