Commentary
Depth develops in contenders' queue
Originally Published:
October 29, 2012
By
Josh Gross
| ESPN.com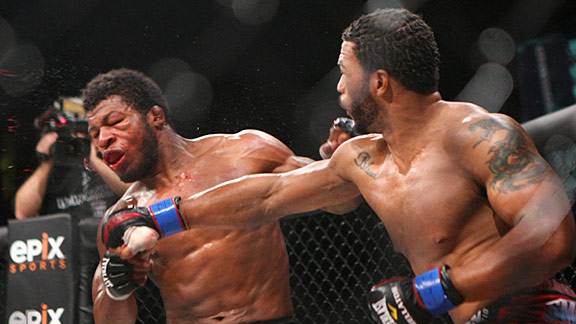 Keith Mills for Sherdog.com Dominique Steele, left, spilled his guts in more ways than one in a losing effort to Brian Rogers.
The way things are shaking out, expect a slew of Bellator title fights during the first half of 2013.
Not only are current contenders in queue, the promotion is beginning to compile depth when it comes to next in line. That could mean fighters sit out for a while, or, like current featherweight contender Daniel Strauss on Friday, indulge in tuneups. Strauss made the most of his chance to stay busy; meanwhile, two welterweights positioned themselves for the chance to take on Ben Askren or Karl Amoussou.
Here's how winners looked at Bellator 78 in Dayton, Ohio.
Bellator 78 grades
Andrey Koreshkov

Bellator has done well identifying Russian talent, and the best example appears to be 22-year-old Koreshkov, who moved to 12-0 with a first round thumping of former Dream champion Marius Zaromskis (19-7). He's aggressively fast, packs a punch, and accurately throws an assortment of strikes. There's a ton to like about Andrey Koreshkov, he just needs to prove his worth against top competition. Meeting Lyman Good in the finals on Nov. 30 should be a solid test of where he's at, but he looks like the real deal. The reason he didn't earn a perfect grade? Lack of control during the finish. Referee Jerry Poe is ultimately responsible and should have stopped it, but Koreshkov could have just as easily quit bombing on an unconscious Zaromskis.

Lyman Good

Chalk up another tournament final for the New Jersey welterweight. Good, Bellator's first 170-pound champion, neutralized Michail Tsarev (24-3) on the floor prior to a second-round stoppage. The Russian reacted as if Lyman Good had scraped a thumb across his right eye, but the referee didn't see it and Good (14-2) capitalized by moving Tsarev to the fence and unloading punches. Unlike Koreshkov's win, there was no prolonged beating; in fact, the stoppage came fast, leaving the loser with plenty of energy to complain. Good, 27, will have to rely on his strength and grappling to beat the rangy Koreshkov and earn a shot at regaining the title.

Daniel Straus

Technique and timing allows Daniel Strauss to make the most of his strength, and in the final suffocating sequence against Alvin Robinson, you could certainly see that. From the trip takedown, the slam, side control, back control and choke attempts, Strauss (21-4) didn't allow Robinson (12-7) any daylight. He was meticulous and determined, a great combination for the 28-year-old featherweight. This was a fight to keep Strauss sharp, and he treated a beatable opponent like he should have. Keep in mind, Pat Curran and Patricio Freire are considerably better than Robinson.

Brian Rogers

Dominque Steele lived up to his last name, at least that's what Brian Rogers (10-4) probably thought after their fight went the distance. Rogers, 28, slammed a variety of power shots into Steele's jaw, yet somehow he remained on his feet. It's impressive to see anyone stand up to Rogers, whose reputation as a knockout artist is well earned, and Steele deserves credit for hanging on for three rounds.
SPONSORED HEADLINES
MORE MMA HEADLINES
MOST SENT STORIES ON ESPN.COM
EDITORS' PICKS
Cruz remains positive following another injury.
Brett Okamoto »

Is former champ Quinton Jackson back in the UFC fold?
MMA Live

Has former champion Renan Barao lost a step?
MMA Live