Commentary
UFC 159 not for the faint of heart
Originally Published:
April 29, 2013
By
Josh Gross
| ESPN.com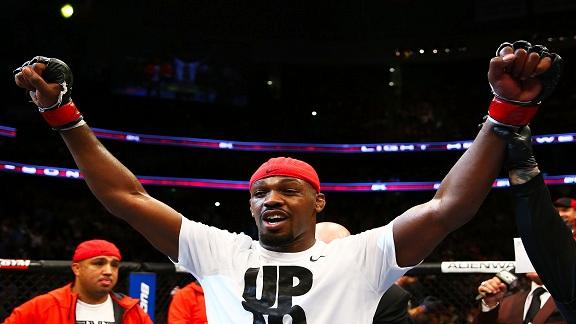 UFC 159: Jones TKO's Sonnen, Defends Title
MMA Live recaps Jon Jones title defense against Chael Sonnen.
UFC 159: Jones TKO's Sonnen, Defends Title
This month marks my 13th anniversary getting paid to cover mixed martial arts. I've seen a lot of crazy stuff over the years. Spooky, even. Yet nothing quite as odd as UFC 159, which felt cursed dating all the way back to 151's cancellation last September.
Saturday night made me uneasy.
I half-jokingly tweeted the hashtag #UFC159karma throughout the night because it felt like something weird was in the air. Bad mojo. And it certainly played out that way.
Follow us on Twitter
Don't miss a moment of the latest MMA coverage from around the world. Follow us on Twitter and stay informed. Join »
No one truly believed Chael Sonnen had a chance in the main event, and a week after such a successful card in San Jose, Calif., expectations were going to be elevated, even if predictions for Jon Jones and Sonnen were lopsided in the champ's favor.
Even though Jones gave Sonnen an opening when he decided to wrestle the wrestler, it wasn't competitive. But then Jones broke his toe and it was apparent that Sonnen had once again come agonizingly close to being a UFC champion. You have to wonder which episode will haunt Sonnen longer: tapping in the final minute against Anderson Silva or failing to survive another half-minute versus Jones. This sort of thing might really eat away at Sonnen. So close, yet impossibly far. Has he suffered the cruelest of fates along the way? You'd better believe it.
OK, back to this 13-year thing. I wasn't bar mitzvahed growing up, so I can't know for sure, but I'm guessing the anxiety I experienced Saturday while watching eyes get poked and toes and thumbs snapped out of place would have mirrored what it feels like becoming a man in front of family and friends.
Brain-gnawing stuff. If I'm going to be forthcoming -- and this shouldn't sound surprising -- I wanted to do anything else but watch UFC 159. The card bothered me so much that by fight night I had to make sure I didn't get too vitriolic on Twitter.
Anyhow, because of everything I mentioned (and stuff I didn't, like the demonic voice that popped up during the pay-per-view broadcast, or Bruce Buffer announcing the wrong name of a winner and other random weirdness) I've decided to treat UFC 159 as my professional bar mitzvah. Right, seems nuts. I hear you. But the night featured anything that could make a kid crumble. Considering the timing, I have no problem treating ugly fights, stoppages, and injuries as adult-turning stuff. From this point forward, I acknowledge that just about anything can happen in the UFC -- and will.
The lesson is you'd better not wilt in the face of really gross MMA acts. In other words, you've got be a grown-up about it.
Oh, joy.
UFC 159 grades
Pat Healy

Pat Healy is enjoying the best run of his career after taking consecutive win No. 7 over a favored Jim Miller. "Bam Bam" wouldn't be denied, and he systematically broke Miller down for 14 minutes before strangling the UFC veteran cold. Healy's 30th win was unquestionably his best, setting up a bigger fight the next time around. He's a suffocating grappler possessing immense experience and determination -- a difficult combination to combat. The talent-rich UFC lightweight division just landed another hard-nosed fighter.

Roy Nelson

Roy Nelson will get another shot at proving he's among the best after working himself back into the upper reaches of the heavyweight division. People want to hate on "Big Country" for his appearance. Whatever. They should take a look at how well the guy moves, the incredible distance he covers with quick feet and that over-the-top right, and the the concussive force he carries with him into the cage. Dana White wants Nelson to fight Daniel Cormier. Cormier said he's down. Makes two of us.

Sara McMann

So the lesson is don't let Sara McMann, 32, get any kind of top position, otherwise she just may Matt Hughes you. If there's a fighter to be reminded of while watching McMann, it's Hughes. Power. Wrestling. Position advancement. And ground-and-pound. I've said it before: Notwithstanding freakishly rare toe breaks, the best way to win is with strikes from the top. But among the best fighters, it can't be the only way, and if McMann is going to give Ronda Rousey or Cat Zingano a serious run, her standup must improve. She needs some seasoning and probably has a two- or three-fight window to work out the kinks.

Jon Jones

UFC light heavyweight champion Jon Jones made it a point to dispose of Chael Sonnen using the strongest part of the challenger's game against him. In doing so, he gave Sonnen the best shot possible because he forgave his most distinct edge (reach) and played where the three-time UFC silver medalist might have had success. It soon was clear that it wouldn't matter what Sonnen did or didn't want to do. Jones was far superior and finished relentlessly as the first round came to a close. In time people will remember this fight less for how Jones handled Sonnen than the champ's handling of his postfight interview with Joe Rogan. That broken toe was disgusting and awful. It may also keep him on the shelf for a while.

Michael Bisping

Crisp striking, slick movement, good defense. Michael Bisping put it all together before to a finger poke to Alan Belcher's eye halted the contest early in the third. Well ahead on the cards, Bisping landed a vital rebound win after Vitor Belfort punted him in the head in January. He's a top-10 middleweight and has been for a while. But it's highly unlikely that the 34-year-old Englishman will do enough to a win a belt. A lack of power will be one culprit why.

Phil Davis

Phil Davis put together combinations as well as he's ever done. Of course, it helps when your opponent is flat-footed and unprepared to handle a steady stream of punches, but you can't tell me that Davis wasn't intent on taking advantage of the opportunity. Dealing with an ugly custody battle that hit TMZ over the weekend couldn't have helped Davis, 29 -- not that it should matter much. Davis sure looked at ease while dominating Vinny Magalhaes.

Chael Sonnen

Chael Sonnen gets credit for having the guts to step into a situation that was going to lead to him getting lumped up. But only so much, and not for very long. There's no future for Sonnen at 205. He's undersized, which means he's going to be the smaller guy most of the time, and he's not skilled enough to overcome that. He should take the lesson Jones provided and do something with it at middleweight; otherwise, painful memories may be the only thing he takes with him when his fighting days are officially over.

Jim Miller

Jim Miller is out of my top-10 list at 155, and I'd guess that goes for most of the people who care about such things. This Newark card is a tough pill to swallow for the native of Sparta, N.J. Normally, he's the one dictating pace of play and positioning, but that didn't happen against Pat Healy, And that has to be a big concern. If Miller isn't capable of demanding how the fight plays out, his days as a serious threat may be coming to an end.
UFC 159 CARD
Here is the fight card for UFC 159. Get news, features, videos, podcasts, previews and more. MMA page »
More on UFC 159 »
FIGHT CARD
Main card Prelims on FX Non-televised prelims
Check FightCenter for complete results.
MMAWorldSeries

WSOF


Don't miss #WSOF20 Apr 10! @VinnyMMA vs @Hammerufc! @Young__Assassin vs @ozzymma1! @NotoriousNewell vs @JoeCondonMMA! http://t.co/G9HLXWZBtE
2 minutes ago

FrankieEdgar

Frankie Edgar


If your getting your tax checks and looking to get a good car from great people check out http://t.co/2o5y6nsEGJ @AutoShopper
10 minutes ago

ufc

UFC


Hear from champ @RondaRousey, as she recaps her short-lived title defense at #UFC184.https://t.co/3bjVbKQZl4
28 minutes ago

RichFranklin

Rich Franklin


ONE Championship announces the next 3 events in China: Xian on May 2, Guangzhou on May 30, Shenyang on June 12. http://t.co/Rkw0n7O6YA
46 minutes ago

ChrisWeidmanUFC

Chris Weidman


Hand fighting and drilling wrestling. I'm feeling a little broken 😜Great work! https://t.co/VwDDNgqUsp
49 minutes ago

mark_munoz

Mark Muņoz


Just so every1 knows I have utmost respect 4 @BurtWatson4real! He's a gr8 man & gr8 at what he does! Not sure what every1 is talking about.
51 minutes ago

RyanLoco

Ryan Loco


Dream big. @StefanStruve @CoachGJones #mma #ufc #canon #sigma @blackzilians http://t.co/TTrUpJ3JdN
about an hour ago

wandfc

Wanderlei Silva


Bony açaí The Best açaí!!! Pra quem só conhece a marca aí está o próprio,esse é Bony da Bony açaí a melhor e... http://t.co/j54wSbNH17
about an hour ago

wandfc

Wanderlei Silva


Bony açaí The Best açaí!!! Pra quem só conhece a marca aí está o próprio,esse é Bony da Bony açaí a… https://t.co/a0MoLAK73z
about an hour ago

espnW

espnW


ICYMI: Violent, Slick, Rowdy -- @RondaRousey Wins Her Way (Again). http://t.co/GD7waROVsY #UFC184
about an hour ago

bokamotoESPN

Brett Okamoto


Cyborg's manager says July 10 fight will 'definitely' be at 145. Then, perhaps, 135 in fall. Then finally, Rousey. http://t.co/kInMfVQqpp
about an hour ago

blackzilians

Blackzilians


#Blackzilians #UltimateFighter cast for #TUF21 premiering April 22 on @FOXSports1 http://t.co/Zeg0tSIybR
about an hour ago

3ammma

Chris Nelson


it's pouring rain in southern California, Ronda has appeased the gods with another human sacrifice
about an hour ago

cripplerufc

Chris Leben


Dont miss the best MMA radio show today between 2-3 PM, AM 1700 ESPN Unfiltered MMA RadioYou can tune in or... http://t.co/39r1W6Y8RH
about an hour ago

Alistairovereem

Alistair Overeem


"@MetropolisMagNJ: March #StPatricks Issue is out with @Alistairovereem on our cover! http://t.co/O014W0YFQg"
about an hour ago

FarikoGifteD

Nick W


Watching every episode 👌@Alistairovereem http://t.co/0CvXgeRzts
about an hour ago

SocialUnderGrnd

SocialUnderground


The 5 #CONAN remotes that you need to watch because they're hilarioushttp://t.co/HOUD4Was7M.@ConanOBrien #funny http://t.co/6O6SjJoyxp
about 2 hours ago

brucebuffer

Bruce Buffer


"@Brent_9: @brucebuffer is your podcast going to be back on iTunes in the future? Love the show" YES I'M BACK ON ITUNES THIS WEEK FOR FREE!"
about 2 hours ago

colemillerATT

Cole Miller


What @joerogan said about @RondaRousey is ridiculous. It's at least 60% of @ufc male bantamweights.
about 2 hours ago

MightyMouseUFC

Demetrious Johnson


https://t.co/2HeqX1ye02 when I heard about @BurtWatson4real this morning!!! 😞
about 2 hours ago
MOST SENT STORIES ON ESPN.COM