Commentary
As champ, Jose Aldo playing it safer
Originally Published:
August 5, 2013
By
Josh Gross
| ESPN.com
Saturday night won't be remembered as Jose Aldo's most memorable as champion; yet as title defenses go, he'll take it to the bank every time.
Part of the requirement of holding a UFC belt is facing all comers. All styles. All disciplines. And so far, through a gauntlet of wrestlers and strikers, no one has come up with a blueprint to beat Aldo.
Aldo hasn't suffered his Chael Sonnen moment, where all of a sudden the rest of the world believes they know how to trip up Anderson Silva because someone showed them the way.
[+] Enlarge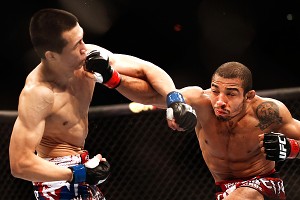 AP Photo/Felipe DanaJose Aldo's most recent title defense was masterful -- if not eventful.
The truth is, by the time he's done, Aldo could be looked at as better than Silva. More gifted athletically, even. And considering the featherweight champion is only 26, crazy as it is to type this, he's just now come into his own.
This is the start of the prime of his career, one that has thus far been perfect save a mistake in 2005 in a lightweight contest. At featherweight, Aldo has no peers. At 155, which is where he could head depending on what UFC wants to do with him, "Junior" would be far more susceptible to that blueprint-defining loss. That's why he needs to remain at 145 for the time being.
Never mind that worthy challengers are in the queue. They are. This has more to do with how good Aldo can be over the long haul. How wide his reach in MMA. How deep a connection he shares with fans. How dominant he is against dangerous opposition.
He's never been a safety-first fighter. That's not Aldo's M.O. But as he said postfight, he's the champion, he's got something to lose compared to the men vying for that honor, and these days he may look for safer routes to victory.
No more jumping double-knee KO in the opening 10 seconds of a fight?
It would be a shame if Aldo neutered his game in the name of retaining the title. But this seems to be what's happening.
UFC 163 grades
Cezar Ferreira

Steamroller. That's what Cezar Ferreira looked like during the 47 seconds it took him to strangle Thiago Santos with a nifty arm-in guillotine. Granted, Santos was fighting on short notice, but he presumably brought more than a steady pulse to the fight. That's why Ferreira's effort stands out. He was on seek-and-destroy mode from the opening bell, and that's exactly what the 28-year-old Brazilian middleweight did.

John Lineker

Hands of stone go well with a granite chin. John Lineker, 23, missed weight by three pounds on Friday, casting doubt over his viability as a flyweight contender. Then he took everything Jose Maria had, recovered and punched his way to a finish in the second round. If Lineker can figure out his weight cutting, he's a serious threat at 125. As it is, the guy might already qualify as the hardest pound-for-pound puncher in the sport.

Jose Aldo

Knowing that Jose Aldo broke his right foot two minutes into the fight alters the view of his performance. There were complaints circulating after his fifth title defense that the dynamic Brazilian had played it safe. He basically said so after stopping Chan Sung Jung. But if there's any truth to that it's likely because he couldn't kick or move like usual. Aldo deserves more credit for fighting 20 minutes against a gritty challenger on one leg. As for what's next, he could be out a few months.

Chan Sung Jung

Even on his best day, Chan Sung Jung isn't on Aldo's level. The South Korean's evening ended unkindly when his right arm popped out of its socket. He'd hung around long enough, giving off the sensation that perhaps he had a miracle buried deep inside him, but it wasn't meant to be. Jung has been criticized for playing this one safer than normal. This doesn't seem like something to critique, not against a dragon slayer like Aldo./p>

Phil Davis

Phil Davis needs a breakout performance if his plan to move closer to Jon Jones and a title fight is going to work. I don't think he lived up to that against Machida, but people are definitely talking about the strong light heavyweight. The truth is Davis is fortunate to be in the win column. Many more people think he lost than won, and that won't help Davis in a championship fight scenario.

Lyoto Machida

Former UFC champion Lyoto Machida thought he did enough to beat Phil Davis. Judges sitting cage-side disagreed. And now the 35-year-old Brazilian is in a difficult spot. He's class enough to give anyone in the division a fight or a loss. Machida's speed and accuracy continue to work wonders. He may take his talent to 185 pounds, and if he does his speed edge will disappear in favor of being the naturally bigger fighter -- and that could change his tactics.

Thales Leites

Thales Leites came out aggressively against Tom Watson, and refused to allow the Englishman an opportunity to assert himself in the action. This was the best way to return to the UFC after a four-year absence. There was some concern that Leites would fade under the stress, but outside of a few snippets he remained in calm control. I don't expect too much from Leites in the UFC, but is he capable of beating a few guys currently ranked in the division? Yes.

Ian McCall

Ian McCall is never happy, though he really should be pleased after going the distance with Iliarde Santos. Scoring the first win of his UFC life, McCall danced with a larger, heavy hitter and came out on top in a fight of the night performance. McCall's tenacity is evident when he fights. He's strong for flyweight; not so slow, either. It would be foolish to dismiss McCall's ability to make a dent at 125 based on his previous stumbles.

Tom Watson

Tom Watson returned to the UFC after an impressive stoppage win over Stanislav Nedkov in February, but failed to get on track against Leites. There was some thought throughout the three-round contest that Watson had a comeback buried deep inside him, especially if Leites stumbled and fatigue betrayed him. But those things didn't happen, and Watson couldn't force a change in the outcome. He's fun to watch at times, just not overly impressive.
SPONSORED HEADLINES
MORE MMA HEADLINES
MOST SENT STORIES ON ESPN.COM