Commentary
Jones-Gustafsson: Best LH tilt ever?
Originally Published:
September 23, 2013
By
Josh Gross
| ESPN.com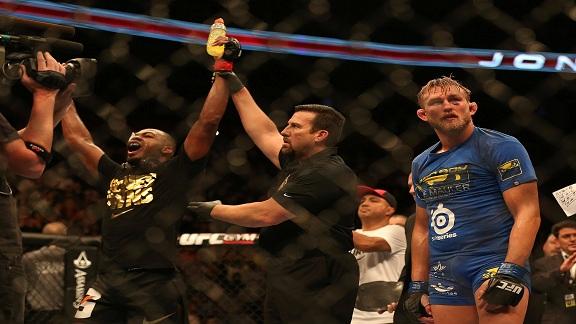 UFC 165: Jones Defends Title
UFC 165: Jones Defends Title
What a fight.
There was discussion following Jon Jones' unanimous decision over Alexander Gustafsson about where the contest stacked up next to previous UFC light heavyweight championship bouts.
As it unfolded, this one had everything. The drama of a high-intensity, high-stakes showdown. The double jolt that comes when an underdog does what only he and his closest supporters thought could be done. The emotional swings that took us from "Wow, Jones could lose" to "Wow, Jones actually pulled it off."
I can't quibble with anyone who thinks this was the best light heavyweight title fight they've seen. Take it a step further, make it the best bout you've seen, period, and I think a case can be made. I, however, won't be the one making it.
For as much as I enjoyed the 25-minute war, which delivered everything we wished it could, I'd have a difficult time placing it above the following contests, without so much as a debate:
Frank Shamrock vs. Tito Ortiz, UFC 22, Sept. 24, 1999: Never to be forgotten. One of the top MMA fights of all time, period. Shamrock survived an early onslaught, then mounted a cerebral offense that set him up for a late finish. High drama the entire time.
Randy Couture vs. Chuck Liddell, UFC 43, June 6, 2003: This was for an interim belt while Ortiz waited on the sidelines. A shocking result left Liddell pummeled in the third round. Couture proved he was far from done, though "The Iceman" would have his revenge after TUF 1.
Quinton Jackson vs. Dan Henderson, UFC 75, Sept. 8, 2007: Unification. History. A fight that matched the moment. Jackson-Henderson had all the elements, and drew a major audience to TV despite a tape-delayed broadcast. A terrific tilt.
Wanderlei Silva vs. Quinton Jackson 2, Pride 28, Oct. 31, 2004: Just because it needs to be mentioned, Silva-Jackson 2 was an incredible fight, the best of 2004. Silva maintains the edge, 2-1.
Jon Jones vs. Alexander Gustafsson, UFC 165, Sept. 21, 2013: This belongs on the list of the best of the best. Should it earn the honor of being mentioned first? Not right now. That's not a knock, just more of an observation after taking time to breathe and acknowledge the division's deep, rich history.
It's easy to imagine them fighting again, and soon, and it turning out to be every bit as enthralling as Saturday's war in Toronto, where Jones-Gustafsson soaked up all the attention.
Here's how they graded out alongside winners and losers from the memorable pay-per-view card.
UFC 165 grades
Renan Barao

Two defenses in 2013. Two bonuses. That'll do for Renan Barao, who racked up a KO check to go with the one he earned for strangling Michael McDonald in February. The gifted Brazilian bantamweight has his raptor eyes trained on Dominick Cruz for sometime in early 2014. You have to figure Barao walks into that bout favored, a deserved bit of respect considering his dominance, especially in Cruz's absence.

Khabib Nurmagomedov

Fly eagle, fly. Khabib Nurmagomedov has Dana White excited about what he can do in the lightweight division, and that's good news. The 25-year-old Dagestani fighter moved to 21-0 with a clear decision against veteran smasher Pat Healy. Despite being the smaller man, Nurmagomedov was consistently the aggressor. Speed with movement and striking proved very effective against Healy, as did Nurmagomedov's grappling ability. He's strong, fast, determined and technical. Want a prediction? The Eagle gets a title shot at 155 sometime in 2014. I'd like to see him fight Rafael dos Anjos next.

Jon Jones

There aren't any questions remaining about Jon Jones' place as champion for the UFC. He's an all-timer, making good, it seems, on the talent that made him someone worth watching from the very start of his career. Jones dug as deep as he could because he was forced to, and it's always tremendous to get a chance to see a champion get pushed to the brink. Ten straight wins puts him in rarefied air with Anderson Silva, Georges St-Pierre and Royce Gracie. Six straight title defenses at 205 is a record. Gatorade. Nike. The world is his, and he is determined not to let it pass by without leaving a lasting impression.

Alexander Gustafsson

Might I recommend my prefight column on Alexander Gustafsson? I might. And I am. The words and attitude coming from Gustafsson and those around him leading up to the fight were speed, pace, determination. They all helped Gustafsson push a great champion to the edge. There's room for improvement, and he'll traverse it. He could do better to land a higher percentage of significant strikes. Gustafsson stayed true to form, landing 38 percent compared to Jones' 62 percent. Still, we're talking about a gifted, young, unafraid fighter, who just made a bunch of new fans.

Brendan Schaub

He was determined and decisive. Brendan Schaub put it together the way he needed to in a pressure-packed spot against Matt Mitrione. He was most impressive on the canvas, where a takedown led to a beautiful finish that showed how much Schaub has improved after all the hard work he put into his submission game. I'm still not convinced he's got the right makeup to do anything against the top shelf of the heavyweight division, but he's earned the right to find out.

Francis Carmont

Francis Carmont was the easy fall guy for the result of his three-round win against Costas Philippou. That isn't fair. Carmont stepped into the cage ready to implement a plan of attack. He did, scoring five takedowns in five attempts. Philippou had no answer after previously defending 22 of 24 previous efforts. So the fight lacked big moments. Regardless, this is Carmont's 11th consecutive win, and it was lopsided. For all his good work passing guard into dominant positions and connecting with 74 more strikes, Carmont couldn't hurt Philippou.

Wilson Reis

If Reis can get to an opponent's hips and finish takedowns, he's a difficult fighter to outpoint. That's what happened against Ivan Menjivar, who gave up four of six takedowns and suffered long stretches on the canvas where he wasn't so sharp. He seems older than 28, but he's not. So the good news is Reis, the only EliteXC 140-pound champion, is stepping into the UFC as he enters his prime.

Eddie Wineland

Eddie Wineland is a good fighter, but he's not elite because each time he had a chance to take that step he fell short. He complained afterward that the stoppage was bad. I don't think so. There's a lot to like about the way Wineland approaches a fight, and he's still under 30, however the book on him seems written at this point.

Myles Jury

More was expected of Myles Jury and his opponent Mike Ricci. Much more. Which is why their contest was the worst on the card. At times it felt like Jury and Ricci were both trying to be perfect. Instead both men produced uninspired performances that had judges split on their verdict. Jury, 24, is a better fighter than he showed on Saturday.

Pat Healy

Paul Healy kept moving forward. He tried to mix it up. He tried to put punches together. But nothing seemed to work against Nurmagomedov. "Bam Bam" couldn't overcome a speed gap, and when they locked up, Healy wasn't able to assert himself despite being the larger man. So a win overturned to a no-contest, and then a decisive decision loss has put a dent into Healy's year.

Matt Mitrione

Will Matt Mitrione get cut? That's the question and expectation after prefight rumblings had his fight with Schaub pegged as a "loser leaves the UFC" contest. This is three losses in four fights. Beating the likes of Tim Hague, Christian Morecraft and Philip De Fries isn't good enough when that's all you're doing.

Constantinos Philippou

Constantinos Philippou brought an underwhelming effort that saw him totally outclassed and outworked. There were times when he looked lost fighting from his back, which was rather shocking considering his experience and pedigree. This is a setback for his chances at a major contest at 185 pounds, no doubt about it.
SPONSORED HEADLINES
MORE MMA HEADLINES
MOST SENT STORIES ON ESPN.COM
EDITORS' PICKS
Robbie Lawler walks us through his road to a title shot.
Brett Okamoto »

UFC 171 will change the welterweight landscape.
Preview »

Hendricks doesn't envy a judge's job to score bouts.
Blog »