Commentary
2012 NBA All-Star Game Scorecard: 3-point shootout
Updated:
February 26, 2012, 2:35 PM ET
By
By TBD
| ESPN.com

2012 NBA All-Star
Scorecards
Grades by John Hollinger


B
Started with an air ball before finding his groove, but a missed moneyball on the final rack, after he'd made the first four, cost him a spot in the finals. Oddly enough, his 17 wasn't good enough to make the final, but repeating it in any of the tiebreaks or final would have been good enough to win it.


B
When he opened the competition by making nine of his last 12 and four moneyballs for an 18, it seemed certain he'd make the final. But this competition was more fierce than recent ones and his score only earned him a tiebreak, which he lost by a point when his fourth shot was waived off for having a toe on the line.


B
Started strong but faded at the end, ringing up 20 in the opening round but scuffling to 16 in the final round and then just 14 in the tiebreak against Kevin Love, including misses on six of his final eight shots when the title was there for the taking. Still, this was a vast improvement on his performance a year ago.


B+
The defending champ had both the best and worst rounds of the night, with a scalding 22 in the opening round before slumping to 12 in the final. Jones made 13 of his last 15 shots in his opening-round outburst but bricked eight of his first nine shots in the final to eliminate himself from contention.


A
Love did just enough at every juncture to win. He seemed cooked in the first round before five straight makes at the end got him to 18, and then he beat Chalmers in the tiebreak with the help of a misplaced toe. Similarly, his final round started with four straight misses before he revived enough to get to 16, and then his 17 in the tie-break won it when Durant went cold. The key? He made 10 of his 16 moneyballs on the night.


C
The Drazen Petrovic tribute jersey was a nice touch, but he just couldn't get the shots up fast enough. He had two balls still left in the rack at the end and had to be near-perfect to make up for it; he wasn't, despite one nice string of four straight from the center rack.
SPONSORED HEADLINES
MORE NBA HEADLINES
MOST SENT STORIES ON ESPN.COM
2012 NBA ALL-STAR WEEKEND (FEB. 24-26)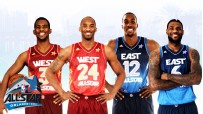 Follow the NBA on ESPN:
Twitter / Facebook / Google+
2012 All-Star Index: Complete coverage
ALL-STAR SUNDAY NIGHT
ALL-STAR SATURDAY NIGHT
ALL-STAR FRIDAY NIGHT
TRUEHOOP TV AT ALL-STAR WEEKEND
ALL-STAR PODCASTS