2012 Rookie-Soph Scorecard: Team Chuck
Updated:
February 25, 2012, 11:45 AM ET

2012 NBA All-Star
Scorecards
Team Chuck grades by John Hollinger

A+
Game MVP proved why he's likely to win Rookie of the Year and to be playing on Sunday at All-Star Weekend next year. Kyrie shot 3s like he was taking them off a rack, making all eight attempts and shooting 12-of-13 overall while also handing out a team-high nine assists for the winning side.


B
Somewhat ironic that Cousins was the only guy who seemed interested in defending at the start of the game. He seemed a little out of place in this track meet but managed to put up decent numbers (18 points, 11 rebounds) anyway.

D
Had some fun banter going with Timberwolves teammate Ricky Rubio but struggled to get much of anything done on his own. Scored only two points in 18 minutes, and it seemed like he was actually trying to get some numbers.

B+
George's up-to-the-elbow breakaway dunk was a nice preview for Saturday night's dunk contest and one of several slams on the evening. His 23 points were second only to Irving's 34.

C
Brooks didn't exactly shed his rep as a blind gunner, the signature moment coming when he passed up an open shot to dribble out to the 3-point line and shoot an air ball. He finished 1-of-5 on 2s, which is virtually impossible in a game like this.


B+
He'll be a major factor in the highlight film with that game-closing, behind-the-back jam and a vicious lefty dunk earlier, but he also had some typically Wizardesque moments -- most notably when he robbed Derrick Favors of a basket by dunking a ball on the rim after the whistle.

A-
Didn't contribute much to the highlight reel but arguably Team Shaq's most effective player with 14 points in 14 minutes and nary a miss nor a turnover.



A-
Perhaps a little too gung ho about getting a triple-double at the end and still finished three assists shy. But Turner made 8-of-9 shots, had a game-high 11 boards and was a huge factor in building an early lead.

B+
Showed off his hops with a couple of at-the-square shot-blocks and contributed a quiet 14 points to the winning side's cause.


2012 NBA ALL-STAR WEEKEND (FEB. 24-26)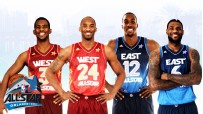 Follow the NBA on ESPN:
Twitter / Facebook / Google+
2012 All-Star Index: Complete coverage
ALL-STAR SUNDAY NIGHT
ALL-STAR SATURDAY NIGHT
ALL-STAR FRIDAY NIGHT
TRUEHOOP TV AT ALL-STAR WEEKEND
ALL-STAR PODCASTS
AnnieMPeterson

Anne M. Peterson


AP's Don Ryan with a good shot of Russell Westbrook's face: http://t.co/2xAfRC5ukQ
about 3 hours ago

WallaceNBA_ESPN

Michael Wallace


Wallace: Blazers show fire in overcoming Westbrook http://t.co/qLCm4lDjpT
about 4 hours ago

WallaceNBA_ESPN

Michael Wallace


Westbrook evaluated after taking knee to face http://t.co/0ScTMgNeFC via @espnnba
about 4 hours ago

JustinVerrier

Justin Verrier


Dispatch from Staples Center, where Jordan Clarkson was doing things again. http://t.co/PVFpnQNQSj
about 4 hours ago

WallaceNBA_ESPN

Michael Wallace


Stotts: "Obviously this was an important win for us."
about 6 hours ago

ESPNNBA

NBA on ESPN


What. A. Game. Blazers hold on in final seconds to beat Thunder, 115-112. Westbrook: 40 Pts, 13 Reb, 11 Ast in loss. http://t.co/BGOOQ3QOBu
about 6 hours ago

jadande

J.A. Adande


A lot of shots by Westbrook in 4Q came up short, including FT. Only sign of fatigue on back to back. Otherwise unreal energy.
about 6 hours ago

jadande

J.A. Adande


Great defense by Batum on Westbrook in 4Q. Does he have 1 more stop in him?
about 6 hours ago

WallaceNBA_ESPN

Michael Wallace


Funny thing is, Westbrook said he felt he shot too much in last night's loss at PHX. So how does he respond? He's got 30 FGAs tonight.
about 6 hours ago

jadande

J.A. Adande


Little moment of peace: Blazers assistant David Vanterpool, who came from OKC organization, helped settle down Ibaka
about 6 hours ago

WallaceNBA_ESPN

Michael Wallace


What a game. LaMarcus has taken over down the stretch. Carrying the Blazers. He's got 28 and 14, trying to offset Westbrook's 36-13-11.
about 6 hours ago

ESPNNBA

NBA on ESPN


Russell Westbrook joins some elite company. He's the 4th player in last 20 seasons to earn 3 straight triple-doubles. http://t.co/YfB4wv9PB7
about 6 hours ago

jadande

J.A. Adande


Westbrook missed a jumper and somehow materialized under the basket to contest for the rebound. Didn't seem physically possible.
about 7 hours ago

anthonyVslater

Anthony Slater


Crazy impressive: Three of Russell Westbrook's five triple-doubles this season have become before the start of the 4th quarter.
about 7 hours ago

WallaceNBA_ESPN

Michael Wallace


Meanwhile, Mitch McGary is launching his late-season MVP push.
about 7 hours ago

WallaceNBA_ESPN

Michael Wallace


Westbrook snuck a rebound in before third quarter ended to secure his triple-double. First player since LeBron in 2009 to get 3 straight.
about 7 hours ago

ESPNNBA

NBA on ESPN


RUSSDICULOUS. That makes it 3 in a row! Westbrook records triple-double for 3rd straight game, his 5th of the season. http://t.co/khIEj9t3km
about 7 hours ago

WallaceNBA_ESPN

Michael Wallace


Mitch McGary is absolutely ballin for OKC. Gotta give @DarnellMayberry props for calling it way earlier on the versatile big man.
about 7 hours ago

mcten

Dave McMenamin


Excellent work. Mental illness should not be taboo RT @kevinarnovitz The Larry Sanders Experience: http://t.co/8ontQ6lTX3 …
about 7 hours ago

WallaceNBA_ESPN

Michael Wallace


Westbrook at 21-10-8 just three minutes into the third quarter. Dude is on a mission these days. Unstoppable.
about 7 hours ago

MOST SENT STORIES ON ESPN.COM