2012 NBA All-Star Game Scorecard: East All-Stars
Updated:
February 27, 2012, 12:26 AM ET

2012 NBA All-Star
Scorecards
Grades by John Hollinger


A
Missed a crazy 3-point try at the end but not much else, scoring 24 points on 15 shots while supplying a triple-double and adding two steals. About the only knock on him was the four turnovers (well, that and the fact he broke Kobe's face) but he showed he can be just as effective throwing alley-oops as he can be slamming them down.




B+
Played an extremely efficient, low-usage game by scoring 14 points on just eight shots. While he added few highlights and didn't get a ton of run, it was a quietly effective performance. Just don't ask him to dance.




D
Clowned around for most of the game, attempting four 3-pointers without coming close to making one and playing matador defense to an even more extreme extent than most of his fellow All-Stars.




A
Knock him for the late turnover, but his fourth quarter until that point was majestic and basically turned a blowout loss into a competitive game -- the East were down 15 when James checked back in with seven minutes left. His 36 points included several spectacular dunks, and he added seven dimes.




B
Played a lot but not particularly well, shooting 7-of-15 and missing a contested and questionably chosen game-tying 3-pointer with 24 seconds left. Finished with no assists but no turnovers, a marked contrast from his Knicks showings.




C
While his two Miami teammates ran the East back into the game, Bosh was mostly a bystander. He shot just 3-of-9 in his 20 minutes, nearly all 20-footers, and collected only two rebounds.




C
Played five minutes and had one nice assist. Otherwise his most notable maneuver was practically disappearing in the tunnel to get out of the way of a Blake Griffin dunk.




C
This wasn't his kind of party, but he openly celebrated his first and only All-Star bucket, a tip-in during which he was fouled by Dirk Nowitzki.




A-
This is a good event for him as he showed with several spectacular flushes. Iggy finished with a dozen points on just seven shots, with the one miss being -- what else -- a 3-pointer.




D-
His main contribution was trash-talking Kobe Bryant in the final minute, in an exchange that featured some colorful language. On the court, he was brutal, shooting 1-for-8 with two turnovers in 11 minutes.




C+
Sneakily effective with eight assists in 15 minutes, including a spectacular full-court alley-oop to LeBron James, although he offset it a bit with four turnovers. Unfortunately, it was tough to give him more run with all the point guards on the East roster.




A-
He missed a wide-open 3-pointer at the end that would have put the East ahead, but he quietly was one of the East's best players. His steal and layup had made it a one-possession game moments earlier, and his stat line could hardly be more perfect: He pumped in 20 points in 18 minutes on just 11 shots, with four assists and no turnovers.


2012 NBA ALL-STAR WEEKEND (FEB. 24-26)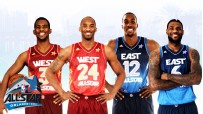 Follow the NBA on ESPN:
Twitter / Facebook / Google+
2012 All-Star Index: Complete coverage
ALL-STAR SUNDAY NIGHT
ALL-STAR SATURDAY NIGHT
ALL-STAR FRIDAY NIGHT
TRUEHOOP TV AT ALL-STAR WEEKEND
ALL-STAR PODCASTS

MOST SENT STORIES ON ESPN.COM