2012 Rookie-Soph Scorecard: Team Shaq
Updated:
February 25, 2012, 11:58 AM ET

2012 NBA All-Star
Scorecards
Team Shaq grades by John Hollinger


A-
Griffin used his 10 minutes well; he had one highlight reel dunk and none of the screwball mistakes that were so emblematic of the game.




D
Best moments came in his unprecedented solo press conference before the game. Lin looked exhausted on the court and, even by this game's standards, barely tried, finishing as lone player on his side in single figures with just two points.

B+
Stats (12 points, seven assists) weren't great, but he provided most of the flair with his around-the-back tricks -- including a full-court aerial to Kemba Walker -- and also nutmegged DeMarcus Cousins with a dribble.

B
Didn't get a lot of run and won't appear in the highlights, but put in a strong 15 minutes with 12 points and a couple of 3-pointers.



B+
Walker's not known as a passer but he did a nice job setting up his teammates with 10 dimes, including a few spectacular alley-oop passes. Unfortunately, he didn't shoot well, making only four of his 11 shots.


B+
Fields quietly had a very efficient game, with 16 points in 18 minutes and just one turnover even though he didn't seem all that interested.



B-
Had few memorable moments and kept jacking 3s with little regard (a game-high 11 bombs in 24 minutes). But he played a solid game otherwise with 18 points, six assists and four steals.

C
Tried using this game to prove he could shoot 3s. Instead, he used this game to prove he can't shoot 3s. Knight made only 2 of 9 from distance, messing up what otherwise was a pretty solid performance that included a between-the-legs dish for a Walker layup.

B+
All he did was catch passes and dunk them, but he did that very well, making 10 of 11 for a team-high 20 points. However, he had only one rebound in 27 minutes and committed four fouls; apparently he didn't get the memo about trying on defense.

B+
Provided one of best moments of the game when he clowned John Wall by stealing the ball on a clear-out dunk attempt at the end. Monroe grabbed 10 rebounds, which is no easy feat in a game in which nobody misses a shot, and his five steals and four dimes weren't too shabby (for a center), either.
2012 NBA ALL-STAR WEEKEND (FEB. 24-26)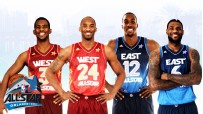 Follow the NBA on ESPN:
Twitter / Facebook / Google+
2012 All-Star Index: Complete coverage
ALL-STAR SUNDAY NIGHT
ALL-STAR SATURDAY NIGHT
ALL-STAR FRIDAY NIGHT
TRUEHOOP TV AT ALL-STAR WEEKEND
ALL-STAR PODCASTS
mcten

Dave McMenamin


Blatt says Love got an elbow to his back that sidelined him and that Shumpert "jammed" his ankle. Didn't seem too concerned longterm on both
7 minutes ago

ArashMarkazi

Arash Markazi


Halftime: Clippers 68, Celtics 47. Boston goes on a 4-0 run to close out the half so, well, yeah they got that going for them.
7 minutes ago

WallaceNBA_ESPN

Michael Wallace


Also at time, Grizzlies looked like they'd challenge Warriors for No. 1 seed. They've since stumbled as Houston caught them for No.2.
8 minutes ago

chadfordinsider

Chad Ford


Michigan State NBA Prospects in ESPN Top 100: Dawson (90), Valentine (92)
8 minutes ago

chadfordinsider

Chad Ford


Duke NBA Prospects in ESPN Top 100: Okafor (2), Winslow (6), Jones (28), Allen (68), Cook (99)
8 minutes ago

chadfordinsider

Chad Ford


Wisconsin NBA Prospects in ESPN Top 100: Kaminsky (13), Dekker (18), Hayes (27)
8 minutes ago

chadfordinsider

Chad Ford


Kentucky NBA Prospects in ESPN Top 100 (continued):An Harrison (56), Aa Harrison (80), Lee (82), Poythress (84)
8 minutes ago

ESPNForsberg

Chris Forsberg


Garden roars as Isaiah Thomas closes first half with 3-pointer that sends Boston into the break down … 21. Clippers dominating.
8 minutes ago

chadfordinsider

Chad Ford


Kentucky NBA Prospects in ESPN Top 100: Towns (1), Cauley-Stein (8), Lyles (16), Booker (19), Johnson (37), Ulis (45)
9 minutes ago

chadfordinsider

Chad Ford


Tons of NBA prospects playing in the Final 4: 5 lottery picks, 10 1st rounders, 19 players in ESPN's updated Top 100 http://t.co/KxOQPDxZDV
9 minutes ago

chadfordinsider

Chad Ford


Kawhi Leonard is a good comp for Justise Winslow. Michael Kidd Gilchrist as well, though Winslow a better 3 point shooter.
10 minutes ago

kpelton

Kevin Pelton


13-1 Duke since Kyle Wiltjer missed the possible tying layup.
11 minutes ago

WallaceNBA_ESPN

Michael Wallace


At the time Spurs were on season-worst 4 game skid and Tony Parker was all but officially washed up. Spurs and Parker have regrouped.
11 minutes ago

calvinwatkins

Calvin Watkins


The Rockets juggle lineups and matchups. http://t.co/EZBsZgTPZH
13 minutes ago

chadfordinsider

Chad Ford


Justise Winslow, like Dekker, has helped his stock in the tourney. We moved him to No. 6 on our Big Board last week, might be too low.
13 minutes ago

WallaceNBA_ESPN

Michael Wallace


Ironically, I caught both the Grizzlies and Spurs in Portland this time a month ago as both were going through transition.
16 minutes ago

ArashMarkazi

Arash Markazi


Chris Paul and DeAndre Jordan connect on the lob to give the Clippers a 62-38 lead with 1:38 left in the 2nd quarter.
16 minutes ago

jadande

J.A. Adande


Winslow got that rebound with his eyes. Tracked it the whole time
18 minutes ago

WallaceNBA_ESPN

Michael Wallace


Vince Carter gets the start at small forward in place of injured Tony Allen against the Spurs.
19 minutes ago

ArashMarkazi

Arash Markazi


J.J. Redick gets a technical for complaining that non-call after he was knocked down after a three-point attempt.
20 minutes ago

MOST SENT STORIES ON ESPN.COM