2013 NBA All-Star Game Scorecard
Updated:
March 2, 2013, 11:32 PM ET

2013 NBA All-Star
Scorecards
By Andrew McNeill
TrueHoop Network

B-
Slipping away is the athleticism that made him a fun player to watch in this contest, but Wade still managed to produce 21 points. I can't imagine he has many of these left in him.

B+
So many dunks. Either James was born for the All-Star Game or the game was made for him. I can't figure out which.



A-
While Anthony's game is great for international basketball, it doesn't translate quite as well to the All-Star Game. Luckily for us, he's good enough to make it work.

C-
Despite starting, Garnett played only six minutes and didn't make an appearance after the first quarter. Apparently he made fun of Craig Sager's suit on the telecast, so that bumps him up a letter grade.

C+
Bosh may be remembered most for being the game's biggest buzzkill, fouling to stop fast breaks and when players would get past him. He's no fun.



C-
As good of a finisher as Chandler is around the rim, he had only two field goals. In an All-Star Game.



C-
The box score tells me Luol Deng played more than 17 minutes. If you say so, box score.



B-
George was fairly quiet for most of the night, but back-to-back 3-pointers in the final two minutes got the East back in it momentarily. Considering his past in the dunk contest, more entertainment could've been expected from George.

C-
While the first-time All-Star's on-court contributions were limited, he was a standout on the in-arena entertainment videos. Unfortunately, he'll be one of this game's forgotten members.

B+
Kyrie wins the weekend. He didn't have a standout performance like he did in the Rising Stars Challenge or 3-point shootout, but he made it known that he's a star in the NBA.

D+
All-Star Games are not kind to awkward big men. Let's just be happy that he grabbed five rebounds and turned the ball over only once.



C+
Noah's crazy personality fit great with the All-Star Game, but his being allergic to finishing lob passes did not. Noah seemed like he'd rather it be a regular-season game.
2013 NBA All-Star Game On ESPN.com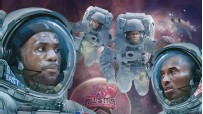 Follow the NBA on ESPN:
Twitter / Facebook / Google+
LATEST CONTENT
REGULAR FEATURES
posterdunk

JB - Posterdunk


Intéressant: Mike D'Antoni sur les Suns & l'Italie. Apprendre à l'apprécier pour certaines réussites: http://t.co/V7k4cQHqIT (via @AminESPN)
about an hour ago

AminESPN

Amin Elhassan


Kerr on minutes (continued): ...it's more important to keep our guys fresh, and if it means losing a game here or there, so be it
about an hour ago

AminESPN

Amin Elhassan


Kerr on minutes distribution: if we were fighting for a playoff spot, I'd probably grind the guys more. But we're in a good spot and...
about an hour ago

ESPNNBA

NBA on ESPN


ICYMI: Things got HEATED between Hassan Whiteside & Alex Len in the 3rd quarter of the Heat vs Suns game. http://t.co/vNR9cIy79Q
about 7 hours ago

ESPNNBA

NBA on ESPN


Strange Stat of Night: Klay Thompson's 7 Pts are season-low & only game this season he didn't score in double-digits. http://t.co/30woVgCTho
about 8 hours ago

ESPNNBA

NBA on ESPN


Mavs snap Pelicans 5-game win streak, 102-93. Monta Ellis leads the way with 20 points & Rondo adds 19 points in win. http://t.co/x3NY9BDsGA
about 8 hours ago

ESPNNBA

NBA on ESPN


Heat win heated match-up vs Suns, 115-98. Tyler Johnson scores career-high 26 Pts & Goran Dragic adds 21 vs old team. http://t.co/USzqIteilU
about 8 hours ago

ESPNNBA

NBA on ESPN


.@iambigbaby11 wasn't only one videobombing tonight. #NBATonight 12:30ET on ESPN2 with @cassidyhubbarth & @LegsESPN https://t.co/J2K49WMOQ9
about 8 hours ago

ESPNNBA

NBA on ESPN


... https://t.co/J2K49X4qeJ
about 8 hours ago

ESPNNBA

NBA on ESPN


Clippers beat TWolves, 110-105. LA has won 7 of 9 games without Blake Griffin. Chris Paul: 26 Pts, 4 Reb, 14 Ast http://t.co/2I2dIFkC5d
about 9 hours ago

ESPNNBA

NBA on ESPN


Ricky Rubio records 4th career triple-double - his 1st of the season. http://t.co/u2ZFJk32rR
about 9 hours ago

tomhaberstroh

Tom Haberstroh


Tyler Johnson has 26 points./caught you googling
about 9 hours ago

ESPNNBA

NBA on ESPN


"The fact the Warriors had the resiliency to fight back and tie it, on a night Klay didn't have his shot, shows a lot of heart." - @LegsESPN
about 9 hours ago

tomhaberstroh

Tom Haberstroh


Someone GIF that Beasley grin after taking the charge.
about 9 hours ago

tomhaberstroh

Tom Haberstroh


Sports in 2015: Fan Cam looking for "the craziest Heat fan in the building!" zooms in on a woman staring down at her iPhone.
about 9 hours ago

ESPNNBA

NBA on ESPN


Despite big 4th quarter from Steph Curry, a huge shot by Jarrett Jack wins it for Brooklyn with 1 second to go. Nets beat Warriors, 110-108.
about 10 hours ago

kpelton

Kevin Pelton


Joined the Hang Up and Listen podcast to talk about Sloan, Analytics Rankings and the Sixers' future: http://t.co/ifEq8mGTDM
about 10 hours ago

tomhaberstroh

Tom Haberstroh


Trainer dude in the black shirt got up like a ninja. RT @anthonyVslater: Wrestling match in Miami! Whiteside vs Len https://t.co/E61pTYDlaa
about 10 hours ago

tomhaberstroh

Tom Haberstroh


Brawl in Miami!
about 10 hours ago

ESPNNBA

NBA on ESPN


This Day in Hoops History (1962): Wilt Chamberlain dropped 100 points against New York Knicks. https://t.co/w3eBrXqpCB (via @sportscenter)
about 10 hours ago

MOST SENT STORIES ON ESPN.COM