MVP Race: Duncan Enters Top 10
1. LeBron James, Cavaliers
G
MIN
FG%
3P%
FT%
STL
BLK
RPG
AST
PTS
PER
13
37.5
.482
.224
.784
2.0
0.8
7.8
7.0
29.1
32.9
If the official voting for the league's most valuable player were held today, it would be unanimous in favor of James, although there is always that one media member who likes to buck the trend just to be different.
2. Kobe Bryant, Lakers
G
MIN
FG%
3P%
FT%
STL
BLK
RPG
AST
PTS
PER
12
33.8
.464
.324
.827
1.8
0.8
4.9
3.9
24.7
25.0
His numbers across the board are solid and the Lakers have the top mark in the league. So why is he not No. 1, you ask? Have you not been paying attention to what James is doing with less?
3. Chris Paul, Hornets
G
MIN
FG%
3P%
FT%
STL
BLK
RPG
AST
PTS
PER
13
37.3
.523
.364
.856
2.9
0.2
5.8
12.2
20.5
32.8
With the holiday season beginning this week, CP3 has proved to be in a giving mood, dishing out 16 assists on Saturday, followed by 17 more dimes on Monday to highlight back-to-back triple-doubles.
4. Dwight Howard, Magic
G
MIN
FG%
3P%
FT%
STL
BLK
RPG
AST
PTS
PER
14
36
.583
.000
.543
0.9
4.1
13.4
1.4
20.9
28.6
He is top 20 in points (17th), shooting (seventh), double-doubles (second), blocks (first) and rebounds (second) and is the only player big enough and cool enough to take Shaq's Superman nickname.
5. Amare Stoudemire, Suns
G
MIN
FG%
3P%
FT%
STL
BLK
RPG
AST
PTS
PER
14
38.4
.560
.000
.837
1.2
1.3
8.4
1.9
22.6
24.1
I don't know about you, but if someone spelled my name Marreese, Mureece or Murrice even once, I would immediately correct them. Apparently it just started bothering Amar'e, who turned pro in 2002-03.
6. Dwyane Wade, Heat
G
MIN
FG%
3P%
FT%
STL
BLK
RPG
AST
PTS
PER
14
36.8
.488
.256
.753
2.4
1.9
4.9
7.6
28.5
31.7
If I sneeze once, I pick up the phone and call the bosses in Bristol and let them know I'm not working because I'm sick. The NBA's second-leading scorer played with flu-like symptoms and dropped 38 points on the Pacers.
7. Paul Pierce, Celtics
G
MIN
FG%
3P%
FT%
STL
BLK
RPG
AST
PTS
PER
15
36.9
.407
.435
.821
1.3
0.3
7.2
3.6
19.0
18.4
I thought there was a virus on the Celtics' site, because Pierce's stats for the week looked liked Tony Allen's. I guess you can score nine, 12 and 11 points in three consecutive games as long as your team wins.
8. C. Billups, Nuggets
G
MIN
FG%
3P%
FT%
STL
BLK
RPG
AST
PTS
PER
12
34.7
.400
.382
.904
1.7
0.4
3.2
6.6
17.6
21.8
He had six assists, but a season-high six turnovers against the Spurs last Wednesday. How do you make up for that ordinary performance? By having a total of 17 helpers with zero miscues in the two games since.
9. Joe Johnson, Hawks
G
MIN
FG%
3P%
FT%
STL
BLK
RPG
AST
PTS
PER
13
38.8
.456
.429
.843
1.5
0.5
4.8
5.2
24.0
22.3
Doesn't it seem like Atlanta's 6-0 start to the season was years ago? The Hawks have dropped five of their past seven and Johnson is coming off a dreadful four-point performance against the Cavaliers.
10. Tim Duncan, Spurs
G
MIN
FG%
3P%
FT%
STL
BLK
RPG
AST
PTS
PER
13
36
.530
.000
.689
0.2
1.7
10.1
3.3
21.8
26.1
He is putting up the same numbers he always puts up, except he has managed to keep the Spurs afloat (Roger Mason deserves credit, too) while playing most of the season without two members of the big three.

1. Andrei Kirilenko, Jazz: Fantasy hoops delight: 4 stls., 6 reb., 10 asts. and 9 pts. against the Grizzlies.
2. Jason Terry, Mavericks: His 18.4 points per game is his highest average since his 2001-02 season with the Hawks.
3. Ben Gordon, Bulls: Chicago's scoring specialist is meshing well with rookie sensation Derrick Rose.
4. Nate Robinson, Knicks: He probably hopes the Knicks keep making trades that leave them short-handed. His combined output in the two games last week: 46 points, 16 rebounds and 10 assists.
5. Manu Ginobili, Spurs: He made his season debut on Monday and I've already seen enough. He had 12 points in 11 minutes and raised San Antonio's energy level as soon as he got on the floor.
Defensive Player Watch: D12

1. Dwight Howard, Magic: He blocked six shots on Monday, a total that's so routine for him that it's barely mentioned anymore.
2. Dwyane Wade, Heat: Only player in the league who is top 10 in steals and blocks.
3. (tie) Kevin Garnett, Celtics, Ron Artest, Rockets: The heart and soul of the two top-ranked defenses in the league.
4. Andrew Bynum, Lakers: He is improving at slowing down guards on pick-and-rolls and was already an exceptional shot blocker.
5. Ronny Turiaf, Warriors: My Sixers challenged Ronny on Sunday and he turned away five shots. He is averaging 2.2 blocks in just over 15 minutes per game.
Most Improved Watch: Harris Getting It Done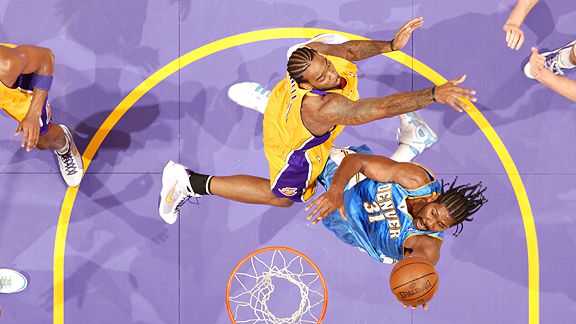 Andrew D. Bernstein/NBAE/Getty Images
1. Devin Harris, Nets: Not only has he emerged as the favorite in this category, he should be an All-Star this season, too.
2. John Salmons, Kings: He has figured out everything necessary to be the man while Kevin Martin is out except for a go-to move in the closing seconds. That up-and-under, should-have-been-called-a-travel move against the Blazers on Monday was ugly.
3. Nene, Nuggets (pictured above): He is shooting a league-best 64 percent, while increasing his point total from a season ago by an NBA-best 10.1 points per game.
4. Thaddeus Young, Sixers: As well as he has played this season, he is still more suited to be a No. 2 or 3 option, not a team's leading scorer, as he was heading into this week.
5. Andris Biedrins, Warriors: Jamal Crawford, who has never seen a shot he didn't like, is coming to town, which means even more misses for Biedrins to grab in his pursuit of the rebounding title.

ESPN'S NBA AWARDS WATCH
Maurice Brooks, former Race to the MVP columnist at NBA.com, is an NBA editor at ESPN.com.
Rookie Watch: Derrick Rose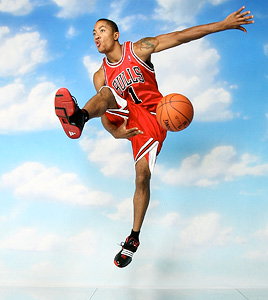 Nathaniel S. Butler/NBAE/Getty Images
1. Derrick Rose, Bulls: Playing with a minor hip injury, he had arguably the best game of his young career Monday against the Jazz. He went off for 25 points and nine helpers as Chicago won in Salt Lake City.
2. O.J. Mayo, Grizzlies: After his 26-point outburst against the Spurs, it's becoming clearer that Mayo is replacing Rudy Gay as the man in Memphis' pecking order.
3. Michael Beasley, Heat: His scoring is starting to slip because he's getting less playing time than he was earlier in the season during the fourth quarter and crunch time.
4. Marc Gasol, Grizzlies: He has scored in double digits in seven straight games.
5. Rudy Fernandez, Blazers: After a red-hot start to the season, Fernandez has come back to earth, scoring fewer than five points in three of his past four games. I'm no coach, but I think he needs to stop relying so much on the 3-point shot and start shooting more midrange jumpers and layups.
Coach of the Year Watch: Spoelstra

1. Erik Spoelstra, Heat:
His commitment to defense is serious -- ask prized rookie Michael Beasley.
2. Lawrence Frank, Nets: Now that the Wizards have shown Eddie Jordan the door, Frank becomes the longest-serving coach in the East.
3. Mike D'Antoni, Knicks: I understand why the Knicks made the trades, but it doesn't mean I have to agree with them. I'm interested to see if D'Antoni can keep his squad rolling after the trades.
4. Jerry Sloan, Jazz : It was hard enough winning games without one injured gold medal-winning Olympian (Deron Williams), now he has to do it without two (Carlos Boozer).
5. Mike Brown, Cavaliers: Cleveland has the third best overall record in the league and is one of two undefeated teams at home.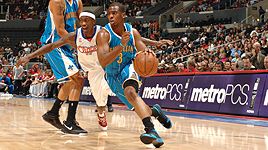 Noah Graham/NBAE/ Getty Images
Points per game
LeBron James, Cavaliers (29.1)
NBA scoring leaders

Rebounds per game
Andris Biedrins, Warriors (13.5)
NBA rebounding leaders

Assists per game
Chris Paul, Hornets (12.2)
NBA assists leaders
Steals per game
Chris Paul, Hornets (2.9)
NBA steals leaders
Blocks per game
Dwight Howard, Magic (4.0)
NBA blocks leaders
Field goal percentage
Nene, Nuggets (.636)
NBA field goal leaders
3-point field goal percentage
Anthony Morrow, Warriors (.609)
NBA 3-point shooting leaders
Free-throw percentage
Jose Calderon, Raptors (1.000)
NBA free-throw shooting leaders

NBA Awards Watch columnist Maurice Brooks explains why Toronto's
Chris Bosh
is no longer in the top 10 of the MVP race and why San Antonio's Tim Duncan is. Plus, he gives his take on the summer of 2010.
NBA Today