Most Valuable Player Watch
1. LeBron James, Cavaliers
G
MIN
FG%
3P%
FT%
STL
BLK
RPG
AST
PTS
PER
35
36.6
.508
.302
.788
2.0
1.3
6.6
6.6
27.7
32.5
Ask the Celtics who the leading MVP candidate is after James posted 38 points, seven rebounds, six assists, four steals and three blocks on them. He also locked up Paul Pierce. (Last week: 1 | Team record: 29-6)
2. Kobe Bryant, Lakers
G
MIN
FG%
3P%
FT%
STL
BLK
RPG
AST
PTS
PER
36
35.9
.481
.368
.871
1.4
0.4
5.3
4.6
27.0
25.1
Indiana beat L.A. on a last-second tip-in on Dec. 2. Bryant made sure the Lakers didn't lose to the Pacers again, capping a 36-point, 13-assist game by nailing the winner with 3 ticks left. (Last week: 2 | Team record: 30-6)
3. Dwyane Wade, Heat
G
MIN
FG%
3P%
FT%
STL
BLK
RPG
AST
PTS
PER
36
38.1
.476
.241
.756
2.3
1.6
5.1
7.1
29.0
29.0
Miami has lost four of six and is just two games above .500. Advice for Heat fans: Start campaigning for an offensive player of the year award like they have in the NFL. (Last week: 3 | Team record: 19-17)
4. Dwight Howard, Magic
G
MIN
FG%
3P%
FT%
STL
BLK
RPG
AST
PTS
PER
36
36.3
.570
.000
.573
0.9
3.3
13.8
1.5
20.1
25.9
Call me immature, but this little prank on the Knicks' David Lee by the reigning Eastern Conference Player of the Week was pretty funny. (Last week: 4 | Team record: 30-8)
5. Chris Paul, Hornets
G
MIN
FG%
3P%
FT%
STL
BLK
RPG
AST
PTS
PER
34
37.4
.496
.375
.870
2.8
0.1
5.2
11.2
20.4
30.1
The Hornets beat the Lakers in L.A. behind Paul's 32 points and 15 assists, their best win of the season. But what about Monday's loss to the Knicks? (Last week: 5 | Team record: 22-12)
6. C. Billups, Nuggets
G
MIN
FG%
3P%
FT%
STL
BLK
RPG
AST
PTS
PER
36
35.4
.425
.404
.900
1.4
0.2
2.6
6.9
18.3
21.0
In his first game against his old club, Billups had 30 points, four rebounds and four assists. Unfortunately for him, it was the Pistons who escaped with the three-point victory. (Last week: 8 | Team record: 25-13)
7. Tim Duncan, Spurs
G
MIN
FG%
3P%
FT%
STL
BLK
RPG
AST
PTS
PER
36
35.4
.515
.000
.690
0.4
1.8
10.1
3.5
20.4
24.3
He is one of just three players in the league -- Orlando's Dwight Howard and Minnesota's Al Jefferson are the other two -- averaging at least 20 points and 10 rebounds per game. (Last week: 6 | Team record: 24-12)
8. Joe Johnson, Hawks
G
MIN
FG%
3P%
FT%
STL
BLK
RPG
AST
PTS
PER
36
39.6
.442
.357
.815
1.1
0.4
4.6
6.1
22.3
19.7
The Hawks are struggling and the finger-pointing should be directed at Johnson. He is averaging just 15 points on 35 percent shooting in five games in January (four losses). (Last week: 7 | Team record: 22-14)
9. Dirk Nowitzki, Mavs
G
MIN
FG%
3P%
FT%
STL
BLK
RPG
AST
PTS
PER
36
37.5
.468
.400
.907
0.8
0.8
8.4
2.7
25.3
23.4
Apparently a head cold is the best way to slow down the league's fifth-leading scorer. Nowitzki is averaging 14.7 points on 32.5 shooting in his past three games. (Last week: 9 | Team record: 22-15)
10. Brandon Roy, Blazers
G
MIN
FG%
3P%
FT%
STL
BLK
RPG
AST
PTS
PER
33
36.9
.469
.368
.841
1.0
0.4
4.6
5.2
22.5
24.5
After missing four games with a hamstring injury, Roy has been back for Portland's past two games (both wins), although he appears rusty (3-for-13 against the Bulls on Monday). (Last week: 10 | Team record: 23-14)
Awards Watch:
Preseason
|
Week 1
|
2
|
3
|
4
|
5
|
6
|
7
|
8
|
9
|
10
|
11
Defensive Player of the Year Watch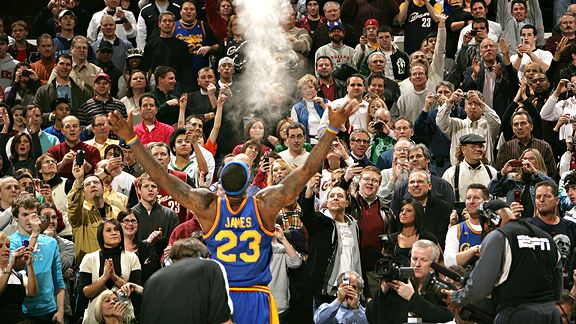 NBAE/Getty Images
1. Dwight Howard, Magic: The All-Star break will be anything but a break for Howard, who will coach in the Rookie-Sophomore game, attempt to defend his title in the dunk contest and presumably start at center for the East in the All-Star Game. (Last week: 1)
2. Dwyane Wade, Heat: Maybe it came from not wanting to be embarrassed in practice, but it can't be a coincidence that a list of the top 10 defensive players in the league this season would include Olympians Howard, Wade, James, Bryant and Paul. That same group represents the leaders in the MVP race, too. (Last week: 2)
3. Kevin Garnett, Celtics: In Boston's overtime win against the Raptors on Monday, Garnett notched the 1,000th start of his career, topped the 21,000-point mark and held All-Star Chris Bosh to six points over the game's final 17 minutes (fourth quarter and overtime) on Monday. (Last week: 3)
4. LeBron James, Cavaliers: Announcers Jeff Van Gundy and Mark Jackson couldn't stop raving about James' play on the defensive end of the floor against the Celtics on Friday. (Last week: 5)
5. Marcus Camby, Clippers: Nobody works harder on the defensive end of the floor than Camby, who has moved into a tie with Howard for the league lead in rebounds. He is averaging 13.8 boards and 2.6 blocks per game. (Last week: 4)
Most Improved Player Watch

1. Devin Harris, Nets:
After missing three of four games with a hamstring injury, he looked healthy scoring 17 points and giving out eight assists in an overtime win against the Thunder on Monday. (Last week: 1)
2. Paul Millsap, Jazz: His double-double streak of 19 games came to a halt after he was held to nine points and seven rebounds in a win over Detroit on Saturday. It was the longest double-double streak by a Jazz player since 1990-91, when John Stockton ran off 25 straight. Millsap missed the Jazz's win against Indiana on Monday with a bruised right knee. (Last week: 2)
3. Danny Granger, Pacers: It seems like every time I read something about Granger, the words "career high" are somewhere in the sentence. Example: Granger tied his career high by scoring 42 points in a loss to the Warriors on Sunday. (Last week: 4)
4. Rodney Stuckey, Pistons Stuckey, who recently had his jersey retired by Eastern Washington, has played so well since taking over the point that the Pistons are thinking about having Allen Iverson or Richard Hamilton come off the bench, instead of having the young guard return to being the sixth man. (Last week: 3)
5. Jameer Nelson, Magic: He leads all guards in shooting and is having a career year in scoring. Dwight Howard is obviously the best player on the Magic, but Nelson is the reason they are one of just three teams with 30 wins. (Last week: 5)

1. Mike Brown, Cavaliers: Cleveland is 19-0 at home, 9-1 against the West and a half-game behind the Lakers for the best mark in the league. (Last week: 1)
2. Stan Van Gundy, Magic: Kudos for the impressive sweep of the Hawks and the win over the Spurs last week. Orlando has jumped out to a seven-game lead in the Southeast Division. (Last week: 3)
3. Gregg Popovich, Spurs: San Antonio has won 22 of its past 29 after a 2-5 start and leads the Southwest Division. Big showdown with the Lakers -- the team they are chasing for the West's top spot -- on Wednesday. (Last week: 2)
4. Jerry Sloan, Jazz: It seems like a different Utah player gets hurt daily and all Sloan has done is guide the Jazz to a 23-15 record, including four wins in a row. (Last week: 5)
5. Phil Jackson, Lakers: For the second time this season, a coach from Los Angeles has said that Dwyane Wade is allowed to get away with cheating. First the Clippers' Mike Dunleavy said he carries the ball, and now Phil Jackson says he travels: "What he's really been able to do is that pick-up move that the Europeans really have brought in. We all would consider that a walk move: Pick up the ball, take two steps, that's two and a half steps. And he's been able to get a long distance on that." (Last week: NR)

ESPN'S NBA AWARDS WATCH
Maurice Brooks, former Race to the MVP columnist at NBA.com, is an NBA editor at ESPN.com.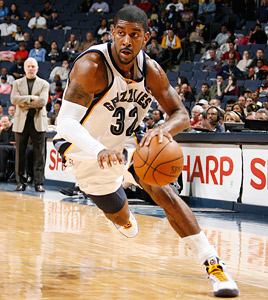 NBAE/Getty Images
1. O.J. Mayo, Grizzlies: He has been the most consistent first-year player. A hip pointer limited his time on Friday, but he is not expected to miss any games this week. (Last week: 2)
2. Derrick Rose, Bulls: He is still doing a good job distributing the ball, but his shooting and scoring have both been inconsistent since the calendar flipped to 2009. (Last week: 1)
3. Russell Westbrook, Thunder: He starts at PG and hands out a dozen assists against the Timberwolves. Two games later, Oklahoma City slides him to SG and he grabs 12 rebounds. Mayo and Rose should be happy that Westbrook spotted them such a big lead in the rookie race or else he'd be the leader right now. (Last week: 3)
4. Eric Gordon, Clippers: I know L.A. has lost 11 in a row, but the future is bright with Gordon, who has scored in double digits in 10 straight games. (Last week: 5)
5. Brook Lopez, Nets: This spot could have easily gone to Memphis' Marc Gasol, but Lopez swayed the panel by scoring a career-high 31 points and grabbing 13 rebounds in New Jersey's win over the Thunder on Monday. He's currently fourth in the NBA in blocked shots. (Last week: NR)
Sixth Man of the Year Watch

1. Jason Terry, Mavericks: With Josh Howard MIA because of a sprained wrist, Dallas needed someone to pick up the scoring load Sunday against the Kings. Terry handled that request, splashing in a season-high 33 points as a starter. (Last week: 1)
2. Manu Ginobili, Spurs: Although he is recovered from offseason ankle surgery, he doesn't seem to have the same explosiveness. His average of 14.5 points per game is his lowest since the 2003-04 season. (Last week: 2)
3. Andrei Kirilenko, Jazz: Most of his best games have come as a starter, like on Monday when he had 23 points, 13 rebounds, three assists, three steals and three blocks against the Pacers. (Last week: 3)
4. Charlie Villanueva, Bucks: He is averaging 18 points and almost six rebounds in seven games in the month of January. (Last week: 5)
5. Nate Robinson, Knicks: A hot December has been followed by an inconsistent January for Robinson, who is mired in a shooting slump. (Last week: 4)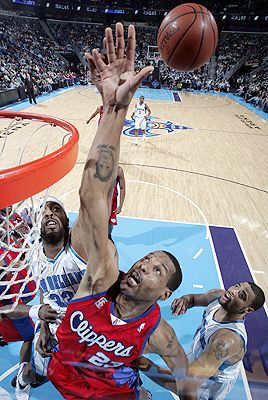 NBAE/Getty Images
Points per game
Dwyane Wade, Heat (29.0)
NBA scoring leaders

Rebounds per game
Marcus Camby, Clippers and Dwight Howard, Magic (13.8)
NBA rebounding leaders

Assists per game
Chris Paul, Hornets (11.2)
NBA assists leaders
Steals per game
Chris Paul, Hornets (2.8)
NBA steals leaders
Blocks per game
Dwight Howard, Magic (3.3)
NBA blocks leaders
Field goal percentage
Nene, Nuggets (.615)
NBA field goal leaders
3-point field goal percentage
Matt Bonner, Spurs (.475)
NBA 3-point shooting leaders
Free throw percentage
Jose Calderon, Raptors (1.000)
NBA free throw shooting leaders

Maurice Brooks explains to Jason Smith why the Awards Watch is littered with members of the
Orlando Magic
.
NBA Today