Most Valuable Player Watch
1. LeBron James, Cavs
G
MIN
FG%
3P%
FT%
STL
BLK
RPG
AST
PTS
PER
66
37.8
.487
.331
.772
1.8
1.3
7.5
7.2
28.5
31.7
He followed three triple-doubles with a 51-point game against the Kings. Over the past 10 seasons (not counting the lockout), the MVP has come off a team with close to 60 wins. (Last week: 1 | Team record: 53-13)
2. Dwyane Wade, Heat
G
MIN
FG%
3P%
FT%
STL
BLK
RPG
AST
PTS
PER
66
38.6
.493
.308
.767
2.3
1.4
5.1
7.6
29.9
30.5
He put up 48 points, had 12 assists and hit the winner against the Bulls, scored 32 in a victory over the defending champs and went off for half a hundred against the Jazz. (Last week: 2 | Team record: 36-30)
3. Kobe Bryant, Lakers
G
MIN
FG%
3P%
FT%
STL
BLK
RPG
AST
PTS
PER
66
36.4
.475
.344
.868
1.3
0.5
5.4
4.9
28.0
25.4
After carrying the Lakers to three victories, he was rewarded by being named the West Player of the Week (third time this season). LeBron received the same honor in the East. (Last week: 3 | Team record: 53-13)
4. Dwight Howard, Magic
G
MIN
FG%
3P%
FT%
STL
BLK
RPG
AST
PTS
PER
64
35.9
.574
.000
.605
1.0
2.9
14.0
1.2
21.0
25.8
He is on pace to become the fifth player to lead the league in rebounds and blocks in the same season, joining Kareem Abdul-Jabbar, Bill Walton, Hakeem Olajuwon and Ben Wallace. (Last week: 4 | Team record: 49-17)
5. Chris Paul, Hornets
G
MIN
FG%
3P%
FT%
STL
BLK
RPG
AST
PTS
PER
62
37.9
.502
.341
.865
2.8
0.1
5.4
11.0
21.9
29.9
He leads the NBA in steals and assists and is a daily triple-double threat, but the Hornets are struggling to keep up with last season's standards. Hence, this ranking. (Last week: 5 | Team record: 41-25)
6. Tim Duncan, Spurs
G
MIN
FG%
3P%
FT%
STL
BLK
RPG
AST
PTS
PER
62
34.6
.506
.000
.689
0.5
1.8
10.7
3.7
19.9
24.4
Somehow, the Spurs lost a game they needed to win Monday against the Thunder, letting the Rockets gain ground. Duncan has gone 11 straight games without scoring 20 points. (Last week: 7 | Team record: 44-22)
7. Brandon Roy, Blazers
G
MIN
FG%
3P%
FT%
STL
BLK
RPG
AST
PTS
PER
63
37.6
.481
.385
.826
1.1
0.3
4.6
5.1
23.1
24.2
With the Blazers fighting the Nuggets and Jazz for first place in the division, they need more performances like the 24 points he scored in the second half against the Nets. (Last week: 6 | Team record: 42-25)
8. Deron Williams, Jazz
G
MIN
FG%
3P%
FT%
STL
BLK
RPG
AST
PTS
PER
53
36.6
.468
.315
.829
1.1
0.3
2.9
10.6
18.8
20.6
Last week at this time, the Jazz were on top of the basketball world after winning 12 straight. Now, they have dropped three in a row and Williams is suffering from a bruised leg. (Last week: 9 | Team record: 41-26)
9. Yao Ming, Rockets
G
MIN
FG%
3P%
FT%
STL
BLK
RPG
AST
PTS
PER
65
33.1
.549
1.000
.869
0.4
1.9
9.6
1.8
19.7
22.8
He has 31 double-doubles for the Rockets, who are 12-4 since Tracy McGrady shut it down. Despite not playing Monday (flu), Yao has missed only four games. (Last week: 8 | Team record: 44-25)
10. C. Billups, Nuggets
G
MIN
FG%
3P%
FT%
STL
BLK
RPG
AST
PTS
PER
65
35.5
.421
.401
.908
1.3
0.2
2.9
6.2
18.5
19.4
After the Nuggets briefly gave up the Northwest lead, Billups has them back on top, leading them to wins against the Thunder, Clippers and Nets (thank the schedule makers). (Last week: 10 | Team record: 43-25)
Preseason
|
Wk 1
|
2
|
3
|
4
|
5
|
6
|
7
|
8
|
9
|
10
|
11
|
12
|
13
|
14
|
15
|
16
|
17
|
18
Defensive Player of the Year Watch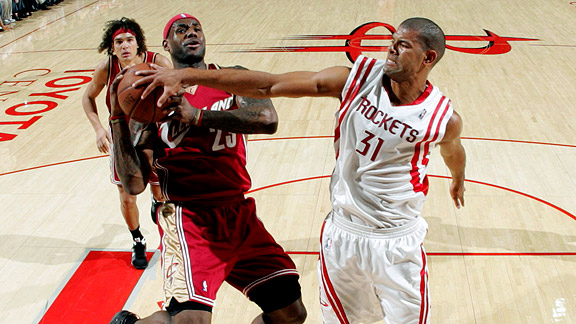 NBAE/Getty Images
1. Dwight Howard, Magic: He pulled down 20 rebounds (he also had 28 points) against the Jazz for his 21st 20-point, 20-rebound game since 2004-05. He also blocked three shots. (Last week: 1)
2. Dwyane Wade, Heat: Wade, who passed Alonzo Mourning as Miami's all-time leading scorer, had four steals and two blocks to go along with 50 points, 10 rebounds and nine assists in the Heat's triple-overtime win over the Jazz -- the first time a player ever had at least 50-10-9-4-2 in those categories in one game. (Last week: 2)
3. Shane Battier/Ron Artest, Rockets: Yes, Ron-Ron ran his mouth at Kobe Bryant and Kobe hit him in it by scoring 18 points in the fourth quarter (the reigning MVP does that to everyone), but Artest and Battier have been shutting down opposing wing players on a regular basis all season. (Last week: NR)
4. LeBron James, Cavaliers: Taking its cue from LB23, Cleveland has allowed a season-low 91.3 points per game. (Last week: 3)
5. Chris Paul, Hornets: Not only is he quick enough to keep just about any opposing guard from penetrating on him, but he has unmatched anticipation skills on defense. For proof, rewind the film of his six-steal performance Monday night against the Rockets. (Last week: 4)

1. Derrick Rose, Bulls:
He is shooting 46 percent from the field and turning the ball over 2.6 times per game, compared with fellow rookie phenom
Russell Westbrook
, who is shooting just 40.5 percent and turning the ball over a staggering 3.4 times a game. (Last week: 1)
2. Russell Westbrook, Thunder: Before the season started, it wouldn't have been a stretch to predict that the Thunder were going to challenge the NBA record for fewest wins. Thanks to the leadership and all-around solid play of Westbrook, and the steadily improving play of Jeff Green and Kevin Durant, Oklahoma City, winner of six of its past nine, is a better-than-expected 19-48. (Last week: 2)
3. Brook Lopez, Nets: I think he has been the best first-year big man. My colleague John Hollinger thinks he's been even better than that. (Last week: 4)
4. O.J. Mayo, Grizzlies: He is still the top-scoring rookie, but he has made 50 percent of his shots in a game just once in the past six weeks. (Last week: 3)
5. Eric Gordon, Clippers: Not much has changed for Gordon since he returned from his shoulder injury last week. He is still scoring a lot, and the Clippers are still losing three out of every four games. (Last week: 5)
Most Improved Player Watch

1. Devin Harris, Nets:
The point guard, who is averaging 22.6 points and seven assists per game after never averaging more than 14.8 and 5.8 in a season, strained his shoulder in the loss to the Clippers and is expected to miss Wednesday's game against the Knicks. (Last week: 1)
2. Kevin Durant, Thunder: He has picked up where he left off before being sidelined seven games with a sprained right ankle, hanging 22 points and six rebounds on the Suns on Saturday and following that up with a 25-point effort in Oklahoma City's win over San Antonio. (Last week: 2)
3. Danny Granger, Pacers: After missing 11 games with a foot injury, the All-Star returned to action Sunday against the Raptors, scoring 10 points on 3-for-11 shooting from the floor. (Last week: 4)
4. Paul Millsap, Jazz: He has 27 double-doubles in 61 games and appears to be Jerry Sloan's first choice off the bench at forward rather than Andrei Kirilenko. (Last week: 5)
5. David Lee, Knicks: The double-double machine (16.3 points, 12.1 rebounds per game) barely gets the nod over the Bucks' Charlie Villanueva (16.6 and seven) and the Thunder's Jeff Green (17.2 and seven), who are both having career seasons. (Last week: 3)

ESPN'S NBA AWARDS WATCH
Maurice Brooks, former Race to the MVP columnist at NBA.com, is an NBA editor at ESPN.com.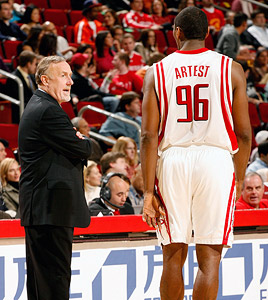 NBAE/Getty Images
1. Mike Brown, Cavaliers:
The 53-13 Cavaliers, who are tied with the Lakers for the league's best record, have clinched their first Central Division title since 1976. (Last week: 2)
2. Stan Van Gundy, Magic: He has led Orlando (49-17) to an Eastern Conference-best 23-10 record on the road, and the Magic are well ahead of last season's 52-win pace. (Last week: 1)
3. Jerry Sloan, Jazz: With more than half of Utah's remaining 15 games on the road, Sloan had better figure out a way for his team to win away from home. On the road this season, the Jazz have beaten only one team with a winning record. (Last week: 3)
4. Rick Adelman, Rockets: With Yao Ming sidelined because of flulike symptoms, he started the league's oldest player -- Dikembe Mutombo -- at center and still defeated the Hornets in New Orleans. (Last week: NR)
5. Erik Spoelstra, Heat: When Miami outlasted Utah, Spoelstra became the 11th NBA coach to win his first five overtime games. (Last week: 4)
Sixth Man of the Year Watch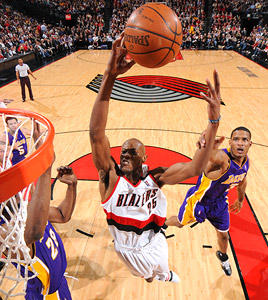 NBAE/Getty Images
1. Nate Robinson, Knicks:
His season-long tear continues. The combo guard just completed a five-game run with averages of 24.8 points, 6.4 assists and 3.2 rebounds per game -- and more importantly -- New York went 3-2 in that span. (Last week: 1)
2. Jason Terry, Mavericks: The league's highest-scoring reserve has been lighting it up, averaging 26 points in his past five games. He erupted for a career-high-tying seven 3-pointers in a loss to the Lakers on Sunday. (Last week: 2)
3. Leandro Barbosa, Suns: With the Suns fighting for their playoff lives, kudos to Barbosa for playing the past two weeks with an abdominal strain. (Last week: 4)
4. Corey Maggette, Warriors: He took Friday night off with the flu and returned to his gunning ways Sunday, dropping 21 points on the Suns. (Last week: 3)
5. Travis Outlaw, Blazers: His job is to come in and provide an offensive spark for Portland's second unit, and lately he has been doing that extremely well, scoring in double digits in eight straight, including a 22-point effort in a win last week against the Lakers. (Last week: NR)

Points per game
Dwyane Wade
, Heat (29.9)
NBA scoring leaders
Rebounds per game
Dwight Howard, Magic (14.0)
NBA rebounding leaders

Assists per game
Chris Paul, Hornets (11.0)
NBA assists leaders
Steals per game
Chris Paul, Hornets (2.8)
NBA steals leaders
Blocks per game
Dwight Howard, Magic (2.9)
NBA blocks leaders
Field goal percentage
Shaquille O'Neal, Suns (.612)
NBA field goal leaders
3-point field goal percentage
Anthony Morrow, Warriors (.477)
NBA 3-point shooting leaders
Free throw percentage
Jose Calderon, Raptors (97.7)
NBA free throw shooting leaders
Three-Way Race to the MVP

Awards Watch columnist Maurice Brooks talks about the Cavaliers' LeBron James, Lakers' Kobe Bryant and the Heat's Dwyane Wade in the battle for the MVP award.
NBA Today