Most Valuable Player Watch
1. LeBron James, Cavs
G
MIN
FG%
3P%
FT%
STL
BLK
RPG
AST
PTS
PER
70
38.1
.488
.331
.768
1.8
1.3
7.6
7.3
28.6
31.7
His team has more wins than the Heat, he has better statistics than Kobe Bryant and now my colleague John Hollinger says he is having arguably the greatest season ever. (Last week: 1 | Team record: 57-13)
2. Kobe Bryant, Lakers
G
MIN
FG%
3P%
FT%
STL
BLK
RPG
AST
PTS
PER
69
36.4
.470
.342
.863
1.4
0.5
5.4
4.9
27.7
24.8
The Sixers' Andre Iguodala locked him up, limiting him to just 11 points in a one-point loss -- the only time the Western Conference leaders have been defeated in their last six games. (Last week: 3 | Team record: 55-14)
3. Dwyane Wade, Heat
G
MIN
FG%
3P%
FT%
STL
BLK
RPG
AST
PTS
PER
69
38.5
.493
.305
.763
2.2
1.4
5.1
7.6
29.9
30.5
He broke his Heat record for points in a season and became the fifth player to ever have more than 2,000 points, 500 assists and 150 steals in a season. (Last week: 2 | Team record: 38-32)
4. Dwight Howard, Magic
G
MIN
FG%
3P%
FT%
STL
BLK
RPG
AST
PTS
PER
68
35.9
.577
.000
.602
0.9
3.0
13.9
1.4
21.0
25.9
Despite being on pace to lead the league in rebounds and blocks -- something that has only been done four times in league history -- he seems to be getting overlooked. (Last week: 4 | Team record: 52-18)
5. Chris Paul, Hornets
G
MIN
FG%
3P%
FT%
STL
BLK
RPG
AST
PTS
PER
65
38
.503
.348
.869
2.9
0.1
5.4
10.9
22.2
30.1
Memphis coach Lionel Hollins: "He is one of the MVP candidates. This guy has carried his team on his back all year long. He's right there with LeBron. He's right there with Kobe." (Last week: 5 | Team record: 44-25)
6. Brandon Roy, Blazers
G
MIN
FG%
3P%
FT%
STL
BLK
RPG
AST
PTS
PER
67
37.9
.477
.376
.829
1.1
0.3
4.7
5.1
23.0
23.9
He has done it all for Portland, leading the team in big shots, points, steals and assists. Monday night against Philly, he was held under 20 points for the first time in 13 games. (Last week: 7 | Team record: 44-27)
7. Deron Williams, Jazz
G
MIN
FG%
3P%
FT%
STL
BLK
RPG
AST
PTS
PER
55
36.5
.471
.305
.833
1.1
0.3
2.8
10.5
18.8
20.6
Mehmet Okur (eye) got injured in the first half Friday against the Thunder, and Williams was there as usual to bail out the Jazz, scoring 20 second-half points. (Last week: 8 | Team record: 43-26)
8. Yao Ming, Rockets
G
MIN
FG%
3P%
FT%
STL
BLK
RPG
AST
PTS
PER
68
33.3
.549
1.000
.869
0.4
1.9
9.6
1.8
19.7
22.7
He leads the suddenly soaring Rockets in free-throw shooting, field-goal percentage, blocks, rebounds and points. Houston has won four in a row and 8 of its past 10. (Last week: 9 | Team record: 47-25)
9. C. Billups, Nuggets
G
MIN
FG%
3P%
FT%
STL
BLK
RPG
AST
PTS
PER
68
35.6
.420
.403
.906
1.3
0.2
2.9
6.3
18.3
19.1
His pass-first mentality, winning attitude and leadership has the Nuggets in position to win the Northwest -- the most competitive division in basketball. (Last week: 10 | Team record: 45-26)
10. Tim Duncan, Spurs
G
MIN
FG%
3P%
FT%
STL
BLK
RPG
AST
PTS
PER
64
34.6
.502
.000
.693
0.5
1.8
10.6
3.7
19.8
24.2
He has been slowed by sore knees. The Big Fundamental has only scored more than 20 points in one of his last 13 games, as Tony Parker has taken on a bigger role. (Last week: 6 | Team record: 45-24)
Preseason
|
Wk 1
|
2
|
3
|
4
|
5
|
6
|
7
|
8
|
9
|
10
|
11
|
12
|
13
|
14
|
15
|
16
|
17
|
18
|
19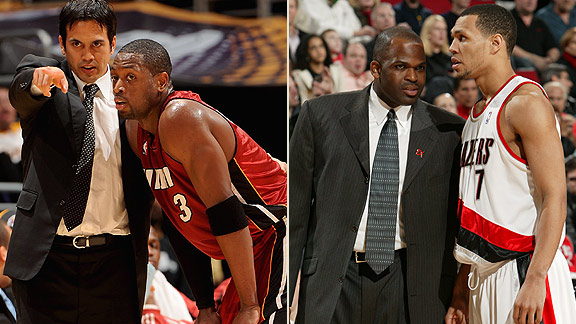 NBAE/Getty Images
1. Mike Brown, Cavaliers: Cleveland has the league's best record, a commanding lead over Boston and Orlando for the top mark in the East, and at 32-1, is the top home team in the league. (Last week: 1)
2. Stan Van Gundy, Magic: First he takes on Shaq in the media and now he is coming at the Knicks organization. He is definitely not afraid to speak his mind. On top of that, he has Orlando just one game behind Boston for the second-best record in the East. (Last week: 2)
3. Rick Adelman, Rockets: Houston has won 16 of 20 games without Tracy McGrady and opened up a half-game lead on the Spurs in the Southwest Division. (Last week: 4)
4. Jerry Sloan, Jazz: It is hard to believe that despite the slew of injuries to their key players, they are still in position to win 50 games and are only a game behind Denver in the Northwest Division. (Last week: 3)
5. (tie) Erik Spoelstra, Heat and Nate McMillan, Blazers: Miami is currently the fifth seed in the East and 23 games ahead of last season's pace, while the young Blazers, with franchise center Greg Oden in and out of the lineup, are in position for their first division title since 1998-99. (Last week: 5 and NR)
Sixth Man of the Year Watch

1. Nate Robinson, Knicks:
The Knicks' current five-game losing streak has sapped the feel-good vibes coming out of New York earlier in the season, but it appears Robinson's play is not going to fall off anytime soon. (Last week: 1)
2. Jason Terry, Mavericks: He had an eight-point stinker against the Hawks, but still leads all reserves in scoring. His average of 19.8 would be the highest for a sixth man since Ricky Pierce averaged 23 points per game for the Bucks in 1989-90. (Last week: 2)
3. Leandro Barbosa, Suns: He is out for up to three weeks with a bone contusion in his left knee. (Last week: 3)
4. Corey Maggette, Warriors: He is averaging just 9.7 points and shooting 29.6 percent from the floor over his past three games. (Last week: 4)
5. Travis Outlaw, Blazers: His string of 11 consecutive games scoring in double digits was broken Monday night by the Sixers, who limited him to four points. (Last week: 5)

1. Dwight Howard, Magic:
He has 10 games this season with at least 15 rebounds and five blocked shots -- which is double the amount the rest of the league has combined. (Last week: 1)
2. Dwyane Wade, Heat: In Miami's win against Detroit on Sunday, he blocked four shots, including two in the final 22 seconds, to help preserve the lead. (Last week: 2)
3. LeBron James, Cavaliers: Against the Kings, he came up with a key steal with less than 30 seconds to go in regulation and then blocked Kevin Martin's shot on the final play to force overtime. (Last week: 4)
4. Shane Battier/Ron Artest, Rockets: Battier is one of the league's smartest defenders and Artest is one of the most aggressive. It also helps the dynamic duo that they have Yao Ming behind them to erase any mistakes. (Last week: 3)
5. Chris Paul, Hornets: Any list involving the league's top defensive players has to include the Celtics' Kevin Garnett. But KG has missed too many games this season to take this spot away from CP3, as a lot of reader e-mails have suggested. (Last week: 5)

ESPN'S NBA AWARDS WATCH
Maurice Brooks, former Race to the MVP columnist at NBA.com, is an NBA editor at ESPN.com.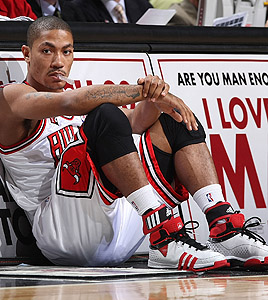 NBAE/Getty Images
1. Derrick Rose, Bulls:
The No. 1 pick is doing his part to help Chicago lock up the final playoff spot in the East, leading the Bulls to four wins in their past five games. He notched back-to-back 25-point games against the Thunder and Lakers last week. (Last week: 1)
2. Russell Westbrook, Thunder: Of course he is partial, but Oklahoma City coach Scott Brooks had this to say about his point guard, who is averaging 15.7 points and 5.1 assists per game: "He is as good as any rookie in this league right now." (Last week: 2)
3. Brook Lopez, Nets: It is not a stretch to think that 10 years from now we will look back on this draft class and Lopez will have had the best career. The 7-footer gave out eight assists to go along with 23 points, five rebounds, three blocks and three steals against the Knicks last week. (Last week: 3)
4. O.J. Mayo, Grizzlies: He has hit the rookie wall. His jumper that was so reliable at the beginning of the season is now broken. He is averaging just 14.8 points per game in March. (Last week: 4)
5. Eric Gordon, Clippers: While we're on the subject of struggling shooting guards, Gordon has made just 6 of his last 22 attempts and is 0-for-7 from 3-point range during that two-game span. (Last week: 5)
Most Improved Player Watch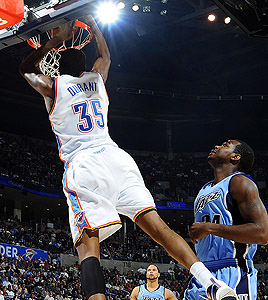 NBAE/Getty Images
1. Devin Harris, Nets:
He has missed the past four games with an injured shoulder. If New Jersey, which is 2.5 games behind the Bulls for the final playoff spot in the East, is going to make a run, it needs its point guard to get healthy and in a hurry. (Last week: 1)
2. Kevin Durant, Thunder: He has 19 30-point games this season. He has raised his scoring average by six points per game, and increased his shooting percentage from 43 percent as a freshman to 48.4 percent as a sophomore. Throw in the improved 3-point shooting (from 28.8 to 44 percent) and rebounding (from 4.4 to 6.6) and he may steal away the award that has been Harris' to win or lose all season. (Last week: 2)
3. Danny Granger, Pacers: What foot injury? He has averaged 21 points and seven rebounds in the four games since he returned to the lineup. (Last week: 3)
4. Paul Millsap, Jazz: With Carlos Boozer healthy, he has become Utah's sixth man, and as he showed against the Thunder, he is capable of being on the floor at the same time as the Olympian without getting in his way. (Last week: 4)
5. Charlie Villanueva, Bucks: The biggest reason Milwaukee is contending for a playoff spot despite the loss of starters Andrew Bogut and Michael Redd is the improved and consistent play of Charlie V, who is averaging 16.7 points and 6.9 rebounds. (Last week: NR)

Points per game
Dwyane Wade
, Heat (29.9)
NBA scoring leaders
Rebounds per game
Dwight Howard, Magic (13.9)
NBA rebounding leaders

Assists per game
Chris Paul, Hornets (10.9)
NBA assists leaders
Steals per game
Chris Paul, Hornets (2.9)
NBA steals leaders
Blocks per game
Dwight Howard, Magic (3.0)
NBA blocks leaders
Field goal percentage
Shaquille O'Neal, Suns (.614)
NBA field goal leaders
3-point field goal percentage
Anthony Morrow, Warriors (.480)
NBA 3-point shooting leaders
Free throw percentage
Jose Calderon, Raptors (97.7)
NBA free throw shooting leaders

Awards Watch columnist Maurice Brooks talks about all of the worthy candidates for the Coach of the Year Award.
NBA Today