Most Valuable Player Watch
1. LeBron James, Cavs
G
MIN
FG%
3P%
FT%
STL
BLK
RPG
AST
PTS
PER
77
37.9
.488
.342
.776
1.7
1.2
7.7
7.2
28.4
31.7
He finished March with 479 points, 152 rebounds and 143 assists to join Oscar Robertson (1964-65) as the only players in league history to reach those totals in a single month. (Last week: 1 | Team record: 62-15)
2. Kobe Bryant, Lakers
G
MIN
FG%
3P%
FT%
STL
BLK
RPG
AST
PTS
PER
77
36.4
.465
.351
.859
1.5
0.5
5.3
5.0
27.0
24.4
He went 2-0 against both the Celtics and the LeBrons this season. Rest before the playoffs would be nice, but with the No. 1 record in sight, there is no chance that happens. (Last week: 2 | Team record: 61-16)
3. Dwyane Wade, Heat
G
MIN
FG%
3P%
FT%
STL
BLK
RPG
AST
PTS
PER
76
38.5
.489
.304
.766
2.3
1.3
5.0
7.5
29.8
30.2
In wins against the Bobcats and Wizards, he had a combined 60 points, 18 assists, nine rebounds and five steals. I guess carrying the Heat on his back hasn't worn him down. (Last week: 3 | Team record: 41-36)
4. Dwight Howard, Magic
G
MIN
FG%
3P%
FT%
STL
BLK
RPG
AST
PTS
PER
74
35.9
.579
.000
.602
1.0
2.9
14.0
1.4
21.1
26.2
In the Magic's past six games, Howard has led them past the Celtics -- who they are battling for second in the East -- and fellow MVP candidates Dwyane Wade and LeBron James. (Last week: 4 | Team record: 57-19)
5. Chris Paul, Hornets
G
MIN
FG%
3P%
FT%
STL
BLK
RPG
AST
PTS
PER
72
38.2
.504
.352
.872
2.8
0.1
5.4
11.0
22.5
29.9
CP3, who has six triple-doubles and 46 double-doubles this season, was chosen as the West Player of the Month after leading the Hornets to an 11-5 March record. (Last week: 5 | Team record: 47-29)
6. C. Billups, Nuggets
G
MIN
FG%
3P%
FT%
STL
BLK
RPG
AST
PTS
PER
75
35.4
.421
.408
.909
1.2
0.2
3.0
6.4
18.0
19.1
His individual stats don't jump out at you, but look at how high the Nuggets have risen and how far the Pistons have fallen and you get a clear understanding of his worth. (Last week: 9 | Team record: 52-26)
7. Brandon Roy, Blazers
G
MIN
FG%
3P%
FT%
STL
BLK
RPG
AST
PTS
PER
72
37.6
.480
.384
.825
1.1
0.3
4.9
5.2
22.9
24.2
He has the league's second-youngest team in the playoffs for the first time in six seasons. Despite the nylon tight Roy has been wearing on his leg, Nate McMillan says he is fine. (Last week: 6 | Team record: 48-28)
8. Deron Williams, Jazz
G
MIN
FG%
3P%
FT%
STL
BLK
RPG
AST
PTS
PER
63
36.7
.474
.314
.844
1.1
0.3
2.9
10.6
19.2
21.1
He had 21 points and 11 assists against the Hornets as Utah stopped its three-game losing streak. He is playing his best ball, posting eight double-doubles in his past nine games. (Last week: 7 | Team record: 47-30)
9. Yao Ming, Rockets
G
MIN
FG%
3P%
FT%
STL
BLK
RPG
AST
PTS
PER
73
33.6
.546
1.000
.864
0.4
2.0
9.9
1.8
19.6
22.6
Despite the five straight double-doubles and consistently good play from Yao, who is on a rebounding tear, teammate Shane Battier wouldn't vote Yao team MVP. "[Luis] Scola has been our MVP, hands down," Battier said.
10. Tony Parker, Spurs
G
MIN
FG%
3P%
FT%
STL
BLK
RPG
AST
PTS
PER
66
34
.503
.306
.791
0.9
0.1
2.9
6.9
21.8
23.2
With Manu Ginobili out of commission for the rest of the season, the Spurs will rely on Parker to be more of a scorer than a passer, which he has shown this season is fine by him. (Last week: 10 | Team record: 49-27)
Pre.
|
1
|
2
|
3
|
4
|
5
|
6
|
7
|
8
|
9
|
10
|
11
|
12
|
13
|
14
|
15
|
16
|
17
|
18
|
19
|
20
|
21
Sixth Man of the Year Watch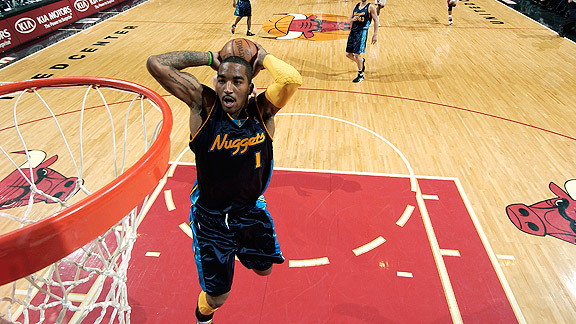 NBAE/Getty Images
1. Jason Terry, Mavericks:
He helped Dallas jump on Phoenix in their showdown over the weekend by making his first four 3-pointers on the way to scoring 18 points. (Last week: 1)
2. Nate Robinson, Knicks: His high-scoring ways have calmed down. He has topped the 20-point mark just twice in the past 11 games (the Knicks are just 2-9 in that stretch). (Last week: 2)
3. Travis Outlaw, Blazers: He is the third-leading scorer for Portland, ranking behind only Brandon Roy and LaMarcus Aldridge, who both play 10 more minutes per game. (Last week: 3)
4. J.R. Smith, Nuggets: One night after draining eight triples against the Jazz, he hit seven more in a win over the Clippers. He is averaging 20.2 points during his last five games and has made 24 of his last 52 3-pointers. (Last week: NR)
5. Leandro Barbosa, Suns: He returned to action after missing seven games with a hyperextended left knee. He had 15 points in 15 minutes against the Kings and 24 points in 24 minutes against the Mavericks. (Last week: 5)
Most Improved Player Watch

1. Kevin Durant, Thunder:
This season he has increased his per-game averages in points, rebounds, assists and steals. He just might follow up his Rookie of the Year from last season with an MIP award. (Last week: 1)
2. Devin Harris, Nets: He is one of four players -- the others are Chris Paul, Dwyane Wade and LeBron James -- who average at least 21 points and seven assists per game. (Last week: 2)
3. Danny Granger, Pacers: His teammate, Troy Murphy, is also having a career season for Indiana, but it is the play of Granger that gives Pacers fans hope. He has become a franchise player. Granger is averaging almost 31 points over his past five games. (Last week: 3)
4. Nene, Nuggets: He is averaging career highs in points, rebounds, blocks and shooting percentage. And the 73 games he has appeared in are the most for him since 2003-04. (Last week: 5)
5. Paul Millsap, Jazz: As Carlos Boozer, who missed 44 games because of his knee, continues to regain his All-Star form, some Jazz supporters are wondering if Utah would be better off starting the rugged Millsap. (Last week: 4)

1. Derrick Rose, Bulls: Chicago is seventh in the East with him running the show. Of the other top contenders for this award, Rose is the only one playing meaningful minutes for a team headed to the postseason. (Last week: 1)
2. Brook Lopez, Nets: If he were allowed to vote for ROY, his ballot would have Rose and Russell Westbrook at the top. (Last week: 2)
3. Russell Westbrook, Thunder: He is second among first-year players in assists (5.1), fourth in scoring (15.5) and second in steals. (1.3). (Last week: 3)
4. O.J. Mayo, Grizzlies: His defense is better than most experts figured it would be, he's the top-scoring first-year player by a wide margin and Memphis is riding a four-game winning streak. (Last week: 4)
5. Eric Gordon, Clippers: He gets the nod over Minnesota's Kevin Love because he has been more consistent for a longer period of play. He followed up a forgettable performance against the Nuggets (1-for-10 from the floor, seven points), by posting 24 points, eight rebounds and four assists on the Lakers. (Last week: 5)

ESPN'S NBA AWARDS WATCH
Maurice Brooks, former Race to the MVP columnist at NBA.com, is an NBA editor at ESPN.com.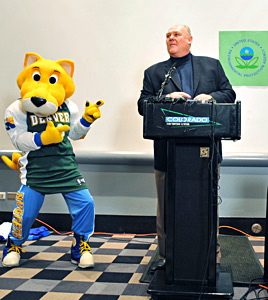 NBAE/Getty Images
1. Mike Brown, Cavaliers:
Even after losing to the Wizards and getting crushed by the Magic, Cleveland has the best record in the league and is 37-1 at home. The Cavs are just the 38th team to win at least 62 games, and with three more wins, they will match the 1985-86 Celtics for the best home record in NBA history. (Last week: 1)
2. Stan Van Gundy, Magic: The Magic PR department has put together a nice video, seeking end-or-the-year honors for SVG and Orlando players. (Last week: 2)
3. Rick Adelman, Rockets:
He was chosen as the West Coach of the Month after leading the Rockets to a conference-best 11-4 record in March. (Last week: 3)
4. George Karl, Nuggets: Denver has won seven straight and 12 of 13 with an average margin of victory of 12.3 points, has moved up to second place in the West and has taken control of the Northwest Division. (Last week: NR)
5. (tie) Erik Spoelstra, Heat and Nate McMillan, Blazers: It is almost impossible not to have Spoelstra on this list. Miami won 15 games a year ago, and this season with a rookie point man, the first-year coach has the 41-win Heat in the postseason.
McMillan has guided the Blazers to a 16-8 record since the All-Star Game, earning them their first playoff berth since 2003. (Last week: NR and 5)
Defensive Player of the Year Watch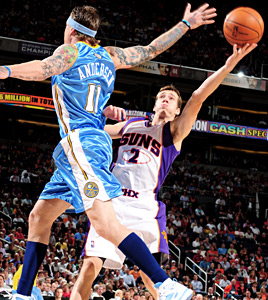 NBAE/Getty Images
1. Dwight Howard, Magic:
He pulled down 11 rebounds and blocked three shots when Orlando beat up Cleveland and followed that effort with his ninth 20-20 game (21 points, 23 rebounds) of the season against Atlanta. He also blocked four shots. (Last week: 1)
2. Dwyane Wade, Heat: He is second in the league in steals (2.3) and 16th in blocks (1.3). (Last week: 2)
3. LeBron James, Cavaliers: It was impressive watching the James Gang limit Tim Duncan and the Spurs to 39.2 percent shooting and outrebounding them 44-34. (Last week: 3)
4. Shane Battier and Ron Artest, Rockets: Houston is holding its opponents to just 91 points per game on 42 percent shooting at home. (Last week: 4)
5. (tie) Chris Paul, Hornets and Chris Andersen, Nuggets: Paul led the Western Conference with an average of 3.2 steals per game in March. The energetic Andersen is making Denver fans forget about Marcus Camby. He is averaging 5.7 blocks per 48 minutes. He is second in the league in blocks, rejecting 2.4 shots per game in just 20 minutes of court time. (Last week: 5 and NR)

Points per game
Dwyane Wade
, Heat (29.8)
NBA scoring leaders
Rebounds per game
Dwight Howard, Magic (14.0)
NBA rebounding leaders

Assists per game
Chris Paul, Hornets (11.0)
NBA assists leaders
Steals per game
Chris Paul, Hornets (2.8)
NBA steals leaders
Blocks per game
Dwight Howard, Magic (3.0)
NBA blocks leaders
Field goal percentage
Shaquille O'Neal, Suns (.611)
NBA field goal leaders
3-point field goal percentage
Anthony Morrow, Warriors (.488)
NBA 3-point shooting leaders
Free throw percentage
Jose Calderon, Raptors (97.9)
NBA free throw shooting leaders
Chauncey, B-Roy and ... D-Will

Awards Watch columnist Maurice Brooks talks about the outstanding seasons Chauncey Billups (right), Brandon Roy and Deron Williams have put together.
NBA Today