Most Valuable Player Watch
1. Steve Nash, Suns
G
MIN
FG%
3P%
FT%
STL
BLK
RPG
AST
PTS
PER
11
32.7
.529
.457
.935
0.1
0.3
2.5
11.5
17.6
23.2
Last season, the Suns missed the playoffs and it appeared Nash was on the decline. This season, they are running again and the two-time MVP has reclaimed his spot as the league's best playmaker.
2. Kobe Bryant, Lakers
G
MIN
FG%
3P%
FT%
STL
BLK
RPG
AST
PTS
PER
10
38
.472
.190
.852
2.2
0.2
4.8
2.7
30.1
23.9
A strained right groin has slowed Bryant the past two games (he is not expected to miss any time), but he is still carrying the offensive load for the Lakers while Pau Gasol is out. Will he win the scoring title?
3. Dwyane Wade, Heat
G
MIN
FG%
3P%
FT%
STL
BLK
RPG
AST
PTS
PER
9
38.6
.452
.250
.779
2.1
1.0
4.6
5.0
29.7
28.3
The Heat finished just four games over .500 last season, hurting Wade's MVP campaign. They are off to a great start this season, including two signature Wade moments already (facial on Varejao and winner vs. Nets).
4. C. Anthony, Nuggets
G
MIN
FG%
3P%
FT%
STL
BLK
RPG
AST
PTS
PER
10
36.2
.445
.360
.852
1.7
0.4
6.3
2.8
29.7
25.9
Chauncey Billups got most of the credit for Denver's stellar record a season ago, but it is pretty obvious this is Melo's club now. He is second in the league in scoring for the Northwest Division-leading Nuggets.
5. LeBron James, Cavs
G
MIN
FG%
3P%
FT%
STL
BLK
RPG
AST
PTS
PER
10
38.1
.500
.372
.764
1.7
0.8
7.2
7.6
27.5
30.4
Cleveland started the season just 3-3 while trying to figure out what to do with Shaq, but it has righted the ship by winning four in a row. And the reigning MVP is playing at his usual out-of-this world level.
6. Dirk Nowitzki, Mavs
G
MIN
FG%
3P%
FT%
STL
BLK
RPG
AST
PTS
PER
11
37.9
.438
.344
.911
1.2
1.6
9.0
2.8
26.3
25.5
He was just named Western Conference Player of the Week and got this week off to a good start by draining a buzzer-beater in overtime to give the Mavericks a win against the Bucks.
7. Joe Johnson, Hawks
G
MIN
FG%
3P%
FT%
STL
BLK
RPG
AST
PTS
PER
11
37.8
.458
.319
.863
0.8
0.1
5.6
4.8
23.0
19.8
The Hawks lead our Power Rankings and Johnson is their best player. When the games are close, he is the one they lean on to make the clutch plays. He had a season-high 35 points and 9 assists on Monday.
8. Brandon Roy, Blazers
G
MIN
FG%
3P%
FT%
STL
BLK
RPG
AST
PTS
PER
12
36.8
.444
.349
.821
0.3
0.3
4.9
5.1
20.3
19.9
The Blazers have overcome injuries thanks to his typical brilliance. Portland's three-guard starting lineup of Andre Miller, Steve Blake and Roy means fewer touches, but Roy's numbers are still strong.
9. Brandon Jennings, Bucks
G
MIN
FG%
3P%
FT%
STL
BLK
RPG
AST
PTS
PER
8
34.5
.478
.538
.784
1.1
0.1
4.8
5.5
25.5
24.4
The rookie has been that good. The 55-point game was special, but the fact that Milwaukee has won five of eight and is rolling without Michael Redd speaks volumes for what Jennings has brought to the franchise.
10. Dwight Howard, Magic
G
MIN
FG%
3P%
FT%
STL
BLK
RPG
AST
PTS
PER
11
31.9
.663
.000
.591
0.8
1.8
10.7
1.5
18.7
26.5
He is still the best center in the world, but his scoring, rebounding and shot-blocking numbers are down from a season ago. Stan Van Gundy has challenged the reigning NBA Defensive Player of the Year to do more.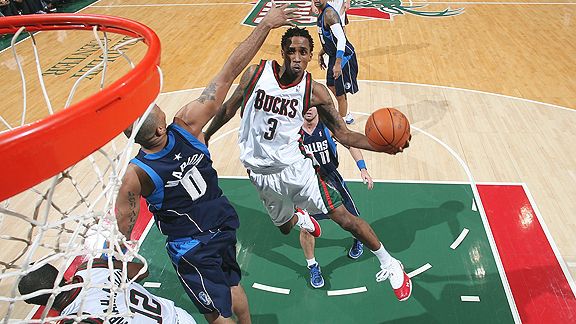 NBAE/Getty Images
1. Brandon Jennings, Bucks:
Even if
Blake Griffin
was playing, he would have a hard time matching the nightly "NBA 2K10" stats that Jennings is putting up. How many general managers guessed incorrectly on this guy?
2. Tyreke Evans, Kings: Since Kevin Martin went down, the rookie has been performing like a vet, averaging 23.8 points, 5.3 assists and 6.3 rebounds in leading Sacramento to four straight victories. He is also an above-average defender.
3. Jonny Flynn, Wolves: It is never a good thing when you are a point guard averaging more turnovers (3.6) than assists (3.3). Flynn is having a hard time adjusting to Kurt Rambis' style of play, but is the third-leading scorer among rookies (14.2 points).
4. Ty Lawson, Nuggets: His slam over D.J. Mbenga was memorable. The backup guard is a game changer with his baseline-to-baseline speed and hustle.
5. DeJuan Blair, Spurs: Averaging just 18 minutes of action, he is shooting over 60 percent from the field and pulling down more than six rebounds per game.
Sixth Man of the Year Watch

1. Jamal Crawford, Hawks: Although he probably wishes he were starting, the dynamic scorer will gladly take being the first player off of Mike Woodson's bench for a chance to make the playoffs for the first time in his career.
2. Jason Terry, Mavericks: The reigning Sixth Man of the Year is scoring in bunches for Dallas again. He is averaging more than 17 points a game and has reached double digits in every game but one.
3. Manu Ginobili, Spurs: The gold standard for reserves, Ginobili might miss a game or two because of a hamstring injury.
4. Udonis Haslem, Heat: After five straight seasons as a starter, he is now providing his rugged play off the bench. So far, so good: he is almost averaging a double-double in points and rebounds.
5. Al Harrington, Knicks: The team is terrible, but Harrington is one of a few New York players performing at a high level, leading all reserves with an 18.9 points-per-game average.

1. Paul Westphal, Kings: The Kings won only 17 games last season. This season, they are currently riding a four-game winning streak and are above .500 for the first time since 2006 ... without leading scorer Kevin Martin, who is out for eight weeks.
2. Rick Adelman, Rockets: He has taken a team full of role players and made them the squad that nobody wants to play.
3. Scott Skiles, Bucks: Brandon Jennings has been way better than advertised, and Skiles deserves some of the credit for turning the frosh loose. Milwaukee (5-3) was pegged to be near the basement in the East by nearly every expert, and that was with Redd in the lineup.
4. Alvin Gentry, Suns: With Shaquille O'Neal no longer turning the Suns into a dump-it-inside-and-watch team, Phoenix has resumed putting the ball in Nash's hands and letting him freestyle.
5. Erik Spoelstra, Heat: Miami has won seven of its first nine games thanks to the league's fourth-ranked defense.

ESPN'S NBA AWARDS WATCH
Maurice Brooks, former Race to the MVP columnist at NBA.com, is an NBA editor at ESPN.com.
Defensive Player of the Year Watch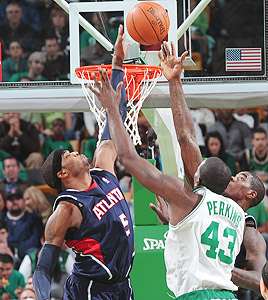 NBAE/Getty Images
1. Josh Smith, Hawks:
The youngest player in NBA history to record 900 blocked shots is currently leading the league in rejections at 2.6 per game.
2. Brendan Haywood, Wizards: He is giving Washington steady play in the middle, turning away 2.4 shots while pulling down 10.6 boards per contest. But those rebounding numbers will decrease with the return of Antawn Jamison.
3. Rajon Rondo, Celtics: Kendrick Perkins, Rasheed Wallace and Kevin Garnett patrol the frontcourt, while Rondo and his gambling ways slow down opposing guards.
4. Ron Artest, Lakers: He has taken the pressure off Kobe Bryant to slow down the opposition's top scorer.
5. Greg Oden, Blazers: His offense still needs some work, but his interior defense has been one of the keys to Portland's early success.
Most Improved Player Watch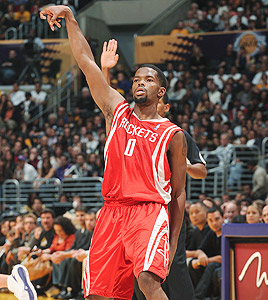 NBAE/Getty Images
1. Aaron Brooks, Rockets:
With
Yao Ming
and
Tracy McGrady
sidelined, he finds the ball in his hands a lot more than last season. And he is making the most of it. If the career-high 33 points he put up on the Lakers wasn't enough proof, his season averages of 18.3 points and 5.9 assists should be.
2. Channing Frye, Suns: Talk about a perfect fit. Who knew that the 6-11 Frye was best suited for Phoenix's run-and-gun style? As impressive as the nine-point spike in his points-per-game average is, it is hard to believe that he is shooting 47 percent from 3.
3. Joakim Noah, Bulls: Take a look at the league leaders and you might be surprised to see that Noah is the top rebounder (12.2).
4. Trevor Ariza, Rockets: Not only is he wearing McGrady's No. 1 jersey, he is also doing his best to fill his shoes, leading Houston in scoring, while averaging career highs in rebounds (5.1) and assists (4.2).
5. Chris Kaman, Clippers: Yes, he has had better rebounding seasons, but his scoring (22.3 ppg) is through the roof. Now, if only he can stay healthy for the entire season.

Points per game
Kobe Bryant, Lakers (30.1)
NBA scoring leaders
Rebounds per game
Joakim Noah, Bulls (12.2)
NBA rebounding leaders

Assists per game
Steve Nash, Suns (11.5)
NBA assists leaders
Steals per game
Rajon Rondo, Celtics (2.7)
NBA steals leaders
Blocks per game
Josh Smith, Hawks (2.6)
NBA blocks leaders
Field goal percentage
Dwight Howard, Magic (.664)
NBA field goal leaders
3-point field goal percentage
Chris Paul, Hornets (.655)
NBA 3-point shooting leaders
Free throw percentage
Ty Lawson, Nuggets (94.1)
NBA free throw shooting leaders