Most Valuable Player Watch
1. Steve Nash, Suns
G
MIN
FG%
3P%
FT%
STL
BLK
RPG
AST
PTS
PER
14
32.9
.524
.442
.936
0.2
0.2
2.4
11.6
17.1
23.1
TrueHoop's Henry Abbott explains that Nash makes the system work in Phoenix, not the other way around. His league-leading 11.6 assists per game would be a career high. (Last week: 1 | Team record: 11-3)
2. Kobe Bryant, Lakers
G
MIN
FG%
3P%
FT%
STL
BLK
RPG
AST
PTS
PER
13
37.6
.474
.179
.867
2.1
0.2
5.2
3.6
29.8
25.3
While Pau Gasol was out, Kobe began playing in the post more than ever. Judging by his 29.8 points through 13 games, he is just as deadly down there as he is on the wing. (Last week: 2 | Team record: 10-3)
3. LeBron James, Cavs
G
MIN
FG%
3P%
FT%
STL
BLK
RPG
AST
PTS
PER
14
37.9
.527
.371
.785
1.5
0.8
6.8
8.1
29.4
32.6
He has scored at least 31 points in four straight, while dishing more than nine assists per game. The Cavs have won 10 of their past 12 with you know who leading the way. (Last week: 5 | Team record: 10-4)
4. Dirk Nowitzki, Mavs
G
MIN
FG%
3P%
FT%
STL
BLK
RPG
AST
PTS
PER
13
38.5
.444
.353
.901
1.1
1.6
8.9
2.9
26.9
26.0
During the Mavs' five-game win streak, Dirk is averaging 27.6 points, 9.0 rebounds and 3.4 assists, with just two total turnovers. He is also averaging a career high in blocks. (Last week: 6 | Team record: 10-3)
5. C. Anthony, Nuggets
G
MIN
FG%
3P%
FT%
STL
BLK
RPG
AST
PTS
PER
13
36.6
.479
.344
.860
1.7
0.3
6.2
3.4
30.5
27.3
The league's leading scorer showed Sunday against the Bulls that he is doing more than just getting points. He finished with season highs in rebounds (11) and assists (7). (Last week: 4 | Team record: 9-4)
6. Joe Johnson, Hawks
G
MIN
FG%
3P%
FT%
STL
BLK
RPG
AST
PTS
PER
14
38.7
.446
.323
.873
0.9
0.1
5.4
4.9
22.6
19.2
As great as he has been this season, teammates Jamal Crawford and Josh Smith have also shined. But the versatile Johnson gets the nod over Smith because of his leadership qualities. (Last week: 7 | Team record: 11-3)
7. Dwyane Wade, Heat
G
MIN
FG%
3P%
FT%
STL
BLK
RPG
AST
PTS
PER
13
38.7
.441
.296
.771
2.0
1.2
4.9
5.2
28.1
26.1
The Heat have dropped three straight and Wade had one of his worst games against Atlanta (6-of-18, 15 points). He's on pace for a career high in 3-point attempts (54 already). (Last week: 3 | Team record: 8-5)
8. Brandon Roy, Blazers
G
MIN
FG%
3P%
FT%
STL
BLK
RPG
AST
PTS
PER
16
36.4
.448
.345
.798
0.3
0.2
4.4
5.0
19.8
19.1
His numbers are down from a season ago, but that could change soon. Nate McMillan moved Andre Miller back to the bench so Roy can have the ball in his hands more. (Last week: 8 | Team record: 11-5)
9. Brandon Jennings, Bucks
G
MIN
FG%
3P%
FT%
STL
BLK
RPG
AST
PTS
PER
12
34.6
.462
.475
.772
1.0
0.2
4.3
5.7
24.2
22.0
A rookie in the top 10 for MVP? Why not? He has better all-around stats than some of the other players on this list and his fingerprints are all over Milwaukee's great start. (Last week: 9 | Team record: 8-4)
10. Dwight Howard, Magic
G
MIN
FG%
3P%
FT%
STL
BLK
RPG
AST
PTS
PER
14
31.2
.625
.000
.576
0.7
1.7
11.1
1.4
17.4
24.1
Chris Bosh has been unreal, but you can't be an MVP candidate on a team that is 6-8. Therefore, Howard, who has the Magic on a five-game winning streak, gets this spot. (Last week: 10 | Team record: 11-3)
Sixth Man of the Year Watch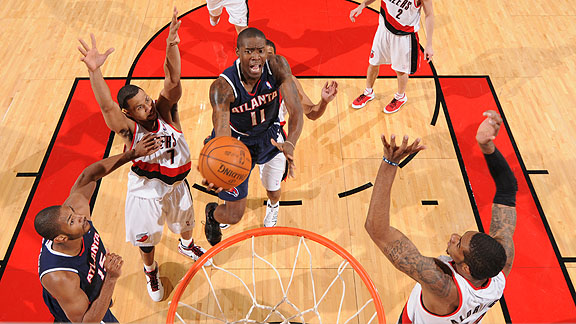 NBAE/Getty Images
1. Jamal Crawford, Hawks:
With starting point guard
Mike Bibby
nursing an ankle injury, Crawford could see a spike in playing time this week for the Hawks.
(Last week: 1)
2. Jason Terry, Mavs: He is known for his ability to score points in bunches, but this season Terry has picked up his effort on the defensive side of the floor. (Last week: 2)
3. Al Harrington, New York: Harrington has the green light in Mike D'Antoni's system and is thriving, leading the team in scoring seven times. He fired in 30 points on Sunday against the C's to push his average to 20.2 ppg -- tops for reserves. (Last week: 5)
4. Will Bynum, Pistons: He shoots a higher percentage on 2s and 3s and averages the same amount of assists as starter Rodney Stuckey in 10 fewer minutes. Together they form one of the top point guard rotations in the league. (Last week: NR)
5. Udonis Haslem, Heat: He missed two games with a shoulder injury, but made up for it by scoring 14 points -- including two key buckets in the final minute -- in Miami's win over New Orleans. (Last week: 4)

1. Brandon Jennings, Bucks:
Michael Redd
is back. It will be interesting to see how the two standouts work together because as of right now, this is Jennings' team.
(Last week: 1)
2. Tyreke Evans, Kings: Sacramento has dropped four in a row, but Evans is still doing his thing, tossing in 28 points on 10-for-18 shooting in a loss to the Grizzlies. His sprained finger, which forced him to miss one game, didn't appear to hinder him. (Last week: 2)
3. Jonny Flynn, Wolves: His quickness and great first step help him get to the rim almost at will, but his poor decision-making cancels that out. Should Ramon Sessions be getting extra minutes? (Last week: 3)
4. Marcus Thornton, Hornets: Simply put, he gets buckets. He has reached double digits in six straight games and is averaging 17.6 points over his last five contests. (Last week: NR)
5. Ty Lawson, Nuggets: With J.R. Smith back, Denver now has one of the top benches in the league with Lawson directing the second unit. (Last week: 4)

1. Josh Smith, Hawks:
Smith is playing smarter, shooting fewer 3s, making game-winning shots and still finding time to chase down loose balls, block shots and hit the glass.
(Last week: 1)
2. Thabo Sefolosha, Thunder: He is building a reputation as one of the top one-on-one defenders in the NBA. Go check the tapes to see how he slowed down Brandon Roy, Kevin Martin, Kobe and D-Wade. (Last week: NR)
3. Brendan Haywood, Wizards:. He does all of the dirty work for Washington and is in the top six in the league in blocks (2.17) and rebounds (11.0). (Last week: 2)
4. Brook Lopez, Nets: Too bad he plays for winless New Jersey, where exposure is limited. In addition to 17 ppg, Lopez is also pulling down almost nine rebounds and blocking a league-best 2.7 shots per contest. (Last week: NR)
5. Joakim Noah, Bulls; Rajon Rondo, Celtics (tie): Noah is excelling at blocks, deflections and rebounds, while the always-gambling Rondo leads the NBA with 2.57 steals a game. (Last week: NR; 3)

ESPN'S NBA AWARDS WATCH
Maurice Brooks, former Race to the MVP columnist at NBA.com, is an NBA editor at ESPN.com.
Most Improved Player Watch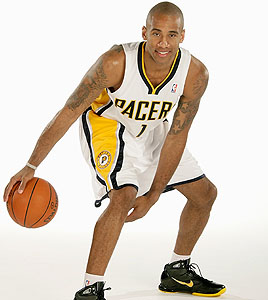 NBAE/Getty Images
1. Aaron Brooks and Trevor Ariza, Rockets (tie):
Houston looks to push the ball at every opportunity with Brooks using his exceptional speed to keep pressure on the opposition, while Ariza has provided the scoring punch.
(Last week: 1; 4)
2. Dahntay Jones, Pacers: Indiana signed him in the offseason because of his airtight defense. Who knew that he would blossom into such a good scorer? Jones has taken advantage of several injuries and rewarded the Pacers' coaching staff with 17.5 points and 4.3 boards a game. (Last week: NR)
3. Channing Frye, Suns: Everyone is talking about his newfound ability to knock down the long ball, but don't sleep on the fact he is averaging career highs in rebounds, assists, blocks and steals. (Last week: 2)
4. Joakim Noah, Bulls: Chicago has dropped three in a row, but don't blame Noah, who is averaging 12 points and a league-best 12.3 rebounds. (Last week: 3)
5. Chris Kaman, Clippers: He has scored at least 13 points in every game this year. Yes, Blake Griffin's return could mean a slight dip in Kaman's scoring and rebounding numbers, but as of right now few centers are playing on his level. (Last week: 5)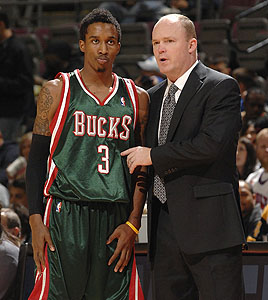 NBAE/Getty Images
1. Scott Skiles, Bucks:
Despite losing to the Spurs on Monday, the Bucks are still four games above .500, which is better than expected. Skiles always gets his teams to play hard and the Bucks are leading the league in rebounds.
(Last week: 3)
2. Mike Woodson, Hawks: Four weeks into the season and the Hawks are arguably the best team in the Association. Kudos, Coach Woodson. (Last week: NR)
3. Rick Carlisle, Mavericks: Dallas is riding a five-game winning streak, has raced out to a 2.5-game lead on the Rockets in the Southwest and has become a serious contender in the West without any real contributions this season from the injured Josh Howard. (Last week: NR)
4. Alvin Gentry, Suns: The Suns are scoring a league-best 110.4 points and are tied with the Hawks and Magic (11-3) for the NBA's top record. (Last week: 4)
5. Rick Adelman, Rockets: Adelman has the Rockets playing well, meaning Houston doesn't have to rush Tracy McGrady back onto the court. Although the Rockets head man may have a hard time convincing T-Mac to take his time. (Last week: 2)

Points per game
Carmelo Anthony
,
Nuggets (30.5)
NBA scoring leaders
Rebounds per game
Joakim Noah, Bulls (11.9)
NBA rebounding leaders

Assists per game
Steve Nash, Suns (11.6)
NBA assists leaders
Steals per game
Rajon Rondo, Celtics (2.6)
NBA steals leaders
Blocks per game
Brook Lopez, Nets (2.7)
NBA blocks leaders
Field goal percentage
Greg Oden, Blazers (.640)
NBA field goal leaders
3-point field goal percentage
Chris Paul, Hornets (.655)
NBA 3-point shooting leaders
Free throw percentage
Randy Foye, Wizards (95.2)
NBA free throw shooting leaders