NBA Latino Power Rankings: Week 5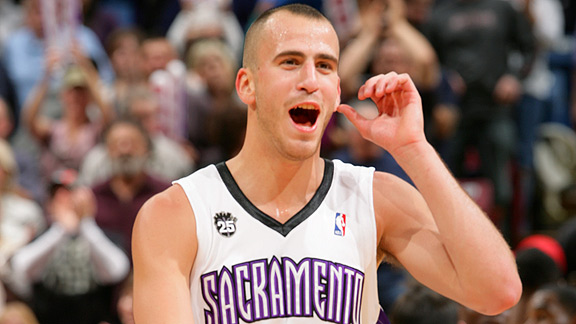 Kings guard Sergio Rodriguez scored 24 points in 24 minutes against the Hornets on Sunday.
NBAE via Getty Images
Week 5 was a very active week for Latino players, one in which Pau Gasol rose to the top, faster than we expected.
The Spaniard shared top honors with his brother, who has been tearing up things in Memphis and has been in the Top 5 of the Rankings in the past few weeks.
Most of the Latinos had excellent performances, including the Kings' Sergio Rodriguez, who had a big surge along with his team. Two things to watch this week are injuries to the Suns' Leandro Barbosa, who left the game on Sunday after scoring 17 points, and Rockets forward Luis Scola, who had an eye injury and did not return on Sunday against the Thunder.
The NBA Latino Power Rankings by ESPNdeportes.com are based on games played through Sunday.
NR. Eduardo Najera
G
MIN
FG%
3P%
FT%
STL
BLK
RPG
AST
PTS
PER
8
16.6
.395
.182
.750
0.8
0.3
3.6
1.8
4.8
11.6
Najera did not play at all last week because of lower back pains.
NR. Francisco Garcia
G
MIN
FG%
3P%
FT%
STL
BLK
RPG
AST
PTS
PER
-
-
-
-
-
-
-
-
-
-
-
Francisco is not expected to return at least until early 2010 because of a broken wrist.
Gasol Tops Underrated List
By John Hollinger
ESPN.com

For fans who have spent the past year and a half lamenting the Lakers' trade for Pau Gasol, I've got a news flash for you: Either way, L.A. was going to end up with a robust frontcourt.
That's because one of the players they included in that deal was Pau's little brother, Marc. And while he seemed like a rather poor and noticeably chunkier facsimile of his older sibling at the time, he's evolved into a star performer.
Granted, he takes a bit of getting used to. Watching his free throw routine, in which he stares at the floor while dribbling as if he just learned how a few minutes ago, you'd think there's no way he can possibly be any good. The stunning resemblance to Mike Gminski doesn't do him any favors, either.
It turns out, however, that Pau's kid brother is good. Really good. Among Western Conference centers who play at least 30 minutes a game, only Tim Duncan and Andrew Bynum can top Gasol's 21.81 PER, making him a fringe All-Star candidate. Over his past five games he has converted 35-of-42 from the field (a ridiculous 83.3 percent), as Memphis has won four out of five in its post-Iverson mini-resurgence.
He's been so effective that even his shot-happy teammates have taken notice. Yes, that was Rudy Gay twice threading passes to Gasol rolling to the basket for easy buckets in Monday night's win over Sacramento, doubling Gay's usual assist total before the end of the first quarter.
Amazingly, for such a productive player on a poor team, he's still underutilized. Despite his undeniable potency as a low-post weapon and his steady midrange shot, Gasol averages only 8.8 shot attempts per game -- barely half that of O.J. Mayo, Gay or Zach Randolph. The fact Gasol averages about as many assists as those other three players suggests they might end up with better shots if they'd play through him more often. Like his older brother, this Gasol is a deft passer who can carve up double-teams.
And while he may not match his big brother in athleticism, his slimmed-down look this season has allowed him to stay on the court for 35.4 minutes a game and register nearly two blocks a contest. And get this: He's even second on the team in steals. He's also seventh in the NBA in rebounding (10.7) and second in shooting percentage (62.6 percent).
Because of his outstanding play and his total lack of national exposure, Gasol is the center and captain of my All-Underrated Team.
By John Hollinger
ESPN.com

Longtime readers know I'm a big Sergio Rodriguez supporter, so I was heartened to see him blow up for 24 points in 24 minutes Sunday night in the Kings' victory over the Hornets. That's on the heels of his exploding for 16 points and seven dimes in 18 minutes in a loss to Memphis last week. In his limited minutes, he sports a monstrous 22.96 player efficiency rating for the season.
Given my long-held position that Tyreke Evans is a 2, I think Rodriguez would be a great complement in the Kings' backcourt of the future, and after seldom playing in the Kings' first dozen games, I'm hoping he gets more chances to prove it. He's had one of the highest assist rates in basketball throughout his career, but cold shooting and a crowded Portland backcourt conspired to limit his minutes the past three seasons. With Rodriguez hitting shots, at least for the moment, and more opportunity available in Sacramento, he seems ready to blossom.