Discussion
Pacers keep Roy Hibbert as starter
Updated:
April 26, 2014, 2:55 PM ET
ESPN.com news services
The Indiana Pacers stuck with struggling center Roy Hibbert in their starting lineup for Saturday's Game 4 against Atlanta.
Coach Frank Vogel announced his decision a few hours before tipoff.
Coach Vogel tells the media pregame that he will use the same starting lineup in today's game. pic.twitter.com/UgB6W8Nrq0
- Indiana Pacers (@Pacers) April 26, 2014
"We won 56 games with [Roy] as our starting center. I think you have to stick with what you do." - Coach Vogel
- ...
Read full story
NBA FINALS ON ESPN.COM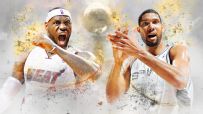 Follow the playoffs on ESPN:
Twitter | Facebook | G+
MORE CONTENT