Discussion
Donald Sterling: No surprise
Updated:
April 27, 2014, 2:06 PM ET
By
J.A. Adande
| ESPN.com
When it comes to the latest Donald Sterling story, I'm surprised at the surprise.
And if the NBA does anything about it?
That would be a surprise, too.
If you've paid attention to the NBA before TMZ dropped an audio file of tape of what it said was a conversation between Los Angeles Clippers owner Donald Sterling and his girlfriend, then Sterling's disparaging view of African-Americans shouldn't come as a shock.
It fits right in with a man who paid a record $2.75 million ...

Read full story
STERLING BANNED FOR LIFE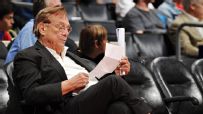 Donald Sterling was banned for life from the NBA and fined $2.5 million. Full coverage »