Discussion
Roster Reload: Chicago Bulls
Should the franchise make room to bring in a big-time scorer?
The Bulls really had no business winning 48 games, or winning the No. 4 seed in a playoff bracket. Three of the team's top four players entering the season -- in terms of salary -- were gone by the beginning of the campaign. Carlos Boozer was there in body, but not so much in production, while Derrick Rose watched Chicago's quick postseason exit in street clothes and Luol Deng, who was traded at midseason, could only sit at home planning his free-agent strategy. The lack of star power was apparent as Chicago fell swiftly to the Washington Wizards.

To read more of Bradford Doolittle and Amin Elhassan's Roster Reload for the Chicago Bulls, become an Insider today.
Insider
NBA FINALS ON ESPN.COM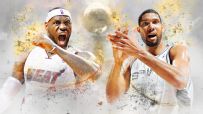 Follow the playoffs on ESPN:
Twitter | Facebook | G+
MORE CONTENT