Discussion
Playoffs: Scouting Thunder-Clips
Breaking down OKC-Los Angeles with expert scouting and advanced stats
Insider offers a breakdown of every playoff series using an expert combination of scouting from Amin Elhassan and advanced metrics from Bradford Doolittle to answer three crucial questions. Also included are predictions from the writers and the classic Log5 formula for determining matchup probabilities.
Have you caught your breath after the most exciting first round in NBA playoffs history? No? Too bad, because the Los Angeles Clippers and the Oklahoma City Thunder meet in the second round after surviving grueling seven-game series against lower seeds that had a lot of fight. The Clippers overcame the indignity and distraction posed by the bigoted remarks from team owner Donald Sterling. Oklahoma City's off-court controversy was much milder: The Thunder had to deal with a local paper questioning the reliability of presumed MVP Kevin Durant. Still, both teams managed to dispatch their feisty opponents in seven games, and now face off for the right to move on to the conference finals. They split the regular-season series 2-2, with each team snagging a victory on the road. Who will prevail?
---


Western Conference playoffs
Semifinal preview
---
To read more of Insider's scouting report of the Thunder-Clippers playoff series, become an Insider today.
Insider
NBA FINALS ON ESPN.COM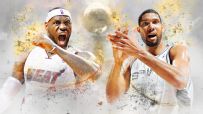 Follow the playoffs on ESPN:
Twitter | Facebook | G+
MORE CONTENT