Discussion
Bradley Beal's playoff breakthrough
Wizards' young shooting guard has shined in postseason; can he keep it up?
Updated:
May 7, 2014, 3:26 PM ET
By
Kevin Pelton
| ESPN Insider
The NBA playoffs provide an opportunity for the league's up-and-coming stars to introduce themselves to a national audience. With apologies to Damian Lillard of the Portland Trail Blazers and Washington Wizards point guard John Wall, both already All-Stars, this season's breakthrough player looks like Wizards guard Bradley Beal.
Beal's sparkling Game 1 effort on Monday in the Wizards' win at Indiana (25 points, 7 rebounds, 7 assists, 5 steals) was his third 25-point game in his first six postseason contests, putting him alongside Magic Johnson as the two players to reach that mark three times before age 21. That's right -- Beal won't be able to celebrate his success in a bar until after the season, because his birthday is June 28.
So who is Bradley Beal? Glad you asked.
To read the rest of Kevin Pelton's article about Bradley Beal's breakthrough 2014 postseason and whether he can carry it to next season, become an ESPN Insider.
Insider
NBA FINALS ON ESPN.COM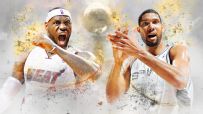 Follow the playoffs on ESPN:
Twitter | Facebook | G+
MORE CONTENT