Discussion
Cinderella, are you out there?
What history says about long odds of Washington, Brooklyn and Portland
Everybody loves a Cinderella. It's one of the things that makes the NCAA tournament such a cultural phenomenon -- the fact that every year, there will be a handful of games in which double-digit seeds knock off a power team. In fact, trying to forecast those "Giant Killers" has long been a popular feature of our March Madness coverage. The NCAA's 68-team, free-for-all, one-and-done model is in fact a very poor way to crown a champion. But it's fun, and we all love it.
We very nearly had the NBA's first version of a truly broken bracket. If the lower seeds had won the five Game 7s played over the past weekend, Miami would have been the only surviving higher seed. The sum total of the remaining seeds would have been 46. The record for the highest combined total of second-round seeds is 33, set in the wonky post-strike playoffs of 1999. In 2007, the total was 32. But in the end, just a few of the upstarts survived the weekend, and our remaining seeds total up to 25, which is right at the average for the 16-team playoff era. The NBA always has had a strong correlation between regular-season performance and eventual champion. The higher seed doesn't always win because various factors affect a team's regular-season record and seed, but in a seven-game series, most of the time the better team is going to win. That's why the 37 NBA champions since the NBA-ABA merger have been comprised of 24 No. 1 seeds, six No. 2s, six No. 3s and the No. 6-seeded 1995 Houston Rockets, a defending champ that had been lying in the weeds. That's why I punctuated my pick in the East second-round series between the top-seeded Indiana Pacers and the fifth-seeded Washington Wizards by piggybacking a Twitter meme and writing, "Cinderella ain't walking through that door."
To read Bradford Doolittle's full story on the playoff odds of Portland, Washington and Brooklyn, sign up for Insider today.
Insider
NBA FINALS ON ESPN.COM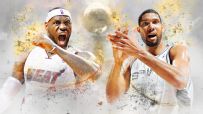 Follow the playoffs on ESPN:
Twitter | Facebook | G+
MORE CONTENT