Discussion
Harrison Barnes will sign for free
Golden State Warriors forward Harrison Barnes promises to fill his offseason with staying in shape, playing video games and signing autographs.
Barnes announced on his Facebook page on Friday that he is implementing an autograph policy that will allow his fans to get his signature, free of charge, in the offseason.
"Since I get so many requests for autographs, I bought a P.O. Box for all of you to send items for me to sign," Barnes wrote.
"I'm really excited to sign ...

Read full story
NBA FINALS ON ESPN.COM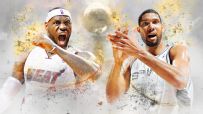 Follow the playoffs on ESPN:
Twitter | Facebook | G+
MORE CONTENT