Discussion
Scoreless Roy Hibbert can only shrug
MIAMI -- Roy Hibbert said coach Frank Vogel's game plan was a reason he went scoreless in the Indiana Pacers' Game 4 loss to the Heat on Monday.
Hibbert took just four shots, missing them all, and was in foul trouble in the Heat's 102-90 victory.
It was the fourth time in the playoffs and the sixth time in his past 21 games Hibbert did not score a point. He did have five rebounds and blocked one shot.
"The game plan really wasn't to utilize me as much; I'm just trying ...

Read full story
NBA FINALS ON ESPN.COM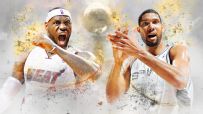 Follow the playoffs on ESPN:
Twitter | Facebook | G+
MORE CONTENT