Discussion
Silver, civil rights leaders meet
Updated:
June 4, 2014, 1:35 PM ET
Associated Press
NEW YORK -- The Rev. Al Sharpton and other civil rights leaders say they've had a "constructive" meeting about racial issues in the NBA with commissioner Adam Silver.
The civil rights leaders met with Silver for more than an hour Wednesday in the league's Manhattan offices.
Sharpton said they stressed that disgraced Los Angeles Clippers owner Donald Sterling and his estranged wife must never be allowed to have a role in the league.
Sterling was banned for life and fined $2.5 ...

Read full story
STERLING BANNED FOR LIFE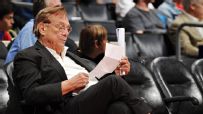 Donald Sterling was banned for life from the NBA and fined $2.5 million. Full coverage »