Discussion
Trade Vinsanity? That's the next big idea in Jersey
Originally Published:
February 19, 2008
By
Chris Sheridan
| ESPN.com
EAST RUTHERFORD, N.J. -- With the Jason Kidd trade finally, mercifully out of the way, the New Jersey Nets were moving forward Tuesday in their efforts to trade Vince Carter.
Multiple sources told ESPN.com that talks with the Indiana Pacers regarding a Carter-for-Jermaine O'Neal swap were dormant, but not dead, after the Nets spent nearly a week devoting their attention to the Kidd deal with Dallas.
Another source said there had been preliminary discussions on a three-way trade ...

Read full story
NBA Trade Machine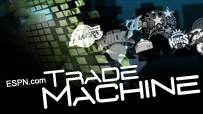 The trade deadline is days away. Be the GM and make a deal using
ESPN.com's Trade Machine
.
Trade Rumors
•
Ford: Breaking down the latest trade talk
•
Rumor Central: Latest trade rumblings
Recent Deals
•
Mavs finally complete deal for Kidd
•
Suns acquire Shaq from Heat for Marion, Banks
•
Lakers get Gasol: 'A great step' says Kobe
•
Nets, Grizzlies complete trade of Collins for Swift