Discussion
Hawks' coach upset Horford wasn't given share of rookie award with Durant
Updated:
May 2, 2008, 8:24 AM ET
ESPN.com news services
Hawks coach Mike Woodson was irate Wednesday that center Al Horford wasn't given at least a share of the NBA Rookie of the Year award with Seattle SuperSonics forward Kevin Durant.
"It's a travesty and it's not right," Woodson said Wednesday night before Atlanta's Game 5 loss to Boston, according to The Atlanta Journal-Constitution. "He should have shared it, if not gotten it outright. And I don't want to hear about us not being on TV or anything like that. It doesn't matter. It's ...

Read full story
NBA Rookie 50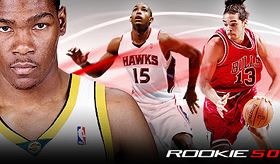 Editor's note: During the regular season, Scouts Inc.'s David Thorpe ranked the rookies and provided observations on the celebrated class.
Check out Thorpe's final Rookie 50 rankings.
Thorpe's Weekly Reports
•
4/16: The top 10 rookies in 2007-08
•
4/08: Stuckey cracks the top 10
•
3/26: Durant, Horford both enjoying March
•
3/19: Hornets' Wright creating some buzz
•
3/12: Scola takes over No. 1 spot
•
3/05: Houston's Landry lands in top 10
•
2/27: Thornton climbs into Top 5
•
2/20: Breaking down Durant and Horford
•
2/13: Who's hot heading into the break?
•
2/06: Who needs to stop chucking?
•
1/30: Noah's rising, Durant's struggling
•
1/23: Navarro, Noah making noise
•
1/16: Conley makes appearance in Top 10
•
1/09: Which players are hitting the wall?
•
1/02: Young, Green, Stuckey showing signs