Discussion
Bulls poised to hire Collins as coach
Updated:
May 30, 2008, 12:59 PM ET
ESPN.com news services
The team that gave Doug Collins his first coaching job is on the verge of luring Collins back to the bench one more time.
Numerous Chicago media outlets reported Thursday that the Chicago Bulls will soon announce that Collins is leaving his successful television career to be the Bulls' new coach. Multiple sources close to the situation confirmed those reports to ESPN.
Earlier this month, when linked to the Phoenix Suns' opening, Collins emphatically told ESPN.com that he had "no interest" ...

Read full story
THE RETURN OF DOUG COLLINS?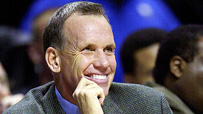 The lure of a talented young team that owns the No. 1 pick in the NBA draft reportedly was enough to bring Doug Collins back to Chicago. However, after a week of discussions, he and Bulls owner Jerry Reinsdorf decided Collins would not be back on the Bulls' sidelines.
June 6
|
May 29
•
Hollinger: Collins doesn't look like good fit
•
Wojciechowski: Bull's-eye squarely on Paxson
•
TrueHoop: This pick makes me nervous
SportsNation
•
Your take on Collins
Watch
•
Bucher: Hire generates buzz
•
A good hire?
Podcasts
•
Will Perdue, Horace Grant on challenges ahead
•
Waddle & Silvy: Paxson misses better choices
•
Waddle & Silvy: Short-term solution
•
Waddle & Silvy: Listener weary of recycling
•
Waddle & Silvy: Listener approves of choice
•
Waddle & Silvy: Here to groom successor?
•
Waddle & Silvy: Right assistant key