Discussion
Bulls, Collins have no announcement of deal; Harper wants to join Bulls
Updated:
May 30, 2008, 8:32 PM ET
Associated Press
CHICAGO -- Doug Collins' second tenure as Chicago Bulls coach may be coming, but there was no announcement as of Friday evening.
The Bulls and Collins, who coached a young Michael Jordan and Scottie Pippen before the 1990s dynasty took off, acknowledged Thursday discussing a return engagement. The sides also said there would be more talks once Collins' obligations with TNT ended, which happened when the Los Angeles Lakers eliminated the San Antonio Spurs in the Western Conference finals ...

Read full story
THE RETURN OF DOUG COLLINS?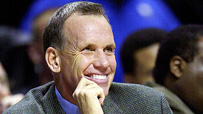 The lure of a talented young team that owns the No. 1 pick in the NBA draft reportedly was enough to bring Doug Collins back to Chicago. However, after a week of discussions, he and Bulls owner Jerry Reinsdorf decided Collins would not be back on the Bulls' sidelines.
June 6
|
May 29
•
Hollinger: Collins doesn't look like good fit
•
Wojciechowski: Bull's-eye squarely on Paxson
•
TrueHoop: This pick makes me nervous
SportsNation
•
Your take on Collins
Watch
•
Bucher: Hire generates buzz
•
A good hire?
Podcasts
•
Will Perdue, Horace Grant on challenges ahead
•
Waddle & Silvy: Paxson misses better choices
•
Waddle & Silvy: Short-term solution
•
Waddle & Silvy: Listener weary of recycling
•
Waddle & Silvy: Listener approves of choice
•
Waddle & Silvy: Here to groom successor?
•
Waddle & Silvy: Right assistant key