Discussion
Team USA: Colangelo's legacy as much at stake as Wade's and Anthony's
Originally Published:
June 23, 2008
By
Chris Sheridan
| ESPN.com
CHICAGO -- They made the announcement in the old Little Italy section of this City of Broad Shoulders, some three miles from the former Polish section of town where Mike Krzyzewski grew up, just across the street from a small urban plaza where a statue of Joe DiMaggio stands proud and tall.
The site, officially known as the Italian-American Sports Hall of Fame, holds Rocky Marciano's heavyweight championship belt, Matt Biondi's 11 Olympic gold medals, and countless photographs ...

Read full story
Team USA: Going For Gold In Beijing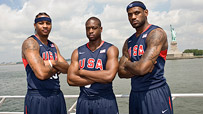 Team USA aims for the gold medal at the Beijing Games, playing its opening game against host China on Aug. 10.
Roster
|
Schedule
|
TV
News
•
Kobe & Co. arrive to heroes' welcome in Beijing
Pre-Olympic Tour
•
Jackson: Team USA will miss Amare
•
Sheridan: Flaws exposed against Aussies
•
Sheridan: Point-guard change?
•
Sheridan: D-Wade is back
•
Sheridan: Meet the Doberman
•
Sheridan: King James mastering FIBA rules
•
Jackson: Melo aiming for gold and more
Video
•
Watch: Best internationals in action
SportsNation
•
Who would you have picked?