Discussion
Point guards lead the way for 2009 draft candidates
Originally Published:
June 27, 2008
By
Chad Ford
| ESPN.com
The 2009 NBA draft doesn't appear to have the sex appeal of this year's draft. So far there are no Rose- or Beasley-type players. In fact, many NBA scouts are saying the upcoming draft could be the weakest in several years.
Still, there are some very good players in next year's draft.
The '09 draft should be richer in point guards than the '08 draft. Led by Arizona's Brandon Jennings and Spain's Ricky Rubio, 11 point guards are ranked in my top 30.
The crop of small forwards ...

Read full story
2008 NBA Draft: The Aftermath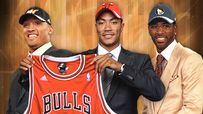 The NBA draft on June 26 in New York elevated the hopes of fans, particularly those in Chicago and Miami.
'08 NBA Draft Index
•
Roundup: A rundown of who went where
•
Keeping up with draft day trades
•
Mayo to Memphis, Love to Minnesota
Chad Ford
•
Handing out team grades
•
Pick-by-pick analysis
•
The 2009 draft preview
Bill Simmons
•
The annual draft night diary
TrueHoop
•
Down in Minnesota
•
The story of draft night
Analysis
•
Scoop: Rose chooses No. 1 over 25
•
Thorpe: Top 20 rookies for 2008
•
Broussard: The MSG scene
•
Hollinger: Loving the deal for Mayo
•
Katz: Big night for UCLA, Pac-10
•
Katz: Underclassmen who went undrafted
•
Wojciechowski: Rose fits the bill
•
Jeer leader: Knicks fans boo Gallinari
Video
•
OTL: The freshman frenzy
•
Davis: Reviewing the picks
•
Legler breaks down the Heat's Beasley pick
•
Legler: Knicks' pick of Gallinari a mistake
Podcasts
•
Ford's review of draft night
SportsNation
•
Map: Beasley projected as best
Fantasy
•
Berry: Fantasy impact of top rookies