Discussion
NBA commish says arena issues could hold up new Seattle team
Updated:
July 2, 2008, 11:46 PM ET
Associated Press
SEATTLE -- With the SuperSonics on their way out, Seattle needs to act fast if it wants a new NBA team soon.
Commissioner David Stern sent the city a warning Wednesday, saying officials have less than 18 months to come up with a funding plan for a KeyArena renovation if there's hope of an NBA return within five years.
A settlement reached Wednesday between the SuperSonics and the city terminates the current lease and allows owner Clay Bennett to move the team to Oklahoma City for the ...

Read full story
Sonics Moving To Oklahoma City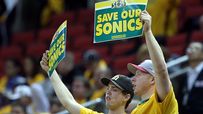 After 41 years in Seattle, the Sonics are leaving. Following a settlement Wednesday, the team's ownership will move the team to Oklahoma City for the coming season.
Story
News
•
Sonics still undecided on practice facilities
•
Stern spells out timeline for potential NBA return
•
Official document: Settlement details
Analysis
•
Munson: Q&A on Sonics' settlement with Seattle
•
Adande: Move sends a bad message
•
Moving vanguard: Others with going concerns
TrueHoop
•
Bennett not necessarily yielding all things Sonic
•
Wrestling with the news
•
A shot to the gut of Seattle fans
Page 2
•
Kevin Jackson: Your team could be next
•
Caple: Faithless in Seattle
•
Schoenfield: Lowest Seattle moments
Podcast
•
Broussard on the moving news
Video
•
Seattle mayor speaks
•
Sonics owner on move
SportsNation
•
Moving issues in Sonics situation
•
Who's next? Rank most likely to move