Discussion
Oklahoma City will be named Thunder, wear blue, orange, yellow
Updated:
September 4, 2008, 9:36 AM ET
Associated Press
OKLAHOMA CITY -- Thunder can be heard from miles away, an early warning that a storm is about to arrive. So, perhaps it's only fitting that the name of Oklahoma City's NBA team didn't sneak up on anyone.
Six weeks after the name first surfaced, team officials officially announced Wednesday that the team formerly known as the Seattle SuperSonics would be known as the Oklahoma City Thunder.
"It's hard to keep a secret," team chairman Clay Bennett said after stepping to a podium ...

Read full story
Thunder In Oklahoma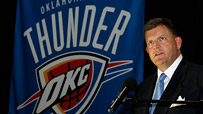 Though the official announcement of its new nickname was no surprise, the transformation of the Seattle SuperSonics to the Oklahoma City Thunder took another big step.
Story
News
•
Ex-Sonics owner dropping lawsuit
TrueHoop
•
Facing the facts -- it's all over for Sonics
•
Worst kept secret ever
•
What about Warriors mascot of the same name?
SportsNation
•
Do you like the nickname?
Page 2
•
Uni Watch: OKC design contest winners
•
Uni Watch: OKC designs welcome