Discussion
Jordan or no Jordan, Olajuwon was great
Originally Published:
September 5, 2008
By
J.A. Adande
| ESPN.com
Watching Vijay Singh snatch another PGA Tour victory in Tiger Woods' absence was a fitting way to start a week that ends with Hakeem Olajuwon's enshrinement in the Basketball Hall of Fame. Singh is the closest thing any other sport has to Olajuwon, the man who best took advantage of some down time by The Man.
From 1990 to 1997, every time Michael Jordan showed up for training camp, he wound up raising the Larry O'Brien trophy over his head at the end of the season. But the ...

Read full story
2008 Hall Of Fame Class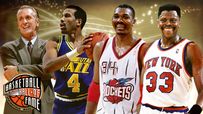 Enshrining NBA Greats

Pat Riley
A mastermind on the sidelines for the Lakers, Knicks and Heat. Won five championships and three coach of the year honors.
Adande: Best of Riley
---

Hakeem Olajuwon
The Dream was selected to 12 All-Star teams, won two defensive player of the year awards and the '93-94 MVP.
Adande: Olajuwon was great
---

Patrick Ewing
Ewing played for 17 seasons, was selected to 11 All-Star teams and won the 1985-86 Rookie of the Year award.
Wong: Hot/cold career
---

Adrian Dantley
Played for 15 seasons, was named to six All-Star teams and won the 1976-77 Rookie of the Year award.
Truehoop: HOF coverage
---
Columnists
•
Adande: MJ or no MJ, Olajuwon was great
•
Wong: Ewing's hot and cold relationship
•
TrueHoop: Mario Elie on Olajuwon
•
Adande: Best of Riley overshadows worst of Riley
•
Pat Riley through the years: From HS to college
•
ESPN.com ranks the greatest centers
---
2007 Hall Of Fame
•
Adande: Secret to the Zen Master's success
•
Stein: NBA not looking to create own hall shrine
•
TrueHoop: The NBA's hall of frustration