Discussion
2008-09 Prediction: Celtics will repeat in East
Our experts predict which team will win the Eastern Conference.
Originally Published:
October 28, 2008
Editor's note: We asked our panel of NBA experts, "Who will win the Eastern Conference?" 1. Boston Celtics: 13 votes
Maurice Brooks, ESPN.com: When all else fails, the C's have a trio of All-Stars to turn to, and Rajon Rondo and Kendrick Perkins are only going to get better.
Ric Bucher, ESPN Mag: Their roster improved more through the experience of winning a title than the Pistons' or Cavs' did by acquiring or promoting new pieces.
John Hollinger, ESPN.com: LeBron ...

Read full story
2008-09 NBA PREDICTIONS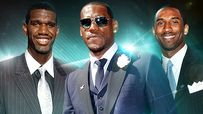 Let the games begin. And for that matter, the story lines, too. The 2008-09 NBA season is here, and our experts make predicitons.
Titles
|
Awards
TITLES
•
Atlantic Division champ
•
Southeast Division champ
•
Central Division champ
•
Southwest Division champ
•
Northwest Division champ
•
Pacific Division champ
•
Eastern Conference champ
•
Western Conference champ
•
NBA champ
AWARDS
•
Rookie of the Year
•
Defensive Player of the Year
•
Sixth Man of the Year
•
Most Improved Player
•
Coach of the Year
•
Most Valuable Player
PREVIEWS
•
East Dime previews
•
West Dime previews
•
ESPN The Mag preview
•
Simmons: Fantasy preview
•
2008-09 Preview index
SPORTSNATION
•
Vote: Over/Under East
•
Vote: Over/Under West
•
Vote: NBA season predictions
•
Vote: NBA awards
•
Fans: Season predictions