Discussion
Rookie Watch: Big men making their mark
Originally Published:
December 30, 2008
By
David Thorpe
| Scouts Inc.
Watch an NBA game, and you'll often hear the words "rookie mistake." Miss a layup? Rookie mistake. Illegal screen? Rookie mistake. Weak foul leading to the "and 1"? You guessed it, another rookie mistake.
But, in most cases, that's rubbish. Basketball is a game full of mistakes, and you probably can find at least one made on every possession by either team or both, by rookies and veterans alike.
Yes, there is a learning curve to the NBA game. But real rookie ...

Read full story
NBA Rookie 50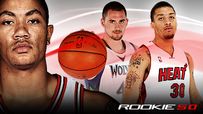 During the regular season, Scouts Inc.'s David Thorpe ranks the rookies and provides observations on the entire class. Rookie 50
Thorpe's weekly reports
•
01/06: Who's bringing the D?
•
12/30: Big men making their mark
•
12/23: Hunting for playoff minutes
•
12/17: Mayo takes over No. 1 spot
•
12/10: Westbrook soars into top 10
•
12/02: Augustin races into top 10
•
11/26: Oden climbs back into top 10
•
11/18: Rose takes over No. 1 spot
•
11/11: Mayo jumps into top five
•
11/05: Fernandez shoots to top of the list
•
10/29: The debuts of Rose, Oden
•
10/24: Oden begins season at head of class