Discussion
Trade-talk roundup: What we're hearing
Updated:
February 19, 2009, 10:43 PM ET
ESPN.com
The deadline has passed, but check here for additional news and analysis.
Refresh and scroll down to see all entries.
POSTED: Feb. 19 -- 8:58 p.m. ET
Chad Ford: Lots of people are wondering what the Kings were up to today.
The answer: Their deals were more about the salary cap and the luxury tax than about talent and winning now.
When Wednesday afternoon came, the Kings had 2009-10 payroll commitments of $66 million, which is a lot for a lottery team. About ...

Read full story
The NBA On ESPN.com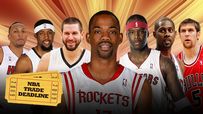 TRADE GRADES
TRADE CHATTER
ALSTON TO MAGIC, LOWRY TO ROCKETS
HUGHES TO KNICKS, THOMAS TO BULLS
WILCOX TO KNICKS
McCANTS TO KINGS
MILLER, SALMONS TO BULLS
MIHM TO GRIZZLIES
CHANDLER TO OKC (AND BACK, AGAIN)
CASSELL TO KINGS
MARION FOR O'NEAL