Discussion
Williams confident despite series deficit
ORLANDO -- With the Cleveland Cavaliers trailing the Orlando Magic two games to one, you might think the Cavs, ultraconfident all year long, have been swagger-jacked.
But on the eve of Tuesday's Game 4, they were still talking bravely, especially their smallest man.
Wearing stunna shades to cover up the four stitches, two cuts and a black eye he received thanks to an Anthony Johnson elbow in Game 3, Mo Williams gave assurances that the Cavaliers are still Finals-bound.
"We're ...

Read full story
NBA Playoffs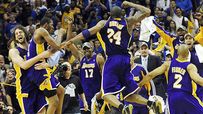 TODAY'S BEST
MORE ON THE PLAYOFFS