Discussion
Cuban asks for dismissal of SEC case
Updated:
May 26, 2009, 8:41 PM ET
Associated Press
DALLAS -- Mark Cuban was uncharacteristically reserved when he appeared in a federal courtroom Tuesday to hear attorneys argue the merits of the Securities and Exchange Commission's case against him for insider trading.
Sitting in the front row of the gallery with members of his legal team, the Dallas Mavericks owner wore a black suit instead of a T-shirt and jeans, his game-night attire, and his mood rarely changed as he listened intently while attorneys spoke for and against his motion ...

Read full story
Cuban Accused Of Insider Trading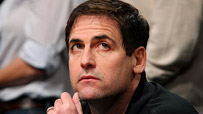 Mavs owner Mark Cuban has been charged with insider trading by the Securities and Exchange Commission.
Story
|
Watch: SportsCenter
•
Cuban's reputation could take hit
•
Adande: Cuban exacerbates Donaghy issue
•
Munson: Insider trading charge will haunt Cuban
•
TrueHoop: A costly mistake for Cuban?
•
TrueHoop: Cuban Mini-Bullets
•
Radio: Jack Ford explains insider trading

•
Radio: Munson compares this to Stewart's case

•
Watch: Colin Cowherd's rant
•
PDF: View entire complaint