Discussion
No. 9: Indiana Pacers
Originally Published:
June 11, 2009
By
John Hollinger
| ESPN.com
9. INDIANA PACERS: 50.66 POINTS PER SEASON (1967-2009)
Wins: 1,652 Playoff wins: 111 Series wins: 20.5 Titles: 0 NBA; 3 ABA All-Stars: 38
Best player: Reggie Miller Best coach: Larry Brown Best team: 1969-70 (59-25, ABA champions) Intangibles: +0. Thirty years of good karma offset by one bad night in Detroit.
Indiana is basketball country, of course, but during the Hoosier State's history, NBA fans have been rewarded with a serious shortage of topflight ...
Read full story
Hollinger's NBA Franchise Rankings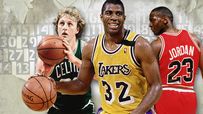 How do all 30 teams stack up for all time? John Hollinger ranks each squad from best to worst.
INTRODUCTION
TOP 10
INSIDER