Discussion
Odom says candy helping
Updated:
June 3, 2009, 9:42 AM ET
Associated Press
LOS ANGELES -- Lamar Odom just can't help himself when it comes to the sweet stuff. He loves candy.
He even credits his consumption of sugary treats for fueling his double-double performances in Games 5 and 6 of the Western Conference finals that helped the Los Angeles Lakers close out Denver and reach the NBA finals.
"It's funny because the games I played well were the games where I ate candy for breakfast," he said, grinning. "It's the reason why I got double digits in points and ...

Read full story
NBA Playoffs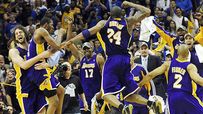 TODAY'S BEST
MORE ON THE PLAYOFFS