Discussion
This June, L.A. more inviting for Stern
Originally Published:
June 5, 2009
By
Marc Stein
| ESPN.com
LOS ANGELES -- This was not the opening address David Stern ever expected to make at the NBA Finals.
This was Stern on the Finals dais, as usual, but not to hype the widely anticipated dream duel of LeBron James versus Kobe Bryant.
This was Stern welcoming the world to Kobe versus Dwight Howard and insisting to a skeptical audience that LeBron, some five days later, now knows he was "wrong" about how he reacted to Cleveland's failure to get here.
However …
You'll ...

Read full story
NBA Playoffs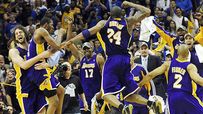 TODAY'S BEST
MORE ON THE PLAYOFFS