Discussion
Sources: Raptors OK with Bosh to Cavs
Everything is set for Chris Bosh to join LeBron James in Cleveland. Everything, that is, except Bosh's approval.
The Toronto Raptors have told the Cleveland Cavaliers they will do a sign-and-trade with them for Bosh, according to several league sources.
The exact details of the potential trade have not been solidified, but Toronto likely would get Anderson Varejao and/or J.J. Hickson, Delonte West and perhaps Anthony Parker. A draft pick could be involved as well.
2010 NBA Free Agency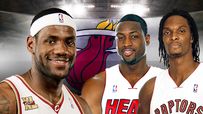 Follow ESPN's NBA coverage on Twitter
LATEST CONTENT
HEAT ADD LeBRON TO WADE, BOSH
KNICKS GET AMARE, TRADE LEE
BULLS LAND BOOZER
JOHNSON RE-UPS WITH HAWKS
DIRK, PIERCE RE-SIGN