Discussion
Time for Cavs owner to act his age
If Dan Gilbert felt this way about LeBron, why exactly did he want him back?
I'm beginning to wonder if Dan Gilbert's real name is Benjamin Button. You know, the character from the hit movie, "The Curious Case of Benjamin Button," who looks old when he's young and young when he's old.
How else to explain a 48-year-old man -- an intelligent, accomplished, incredibly wealthy 48-year-old man -- sounding off like an acne-riddled 13-year-old who'd just been jilted by his first love? LeBron James has been roundly criticized for the stunning way he handled his ...
Read full story
2010 NBA Free Agency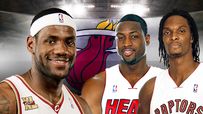 Follow ESPN's NBA coverage on Twitter
LATEST CONTENT
HEAT ADD LeBRON TO WADE, BOSH
KNICKS GET AMARE, TRADE LEE
BULLS LAND BOOZER
JOHNSON RE-UPS WITH HAWKS
DIRK, PIERCE RE-SIGN